As you may have heard, Side-Out is partnering this year with the Amateur Athletic Union (AAU) for the 46th AAU Junior National Volleyball Championships in Orlando, FL! The national stage features 12 days of exciting volleyball, including Dig Pink Days for each session. AAU Volleyball Nationals also represents the culminating event of the 2019 Dig Pink Dig-A-Thon.
Side-Out will be in Orlando each day of nationals spreading the word about the work volleyball is doing for stage IV breast cancer research, selling Dig Pink merchandise, and answering questions about the Dig Pink Dig-A-Thon.
If you or your program are attending the AAU Volleyball Nationals and want to join the Dig-A-Thon, click HERE!
Side-Out's staff will be providing updates during the foundation's time in Orlando. Enjoy reading Side-Out's experiences below where the team takes you through each day at the AAU Junior National Volleyball Championships! (This page will be updated daily with the latest entry at the top and past days below that.)
---
Day 1 – Sunday, June 16
From Josh – After a delayed flight out of Washington D.C. and a short time on a soaked runway, our group (Janice, Carmen, and myself) finally made it to Orlando for the 46th AAU Volleyball Nationals! Day 1 was quite the start to our 12-day stint here in the Sunshine State.
Day 2 – Monday, June 17
From Josh – It all began at the Orange County Convention Center at 7:30 am. As we walked in, courts as far as the eye can see were already filled with players warming up for their 8 a.m. matches. Having already set up our booth (mostly), only a few things needed to be placed. Within 20 minutes, we were off and running!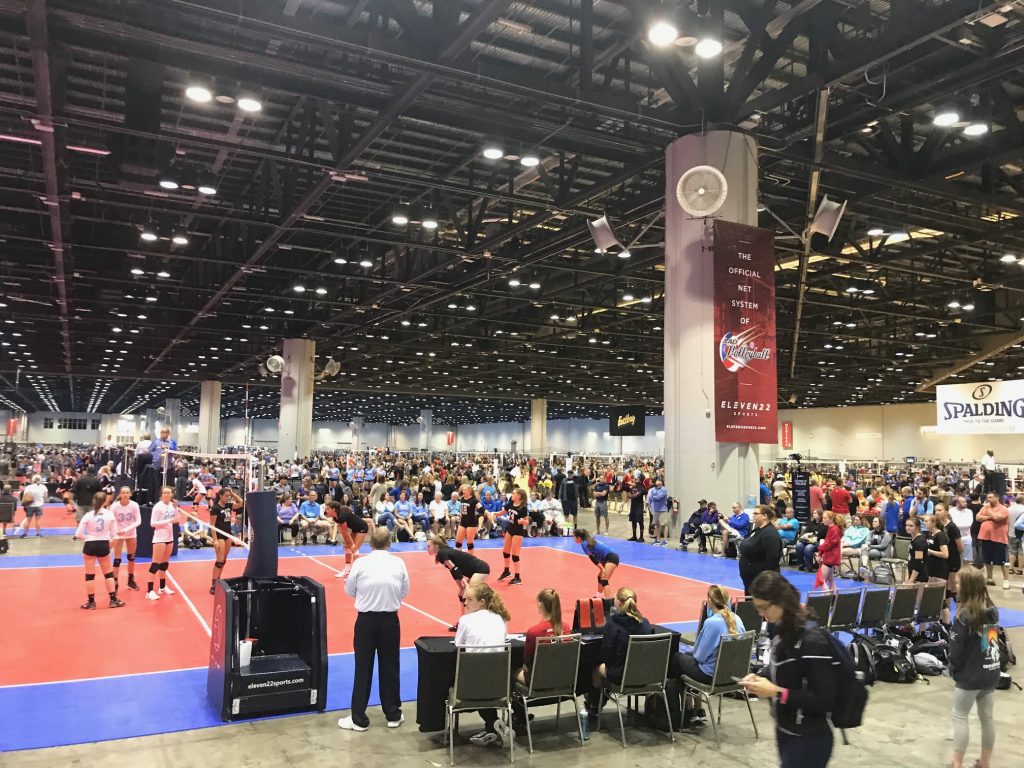 The day started our trip off in a strong way, as we got to meet many women who have overcome breast cancer. Hearing their stories first hand was truly inspiring and only reinforced our passion for this cause.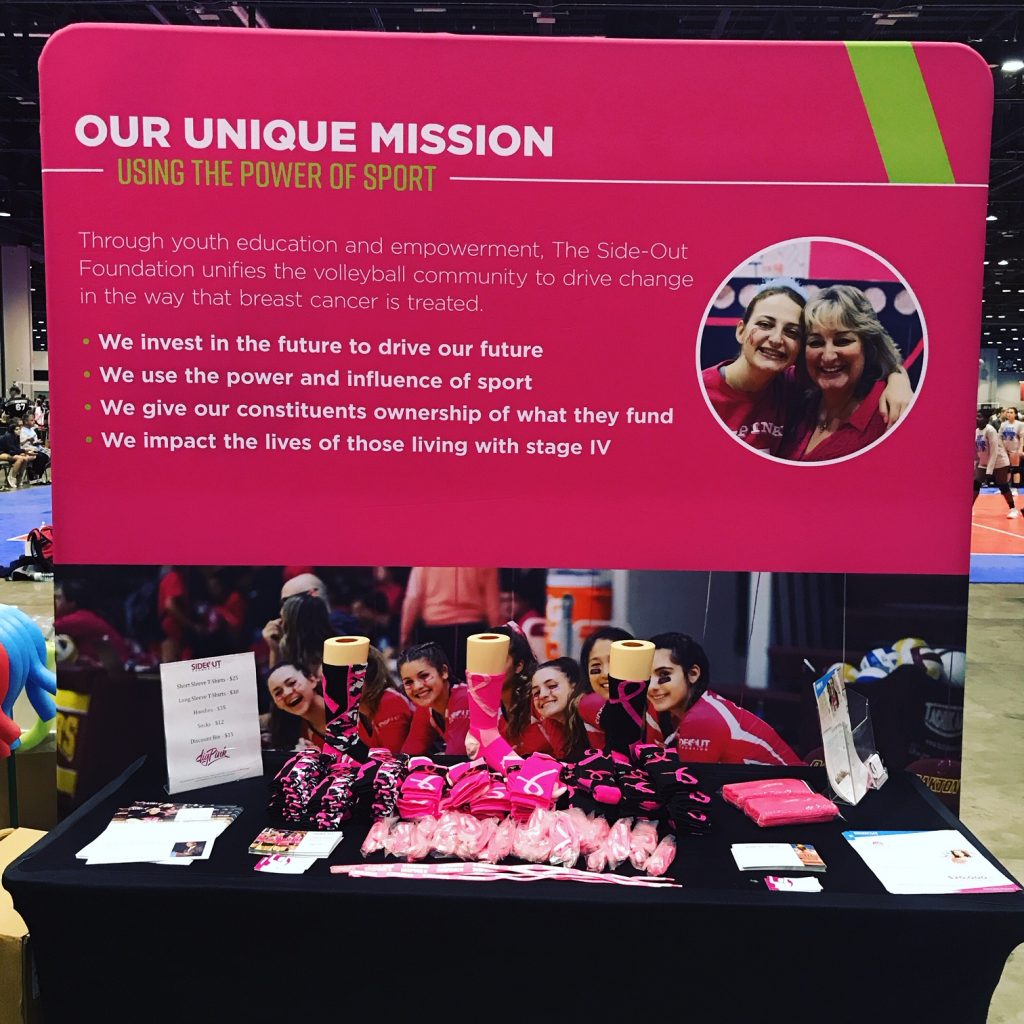 Educating the club volleyball community about Side-Out's mission and selling Dig Pink merchandise are our two main goals this trip. We met lots of great people who told us about their Dig Pink events, what the cause means to them, and why they love supporting our foundation. On top of all of that, we finished the day with over $1,400 in sales that will directly support the foundation and its research. Not a bad start!
As our 12 hour day at the OCCC concluded, we felt we had earned a fun night out! We headed on over to Disney Springs. The first thing we did, you guessed it, an International Coke Tasting at the Coca-Cola Rooftop Bar! There were many interesting flavors from around the world, some of which were great and some, well…

After doing some shopping at World of Disney, we grabbed some dinner at Earl of Sandwich. This place is highly recommended for anyone who likes bread, meat, and cheese! The sandwiches are made on this bread that is sort of like a biscuit and it's fantastic.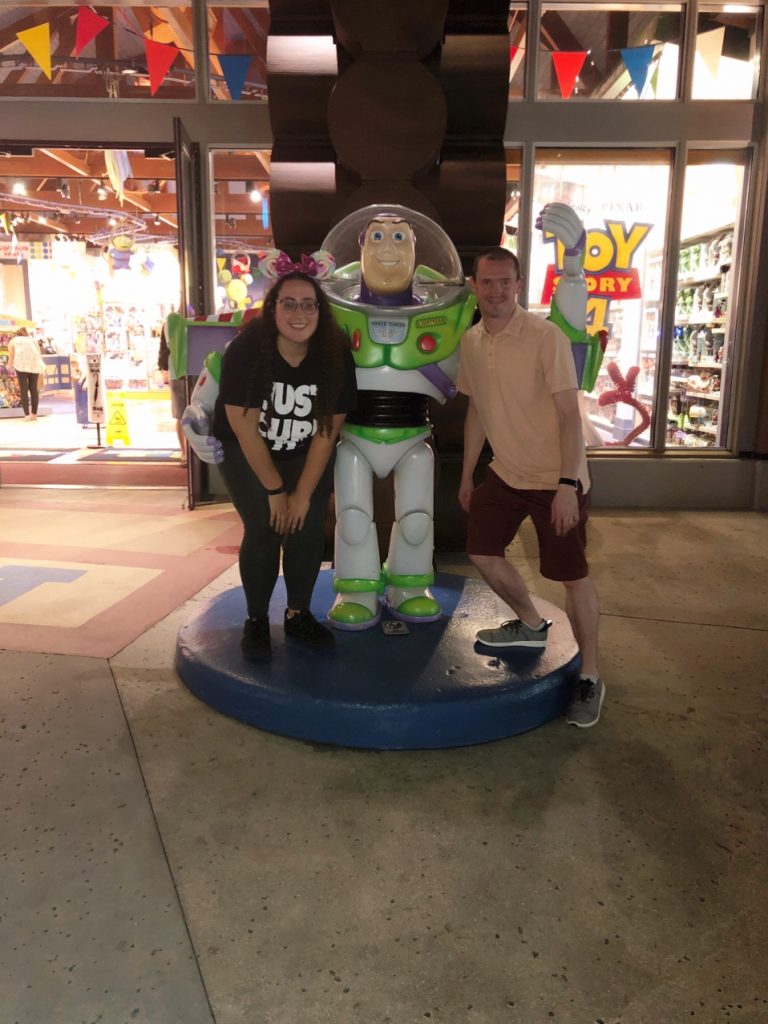 As we were leaving Disney Springs for the night to head back, we ran into an old friend and had to say hello. We had not seen him in a while as he's been with Bonnie, but it was certainly great to finally catch up. We're thrilled to see what Day 3 has in store!
Day 3 – Tuesday, June 18
From Janice – Wow! What an eventful first Dig Pink Day it was for us here at AAU Nationals! While looking down through the windows from the top of the escalators (which head down to the main floor), we could see splashes of pink throughout the entire convention center. That's when a jolt of excitement hit…IT'S DIG PINK DAY!
Teams from all around the country had received the message to wear pink on June 18th and it was fascinating to see so many players coming together to support a common goal.
One of my first tasks of the day was to do an interview with Jade Mallard from AAU to talk about Side-Out's mission, our goal for AAU Nationals, and our relationship with AAU Volleyball. Watch the interview below!
My favorite thing to do at events like these is connecting with the people who are a part of this sport we love so dearly. Hearing stories of how people got to where they are, their background and how they are involved in the game is something that never gets old to me.

Today, I met a man by the name of Steve Cowart. Steve is the founder of Start Right Sports and we learned he is quite the inventor! Back when his daughter was 11 and was just learning the game, she had trouble getting her arm swing right. Steve started thinking of ways he could help his daughter learn the fundamentals of the arm swing before trying to hit a moving ball. Then it came to him! After bending a rod, he added a pool noodle around the pole and stuck a ball in it. He held it up and let his daughter start swinging. She enjoyed it so much that took the idea and never looked back. It's now referred to as the "Spike Trainer".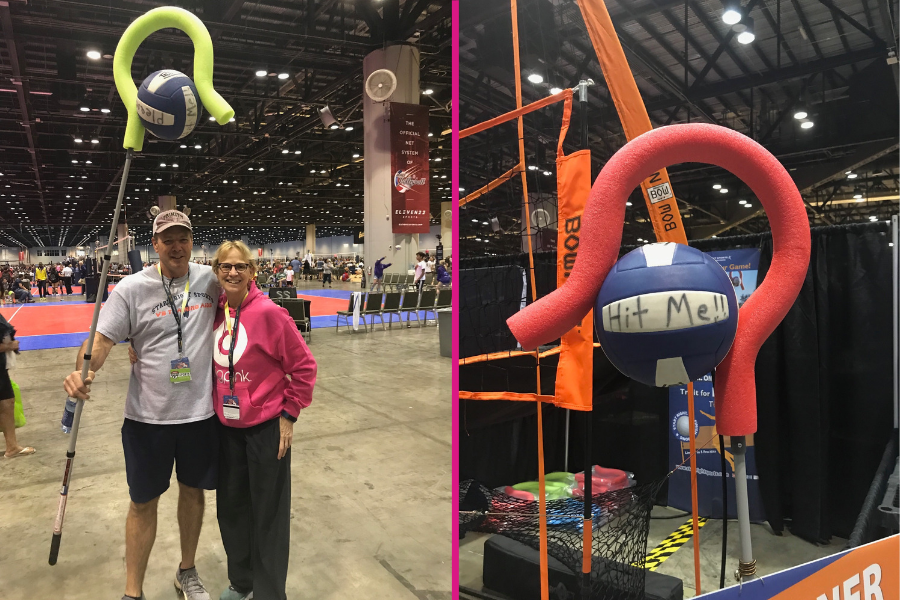 It's such a simple concept, but you should see the line of girls waiting for their turn to take a swing at his booth. He dedicates his entire day, squeezing the ball into that noodle and giving each player a chance to take their swing. Based on the smile on his face, he loves every minute of it. If you get the chance, check him out on Instagram at @startrightsports.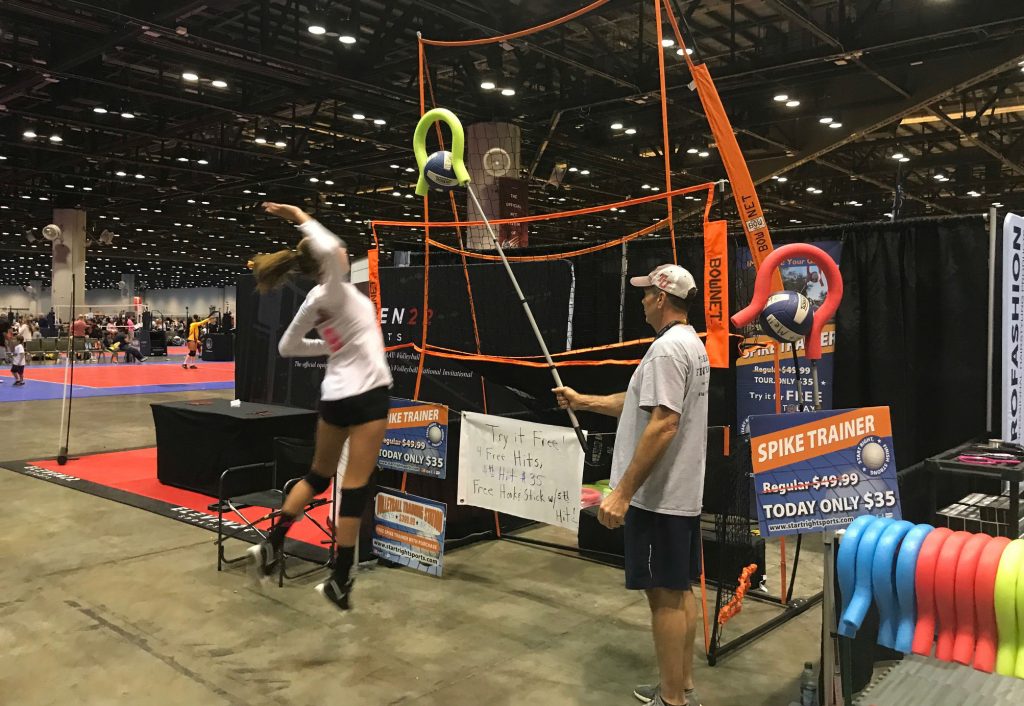 During some of my downtime, I had the chance to walk around and capture some great photos of the girls playing. It's not every day I handle our camera, but it was fun to capture some cool action shots of the girls in pink. Our staff said I did pretty good too! 🙂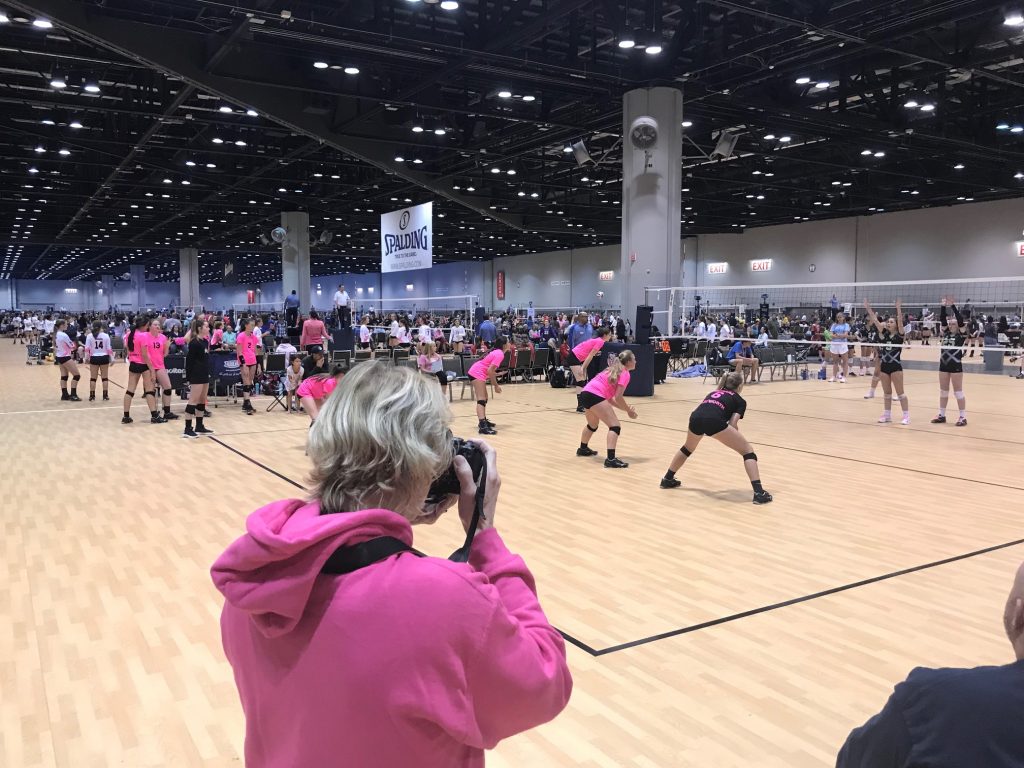 Working the convention for 12 hours a day is certainly no easy task. Between all of the picture taking, selling Dig Pink merch, and talking with great people, my back began to give me some problems. Lucky for me, MyoBuddy has a booth set up right across from ours…so I walked over and Kayleigh Swift treated me to a massage. Their product is quite amazing and you can see it at @myobuddymassager on Instagram!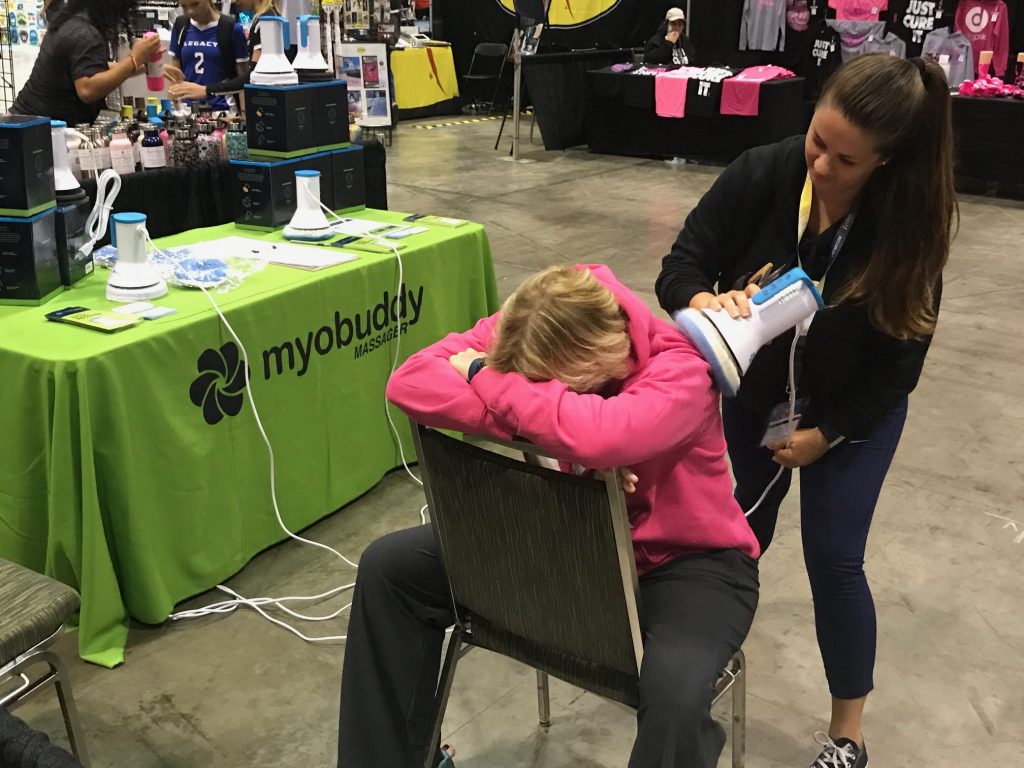 After another successful day, our final stop before heading home was World of Beer for dinner. Little did we know, it was also Taco Tuesday! Our staff enjoyed some delicious shrimp, barbacoa, and chicken tacos along with a pint to celebrate. Cheers!
Day 4 – Wednesday, June 19
From Carmen – It was a bittersweet day for our group here at AAU in Orlando! It was our last full day before the next team of awesome members comes down for the next group of incredible players! Despite our lack of sleep, a good cup of coffee has been keeping our energy up, while all the incredible people we meet keep our spirits high! Lucky for us, the weather is often nice enough for us to enjoy a cup of coffee outside!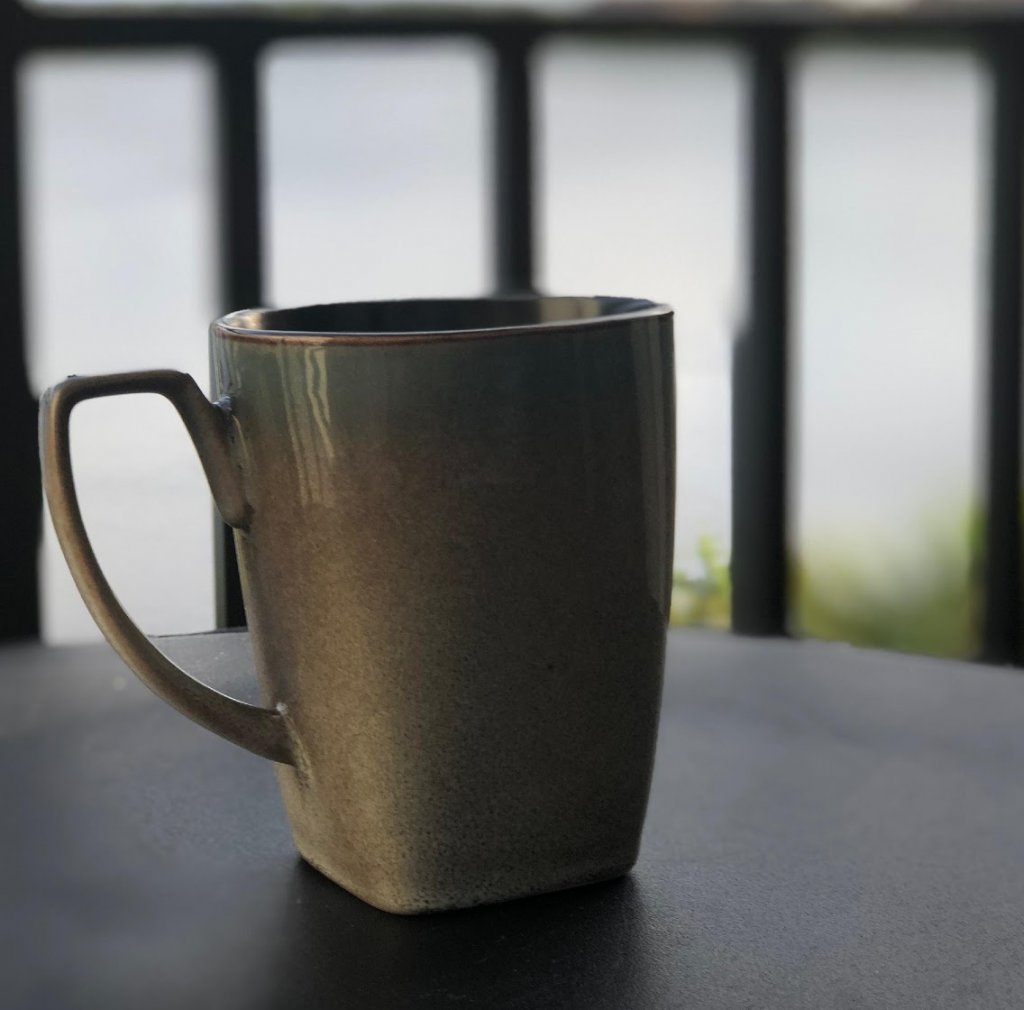 It has been my first event with Side-Out, and even though every day at the office I get to do incredible work for an incredible cause – it's an entirely different experience to see what makes it all happen. Volleyball! I've met incredible players who have hosted Dig Pink, parents who are survivors and have inspiring stories to share. Today, I met Mary Carrillo, a coach and survivor, who is an inspiring voice for the breast cancer community! She advocates that no one can know your body like yourself and teaches younger women how to search themselves for cancer even if they had been told they are too young.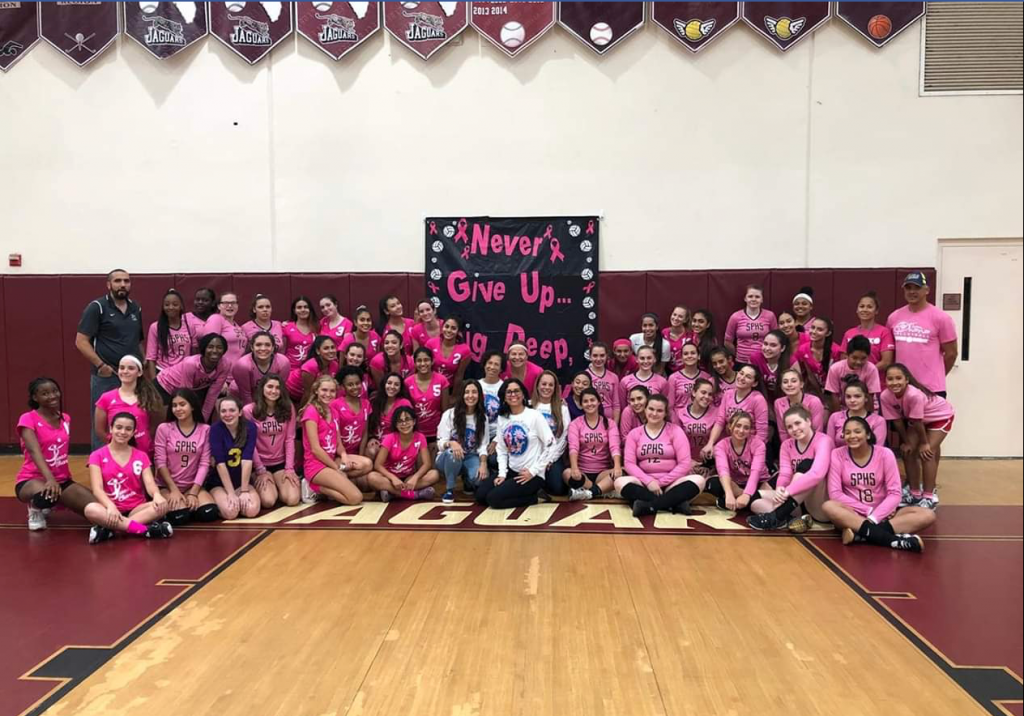 Along with all the inspirational individuals at AAU, there are thousands of volleyball players who also are demonstrating their love for the sport itself. It helps put into context that everything we do is because of this sport. At AAU, you see intense games, teamwork, hard work, and pure joy from all the players who are participating. Today we got to see the world's most adorable game of volleyball among all the competition – maybe there are some future superstars in the works at AAU!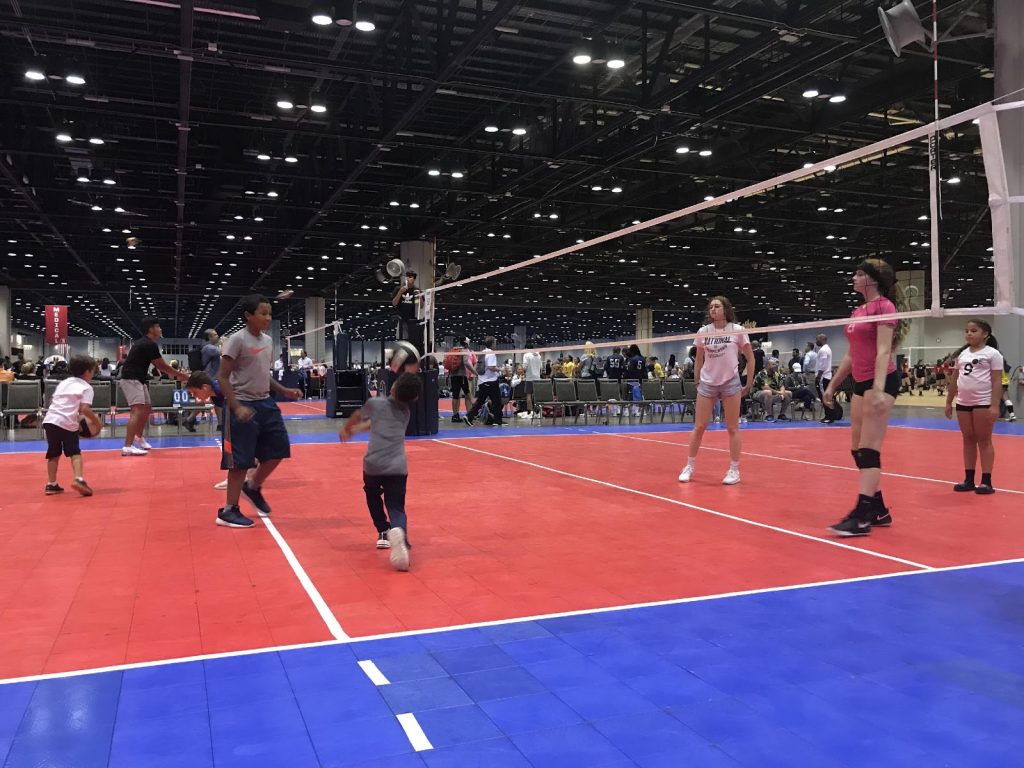 Between all the fun, games, and wonderful stories we get to hear while we are in AAU Orlando- you can sometimes forget the weather has a mind of its own in the sunshine state. Normally the days start off with sun in the morning, rain in the afternoon, and sun in the evening. We miss most of this being in the convention center. Today though, the weather proved just how temperamental it could be by putting a pause to all the games at AAU. In the evening, a tornado warning went off and coincidentally, so did the fire alarm on the south side. This caused all the teams from the south side of the venue to move to the north, putting a pause on all games. Though everything was under control and everyone was assured that the two events were unrelated, it put an unexpected pause on the normal routine of games and excitement.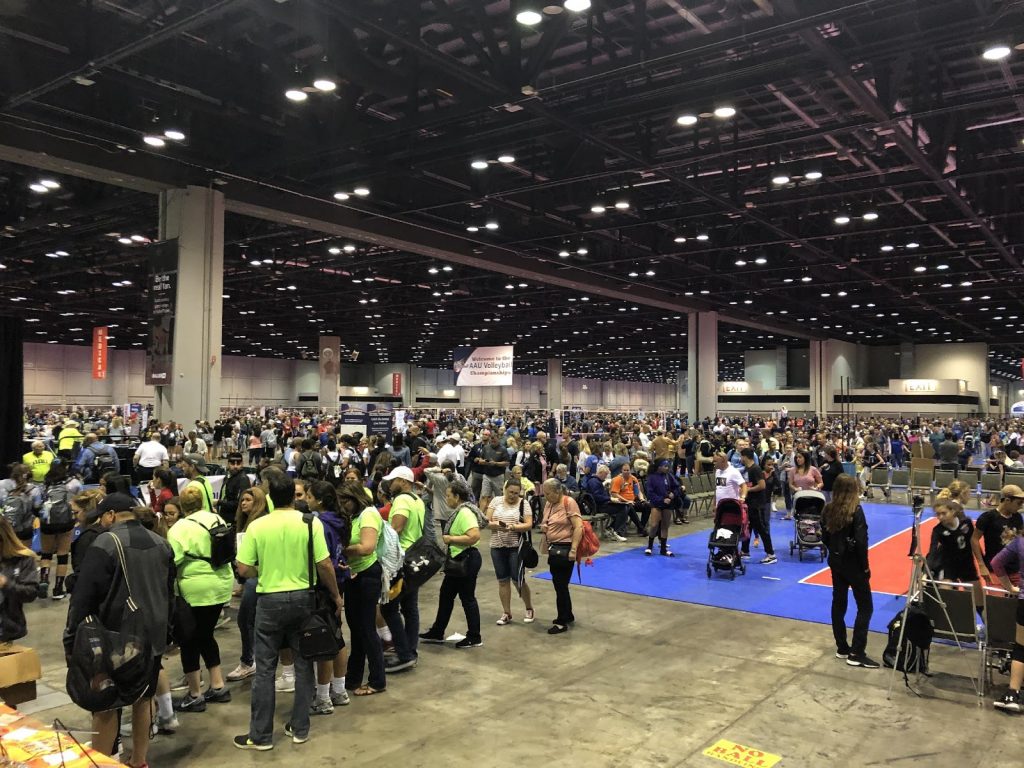 This day was nothing short of exciting, and a very interesting way to end our last full day here at AAU. However, despite our sore backs from shifts and our tired eyes, we couldn't pass up the chance to check out City Walk right outside of Universal Studios. We heard rumors of great food, music, and shops for some Harry Potter house rivalry and couldn't pass it up! Janice even found herself some cool waves to ride as well!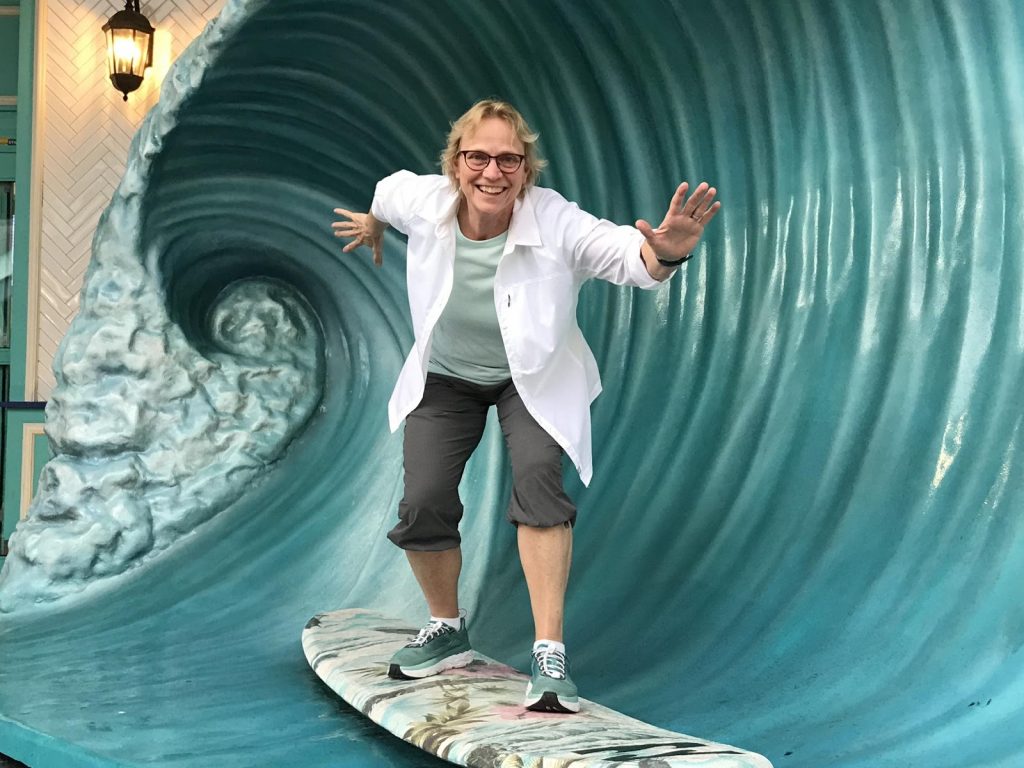 We really couldn't have asked for a better experience while here at AAU. Another set of faces is coming to The Side-Out Foundation booth tomorrow. Myself, Janice, and Josh are sad to leave and say goodbye to Orlando and AAU. Thank you so much to everyone who came to our booth, who shared their stories, and all the amazing players giving it their best!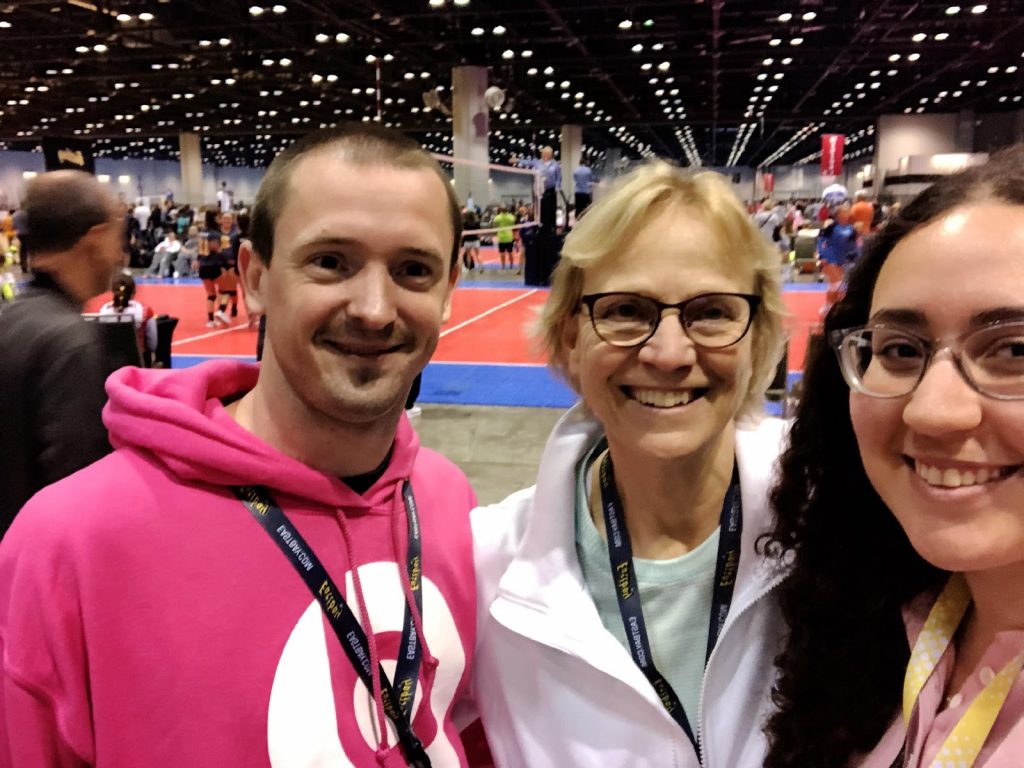 Day 5 – Thursday, June 20
From Sydney – It's travel day for our crew that is heading down to Orlando! Rick, Tim, and I are taking over for Janice, Josh, and Carmen and joining in on the fun of meeting the teams, families, and fans at AAU.
We hopped on the plane and were quickly reminded that we were traveling with many children who were about to experience a dream and land unlike any other, Disney that is! How wonderful! Once we landed in Orlando, we quickly noticed it was no longer just children but volleyball teams that filled the airport. Teams and players who seemed excited and thrilled to begin these next four days of play!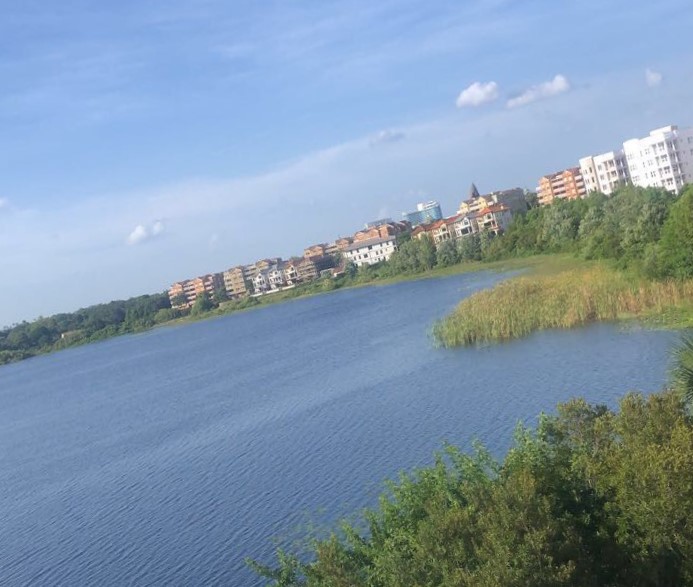 Following our travels, we settled into our place, took in the views, grocery shopped for all our goodies for the week, and ate a great meal at bar taco. Before we knew it, it was evening and our coworker, Tim, from Nebraska had arrived!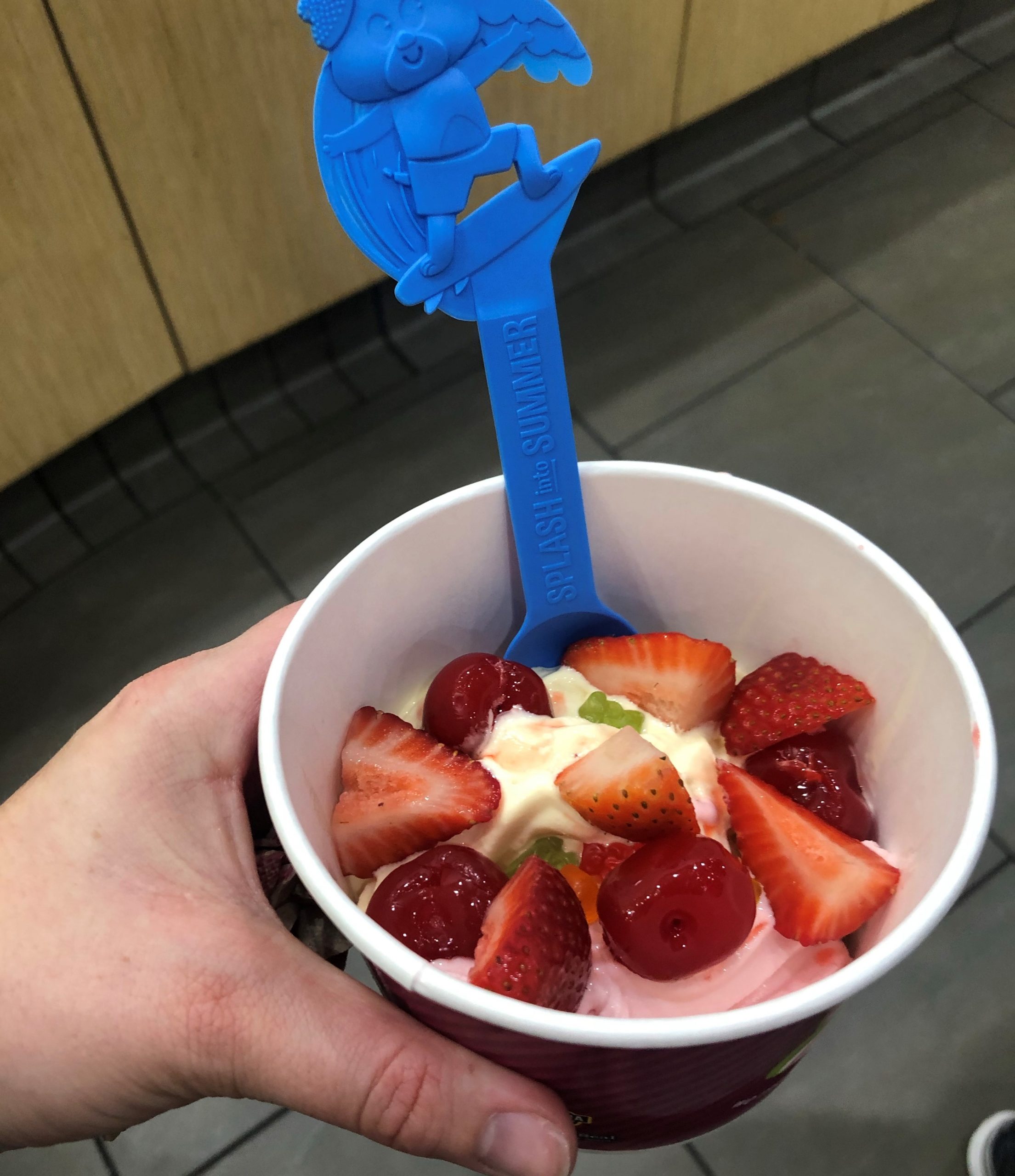 Everyone had a sweet tooth that had to be filled. We checked the time and grabbed some dessert before it was too late. What better way to end the day than with froyo?
Day 6 – Friday, June 21
From Tim – Day 5 of the AAU Volleyball Nationals and day 6 for our staff down in Orlando has been an interesting day! Sydney started our day with a "detour" by inputting the wrong destination, so we ended up getting a morning coffee at a golf club. The second time was the charm and we ended up at the correct destination the tournament. Other than that, Sydney has done a great job of representing Side-Out!
Once we got the booth organized for the day, we started meeting and greeting people from all over the country! The message of the great work our sport is doing through Dig Pink continues to be shared as the volleyball enthusiasts stopped by and chatted.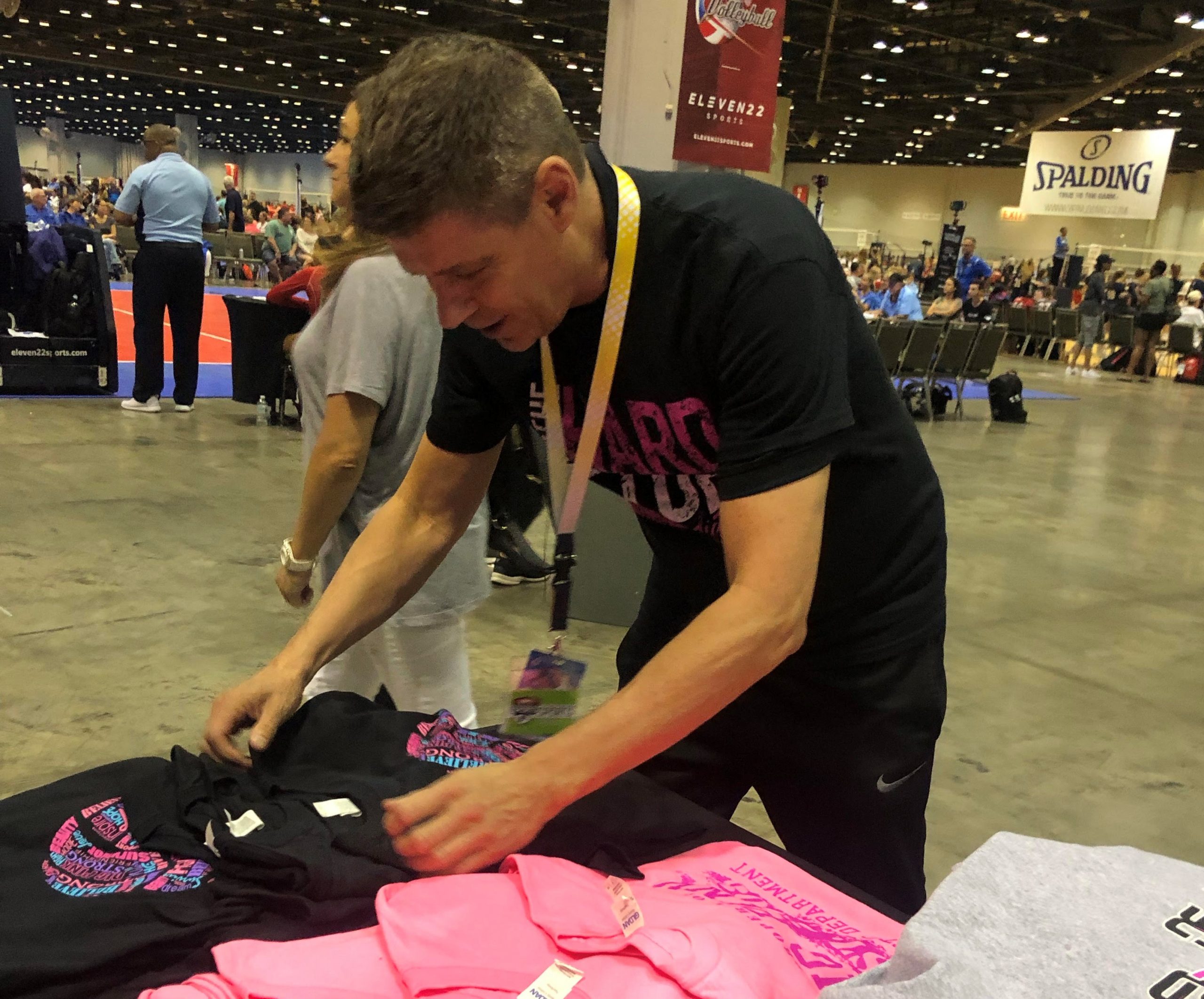 After three hours of apparently outstanding organization, Sydney decided that I should consider a second career in merchandising display. I did have some good ideas, but my folding of t-shirts and sweatshirts wouldn't get me a job at a garage sale.
As the day draws to a close we are thankful for the opportunity to represent The Side-Out Foundation to the volleyball community and are truly blessed that they have such an interest in our mission and research. Without those good people, there would be no Side-Out.
Thanks to everyone today and in case you were wondering, Sydney won't be allowed to get us back to our hotel or to dinner.
Day 7 – Saturday, June 22
From Rick – Well, it is Dig Pink round two at the Orange County Convention Center and our team was ready to roll! It's always a cool cruise down the main strip and witness hundreds of players wearing pink and representing our cause.
At 10:30 a.m., the AAU video team popped over and did a little interview. Sydney and I had a good laugh about faking like we were doing stuff for B-Roll footage, then we went upstairs to shoot the interview. I have a terrible voice for noisy rooms, but we got through it A-OK.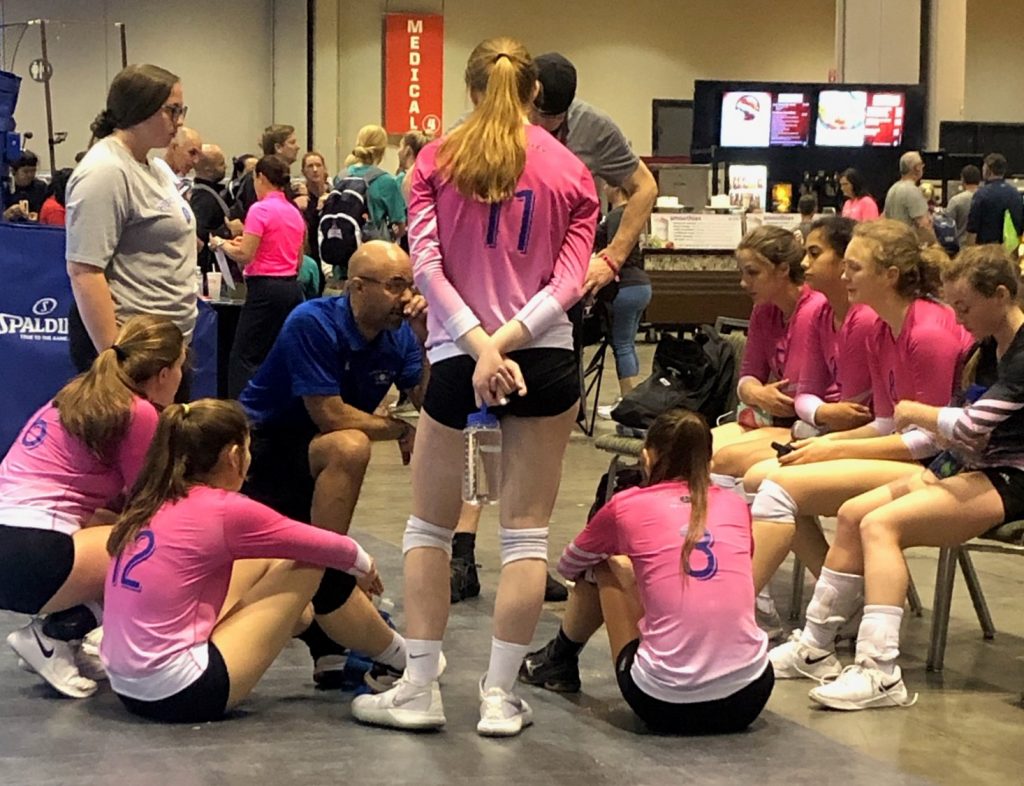 We had the great pleasure to talk to many survivors, supporters, and people impacted by breast cancer. We had conversations about love, joy, and loss but we enjoy every opportunity to talk with folks and exchange our stories.
After lunch, we got a little stir crazy. Sydney and I started to work on our juggling skills during lulls in activity. We are both TERRIBLE jugglers but our neighboring vendor had some skills and gave us a few pointers. Still…epic fail!
At the end of the day, we packed up and headed our separate ways. I had the chance to sit down and eat dinner with one of our big-time supporters Virginia Elite who raised over $6,000 and recorded over 1,000 digs for our Dig-A-Thon. We discussed their support of our mission, how they could do more, and then pontificated and shared our thoughts on coaching and the volleyball community. Killer time! Thanks, Lexi, Jason, and Z! As far as the rest of the team…Tim worked out and Sydney ate. Eventually, all of us crashed.
Day 8 – Sunday, June 23
From Sydney – Day 8 was our final full day at AAU Nationals and we were all a bit tired, but we stayed strong! I cannot even imagine how these players feel! After a woman stopped by our booth for the third time and told us how pumped she was to bring Dig Pink to her school, I got reenergized pretty quick!
It may sound cheesy, but there is always a great feeling when we get to connect with individuals from across the country and even abroad who believe in what we do.
As the day continued, we watched some great volleyball being played on court 52 and we talked volleyball; what kind of players we were, our different teams, and the coaching experiences we had. Being here and reminiscing definitely makes me miss the sport even more. I might have to join a rec league when I head back to Virginia!
As the evening came to an end, we headed over to Marlow Tavern to grab a bite to eat. We talked a lot about cows and butter (Some great insight from our Nebraska-native, Tim!). I know, how random? But we had a good time! Lots of laughs as we ended our final full day in Orlando.
We know our final group of Eleanor, Adam, and Leia will do a great job picking up where we left off.
Day 9 – Monday, June 24
From Adam – As the third and final group, our wait was finally over! Eleanor, Leia, and I made our way down the AAU Nationals today. When we got into Orlando's airport, we had a "family greeting" waiting for us from Rick and Sydney who were about to board their plane.
Once we got to the place we are staying, we dropped our bags and rushed to get some dinner with Tim (who had to stay an extra day because of flight choices into Omaha). After dinner, the three of us sat by the pool and enjoyed the last few minutes of sunlight before calling it a night.
It was a short day for us, but we are ready to see what our first full day at AAU brings. We've heard great things from the other groups and are excited to meet everyone!
Day 10 – Tuesday, June 25
From Leia – Our first day at AAU was quite interesting! Along with merchandise sales, Adam, Eleanor, and I found ways to keep ourselves entertained and active by learning some cool dance moves. We may not be the best dancers, but we for sure caught the attention of whoever walked by our booth! The goal is now for them to master what I call "the happy feet dance" by the end of the week. Stay tuned to blog posts to find out if they achieve their goal!
As I walked around the convention center to take pictures and videos, I also got the chance to have some very interesting conversations with parents. Three dads who were watching their daughters play jokingly asked me to take a picture of them as they called themselves "The Fathers of Volleyball". It made me realize how volleyball tournaments like AAU don't only bring players together, but also parents, coaches, and friends who all have one thing in common: Support for the players.
After taking some more pictures and selling some more Dig Pink merchandise, we headed out to dinner to Rocco's Tacos which just happened to have an all you can eat taco night that Adam definitely took advantage of. We then proceeded to go grocery shopping. A lot of dancing in the store happened as well as a lot of judging from the people around us.
We concluded our day by watching some amazing (and not so amazing) performances on America's Got Talent. With Dig Pink Day happening tomorrow, I am very excited to get back to the convention center and make some more amazing encounters (And do some more dancing)!
Day 11 – Wednesday, June 26
From Eleanor – Day two means Dig Pink Day! As we entered the convention center and rode down the escalator, we could already see teams sporting their pink. Some had jerseys, shirts, socks, scrunchies, and some even had pink shoes! The referees were even into it with polos and pink whistles. At Side-Out, that's what we like to see!
We began setting up and found ourselves next to a court where a team had pink jerseys. As a former player and coach, I found myself watching them any chance I got and Adam took full advantage of the fun competition and pink attire capturing pictures and video!
As the day went on, we did the usual things to keep us energized including the infamous "happy feet dance" Leia has been teaching us. I actually think I almost have the hang of it! Check out the video below of Leia! Adam is taking a little longer to grasp the move but is making progress and I'm confident he'll lock it down by the end of the week!
We wrapped up our day with a trip over to Disney Springs. First, we ate at House of Blue (try their jalapeño cornbread… you'll thank me later) before pursuing the shops and other attractions. Being a professional shopper (a self-dubbed title), I ventured into all the designer handbag stores and to mine and my colleagues' surprise, I didn't buy anything! Something my wallet will thank me for later. We also hit up the Star Wars outpost, the Disney Store, and OF COURSE Lego Land. All in all, it was a nice evening walking around and entertaining the child in all of us.
Around 8:45, we headed back to the apartment and hunkered down for the night, ready for whatever day 3 will bring us here at AAU.
Day 12 – Thursday, June 27
From Adam – Our final full day at AAU was an exciting one filled with some great volleyball. You could tell the energy was higher and the matches were closer than the other days we have been down here. Leia got some awesome video of the matches during the slow parts of the day.
Even though things are a little slower for our group than the other two groups, it gives us more opportunities to talk with people about what volleyball is doing for our research. I spoke to someone later in the day who was very familiar with our Ambassador Program being from the high school of one of our recent Ambassador scholarship winners. I also spoke to someone from Montana about the state-wide initiative the teams do out there. Those types of conversations always remind me of the power our sport has to do great things.
Once we finished up at the convention center, we went out for one final dinner and ice cream run in Orlando. Fun fact: You can get a 32 oz(!!!) sundae at Twisted Treats in Orlando! After satisfying our sweet tooth, we headed back to our place and got packed to leave the next morning.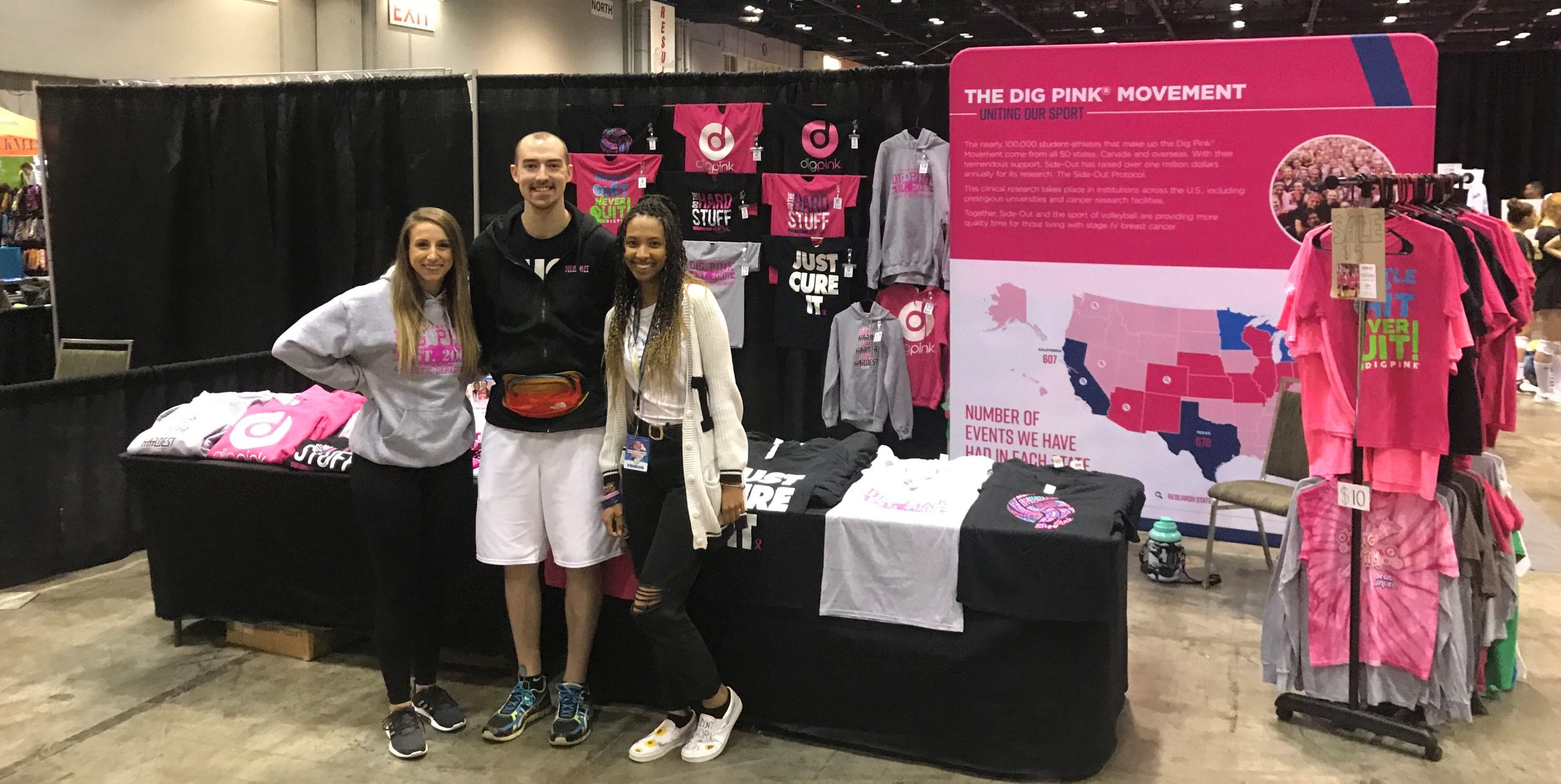 It has been a crazy couple of days in Orlando for our group, but it's always good to get away from the desk and be around the atmosphere of volleyball tournaments. A big thank you to AAU for partnering with us for the third year in a row!