The Side-Out Foundation is happy to announce that for the third straight year, the foundation is partnering with the Amateur Athletic Union (AAU) during the 46th AAU Junior National Volleyball Championships from June 16th-28th in Orlando, FL. New for this year, the AAU Nationals will be the culminating event of the 2019 Dig Pink Dig-A-Thon!
This twelve-day event features the best teams competing for every dig and point. The event brings thousands of volleyball fans to Orlando each year to cheer on the best volleyball athletes in each age range. Divisions at the championship event range from 10's through 18 Apex and 18 Pinnacle.
The Dig Pink® Dig-A-Thon is a season-long initiative uniting volleyball teams to accomplish 150,000 digs in honor of the 150,000 individuals living with stage IV breast cancer in the U.S. As part of the Dig-A-Thon, teams will dive for every dig while collecting pledges.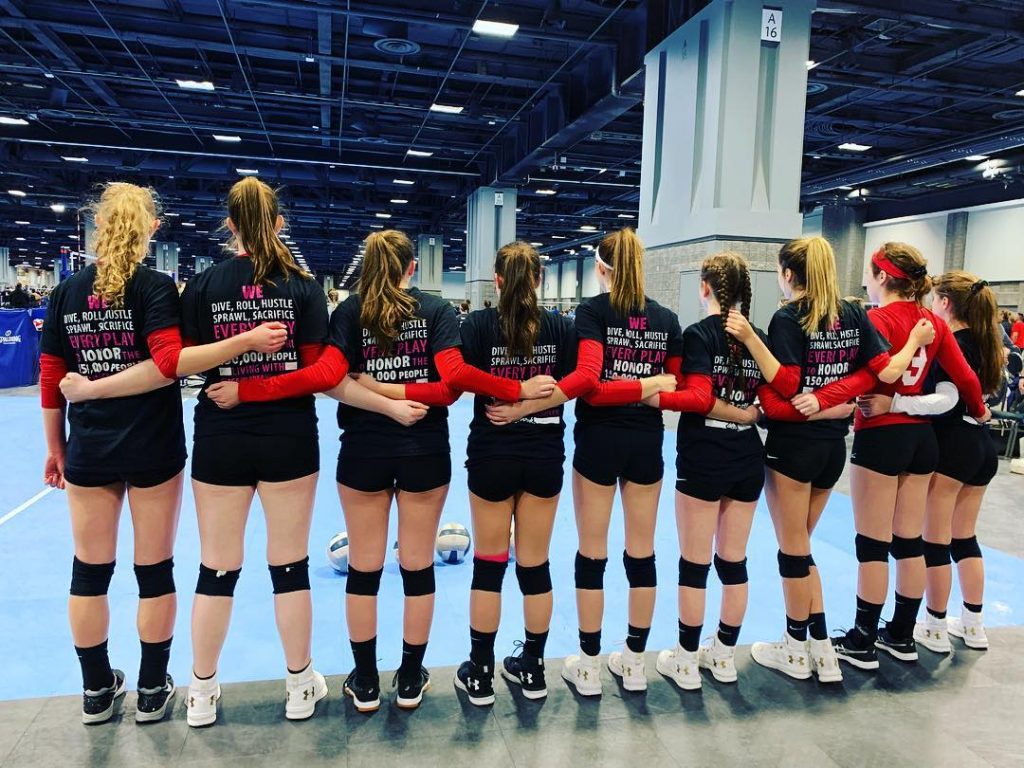 The AAU Goal

The Dig-A-Thon goal at AAU Nationals is set at 50,000 digs and $10,000 raised for Side-Out's stage IV breast cancer research! Teams can register for the Dig-A-Thon today and help AAU hit its goals!
For each dig teams complete, it supports Side-Out's cutting-edge clinical research, The Side-Out Protocol. Side-Out's research is adding precious time to the lives of those living with stage IV breast cancer.
Once teams register for the Dig Pink Dig-A-Thon, they will receive their own Dig-A-Thon fundraising page! Friends, family, and fans can make pledges and donations directly to the page and start helping the teams hit their goal.
The top fundraising team will be rewarded with a free entry to next year's AAU Girls' Junior National Volleyball Championships. The winning team will be announced by the end of June.
"As ambassadors of this cause, it's our responsibility to take action and do the hard stuff to honor people everywhere who don't have a choice to live their lives any other way. – Rick Dunetz
How To Start

Visit the Dig-A-Thon page and start your pledge campaign by clicking the "SIGN UP" button at the top. Once teams do so, family, friends, and fans can visit the team's very own fundraising page to make their pledges and donations for every dig the team completes.
Teams can track their progress easily throughout the event with their Dig-A-Thon page. As an official Dig-A-Thon location, AAU Nationals is an option to select when adding an activity! For more information on how to enter digs, either click here or stop by Side-Out's booth to get assistance while at the tournament.

Teams who raise $750 or more through their Dig-A-Thon campaign at AAU will receive up to 20 free Official Dig-A-Thon t-shirts for their players and coaches!
Dig Pink Days

AAU Volleyball will also have Dig Pink days at the 46th AAU Girls' Junior National Volleyball Championships on June 18th, June 22nd, and June 26th. All current uniform requirements must still be adhered to on these days. Don't forget to share your pictures online with #AAUDigsPink.
The AAU Girls' Junior National Championships start with an Opening Celebration and Ceremonies on June 16th at the ESPN Wide World of Sports. Teams will march-in Olympic style and concludes on June 28th after crowning over 30 national champions.
If you're headed to Orlando in June, be sure to register today and get digging! We look forward to seeing everyone at the AAU Championships in June!