With individualized treatment, we help metastatic breast cancer patients spend more time with loved ones.

For 10 years, we've researched what makes each tumor unique so we can improve cancer care for every patient. Help us continue the work.
We don't just fund research - we do research.
We work to understand the molecular makeup of every metastatic breast cancer tumor we biopsy. From there, we analyze the treatments and trials that can substantially improve the length and quality of life of each patient.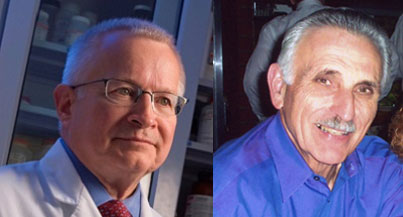 Bryant Dunetz connects with highly regarded scientist Dr. Daniel Von Hoff and their partnership launches the first-ever metastatic breast cancer clinical trial in the area of precision medicine.
Side-Out Phase 1 research study launches with a focus on biopsying and understanding metastatic tumors on an individual basis.
Side-Out Phase 2 study begins with a focus on stabilizing metastatic tumors for longer periods of time in between treatments.
Side-Out Phase 3 trial begins and is focused on identifying the treatments that will have the most impact on each patient's tumor

Launched first ever publicly available multi-omics molecular database for metastatic breast cancer 
We provide an unprecedented treatment
report to metastatic breast cancer patients.
By leveraging our metastatic tumor research, powered by Perthera's lab analysis, we provide patients and their oncologists the information they need to select precision treatment options for their individual tumor. 
Donate today to provide a patient the treatment options that could give them more time.
Our research

has been recognized by
We're looking for partners and advocates to help us reach more metastatic breast cancer patients facing a stage III or stage IV diagnosis. 
Get support to treat patients. 
We help you understand your patient's individual tumor and get the latest information on treatments available that have shown results. We combine 10 years of research with Perthera's powerful lab analysis to get you a report that doesn't exist elsewhere.
Help us reach more patients.
Our work is funded by incredible advocates and volunteers across the U.S. Join us in giving metastatic breast cancer patients more time by donating or organizing a fundraising effort. 
Understand your treatment options.
Our reports, powered by Perthera and funded by Side-Out, combine our extensive metastatic breast cancer research with individualized analysis that outlines the best treatment options for your tumor.
Access our research database.
For 10 years our researchers have studied metastatic tumor DNA and the proteins that drive them. We've witnessed the power of precision medicine, and we've made our research data publicly available to anyone who can use it.
Learn More from Our Researchers
Get the latest news on metastatic research and treatments straight to your inbox once a month.