by Sarah Hemminger
Carlow University
Many young adults feel overwhelmed and insignificant as they ponder thoughts of what life past high school will hold for them. The pressure of college and career choices can seem daunting and insurmountable. I felt exactly this way during the summer of 2010. I had no idea that my love for volleyball, the support of my small town community and the hand of God would clearly define my life's path within a few short months.
The 2010 Somerset Dig Pink Event changed me, my teammates and gave my community a confidence in its youth that had previously not been exhibited. During our early summer Dig Pink planning sessions the team set realistic fundraising goals, we could not have imagined that our efforts would nearly double the initial goal.
Amid a week of college tours for my planned engineering major, I began to have health problems. With volleyball camp and my senior year just days away, I found myself hospitalized for an emergency appendix removal and subsequent complications. In one devastating week, I went from planning to crush volleyballs to simply being crushed. My senior volleyball season was lost. This blessing in disguise literaily forced me to slow down and begin focusing on others. Since I couldn't lead my team on the court I poured my heart and soul into our senior project Dig Pink Event.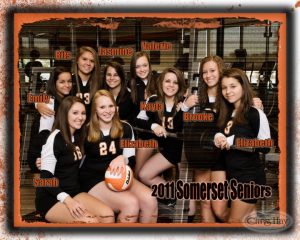 My team of eight seniors girls only needed the rudder my injury provided to reach a goal no one thought possible in a very small, economically challenged town like Somerset. My injury prevented me from showing a pig I had raised through 4H at our County Fair, so my grandmother kindly bought it and donated it to our Dig Pink event. We solicited other business donations and with the freezer of pork, we had a very successful raffle event. Coin collection containers at businesses all over the county were a great way to raise money and also get breast cancer pamphlets from the local oncology unit distributed. I met with the Mayor to get borough approval for the first ever Dig Pink Coin Toss held on the streets of our uptown. Because we are a Pennsylvania Turnpike exit we received donations and encouragement from people all over the world. lt was an electrifying experience for our team and the media coverage that ensued brought with it breast cancer articles in local and school newspapers. Bake good sales and theme baskets raffles set the stage for our event. We asked the community to help us "Black Out" Breast Cancer and designed and sold original t-shirts.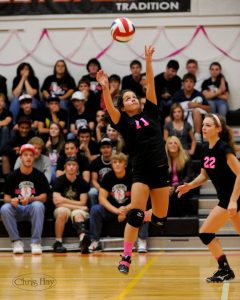 On the evening of October 25, 20I0 our local gymnasium was truly blacked out! Everyone, including the opposing team and their parents, wore black. When game time arrived, we turned off the gym lights and everyone activated the individual glow sticks they were given upon entering the gym. Words can't describe the amazing energy present in that gym as we shared statistics on breast cancer and patient survival. In an atmosphere of hundreds of silent people all holding glow sticks, I was so very proud to be chosen by my team to welcome everyone and reveal our fundraising efforts. When I announced that we had surpassed $7,000 in donations the whole town erupted. No one will ever remember who won that game because breast cancer research was the winner. My team won the appreciation and respect of our entire community because we never stopped trying to reach an insurmountable goal.
Following our graduation, all eight volleyball seniors said that the feeling of the Dig Pink Event was their favorite high school accomplishment. For me personally, the engineering career I had planned changed to a calling to become a nurse. I am currently in the Honors Nursing Program at Carlow University in Pittsburgh, Pennsylvania and after spending time at the Somerset Oncology Center, I am considering a career in oncology nursing.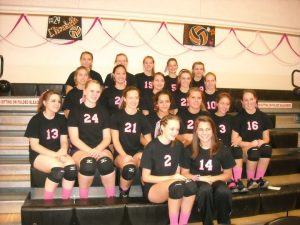 In a small town like mine traditions are something that is easy to come by. Our volleyball team has created a legacy where our community now expects our members to raise money for breast cancer research. During this whole process I have realized that through the ups and downs in life the one thing that should stay consistent is your drive to help others. My teammates and I were able to do this on a community level and create what hopefully continues as a long standing tradition. We have proven that eight young women can make a difference in the world and that is something that will always be a part of who I am.