Volleyball as you all know, is a team sport. Meaning, it takes every player to come together and make decisions that will result in the best scenario for that team. Of course everyone has a specific role or position, however some may be more open and accepting to their role or position than others. It's essential to ensure everyone that all players and coaches are on the same page.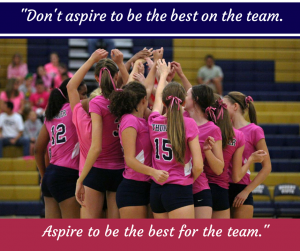 There are a few different perspectives to take on this situation. You can look at it from a coach's point of view, where they ultimately want what's best for the team. This is the viewpoint most coaches struggle getting players to accept. That can mean switching players to a different position or deciding who your starters will be.
However, you can also look at it from a player's point of view, which generally can come from a more individual outlook. This perspective is often skewed by many internal and external factors. A lot of times, younger kids are given roles/positions based on height or athleticism. Therefore most players will go through the majority of their career playing a specific position. But what happens when that player is beaten out by a bigger or more athletic player? OR what happens when that player is eventually part of a team where they are short a designated position or role?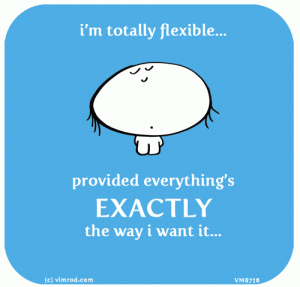 Change happens. The ultimate team player is constantly thinking about what they can do to improve the success of their team. This situation could arise on any team and affect anyone! This could be as simple as a player accepting a new position, or it could be as tough as a player knowing that unless they improve upon their skills, their role will change from an active role to a supportive role. The teams who have players that are willing to shift their own role or position to do what's best for the team will prevail.
 Most players think that if they have to vary their role or position, it will hinder their success later on. However, that is a common misconception. I myself started playing volleyball at a young age, and was exceptionally taller than the other girls. Naturally my coach stuck me in the middle and I played that position for several years. I went on to play various attacking positions up through my late high school years. When I was seventeen years old I attended a high performance camp at a Division I school. Unfortunately the court I was on was lacking a setter. The coach of my court insisted that I set for the duration of the camp. The coaches at the university noticed that I adapted to my environment and immediately did what was asked of me. It turned out that I wasn't half bad at setting, even though I had never played that position before. Soon after the camp was over, the coaches at the university asked me to come for a visit. On my visit they stated how impressed they were with my coachability and athleticism. They offered me a scholarship and I eventually went on to become a setter.
Setting as a player on the GMU volleyball team I was able to take away such a great learning experience from just being open to change and having a "team player" attitude. Had I not been willing to do what was best for my team at that particular camp, who knows if I would have ended up at that university? Having a selfless approach to a team sport is the key to success on and off the court. Helping others, even though it might not be the ideal situation for oneself, makes you the ultimate team player. People will notice such a commendable trait and it will only assist you with your future endeavors, whether or not they are in the sports realm. The ultimate team player is someone who is constantly willing to modify their role in order to create a successful outcome.