by Becca Hannigan
Player, North Atlanta Volleyball Club (GA)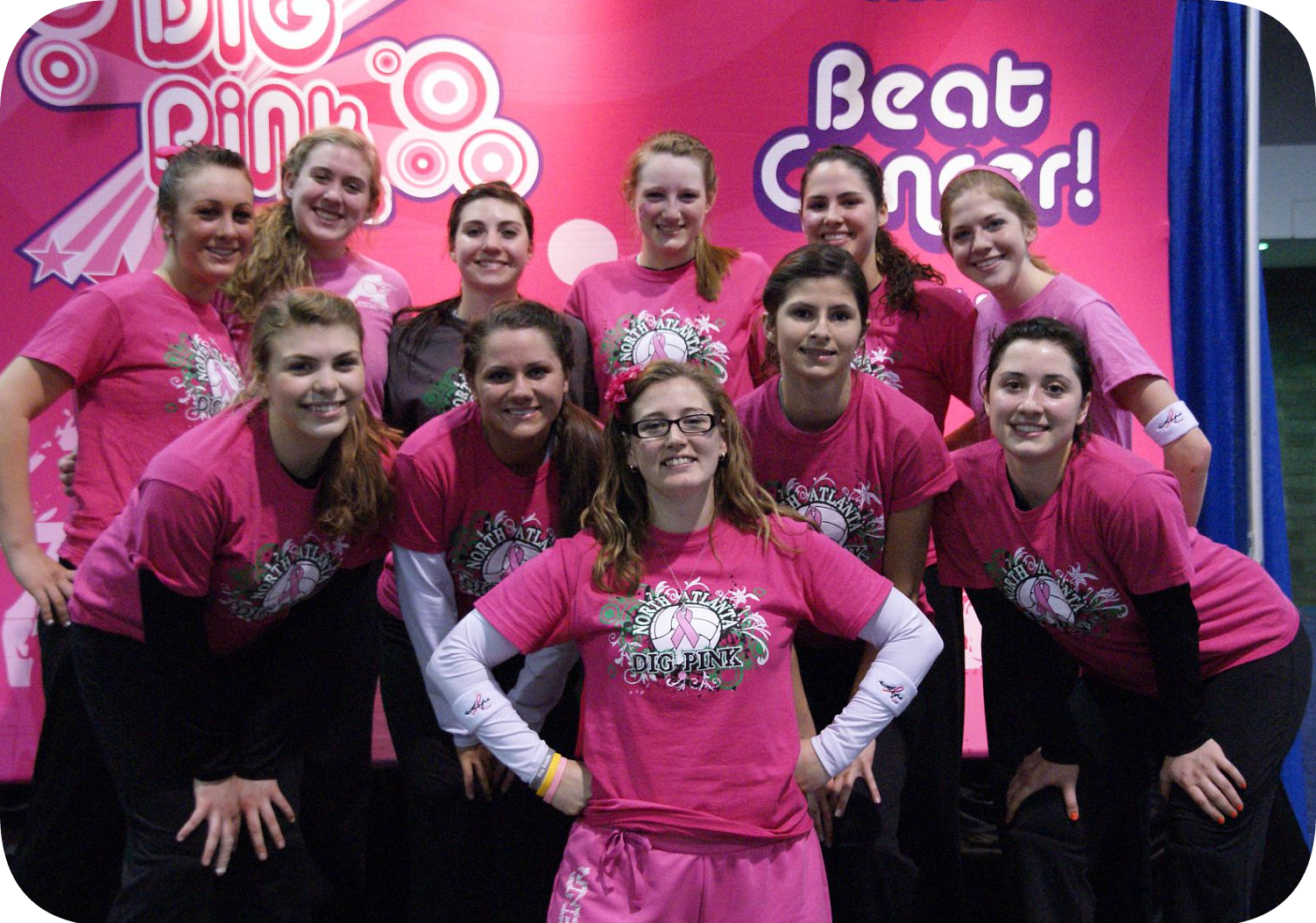 I never imagined a day when I would traipse through an overwhelming haze of pink with my head held high and a pleasant grin on my face. That color for me is usually an automatic upset stomach and a dose of Tums or Advil, but on the 2nd day of Big South, its effect was quite the opposite. Pink became more than just the combination of red and white paint, or a sad reminder of unromantic Valentine's Days of the past; it was unity. It was solidarity, support for an honorable cause. Not only that, but it was everywhere. From special uniforms to sparkle headbands, girls, boys, women, and men alike went out of their way to display their concern for a harsh reality and their hope for a better tomorrow.
What was the cause of this pink epidemic? It was the celebration of the Side-Out Foundation's massive Dig Pink fundraiser for breast cancer research. The main event was called Big South, the largest volleyball tournament in the Southeast region of the United States—obviously a good opportunity to raise support for such a worthy cause.
The Side-Out Foundation was founded by Rick Dunetz, a volleyball coach who turned to his volleyball team for support in raising money for his mom's fight against breast cancer. His team grew stronger in many ways, persevering through his hardship and learning the importance of determination and hope. They took these good lessons and successfully presented them on the court, winning the district championship title for the first time in the school's history. Dunetz wanted other teams to experience the same power of giving and growing. He opened up the challenge of raising money to fight breast cancer to clubs nationwide. My club, North Atlanta, had been actively participating in the fundraiser for years. I first played for North Atlanta in the 2009-2010 season under the coaching of June Stiles, and her passionate involvement gave me a new perspective on the fundraiser, which eventually altered my perspective on life. It taught me an indelible lesson about character and hope.
Upon arriving at our court at Big South, I noticed Coach June—who was also overcoming her aversion to pink by covering herself from head to toe in it—bore that word on her shirt: hope. Hope. Other than being a catchy campaign slogan for President Obama, what does it mean, realistically?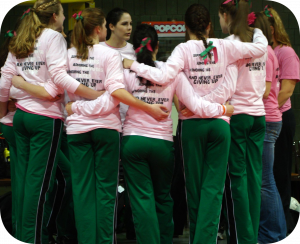 Before Dig Pink, I saw hope as an abstract ideology, more conceptual than concrete. It was an intuitive—but not always realistic—desire for something bigger, better, or brighter. I'd always thought of it as something that can falter and is fleeting. But I learned through my experience with Dig Pink that hope is infinitely more than that. It perseveres. Doubt and worry can be overcome by its selfless faith. Hope took a more tangible form for me when people responded fiscally by pulling out their wallets and contributing to the cause. I saw it in the actions of my friends and family, along with the other thousands of supporters of Dig Pink through their contributions of time and money. The Dig Pink foundation would not exist without hope. And now, in my mind, nothing shouts hope louder than the rosy pink shirts or the Side-Out Foundation logo.
The girls on my team were very close. Getting to know each other on the court was not a problem, and after several conversations, we thought we knew quite a bit about each other's interests and lives off the court. But the Dig Pink fundraiser presented us with a unique opportunity to see more of our personalities and character. We were given a challenge: to raise the most money in the club. How would we respond? I often wondered, and I was curious to see more of the heart and soul of the team. What I saw was more than I expected. We raised $3700, which was not only the most of any team in the club, but the most of any team in the nation. So yes, a group of nine hormonal and sometimes selfish 16-year-olds were willing to take a little hammer and break open their piggy banks (and the piggy banks of those around them) to make a point. Now the credit is not only to be given to us girls, because a vast majority of it belongs to our coach. She was the motivating factor behind us, incessantly nagging, poking, pushing, and driving us to raise more and more and more. So we did. And then we stepped back, and we were amazed.
It happened again, the very next year. I had my doubts, because it's hard to repeat a good thing twice and even harder to repeat an incredible thing twice. But to my astonishment, we made it happen even bigger and better than before. We delved into it the second time around with a clearer understanding of our capabilities, and we raised $7500. After tasting the sweet satisfaction of making a difference the year before, we obviously had an even greater appetite for impacting others again.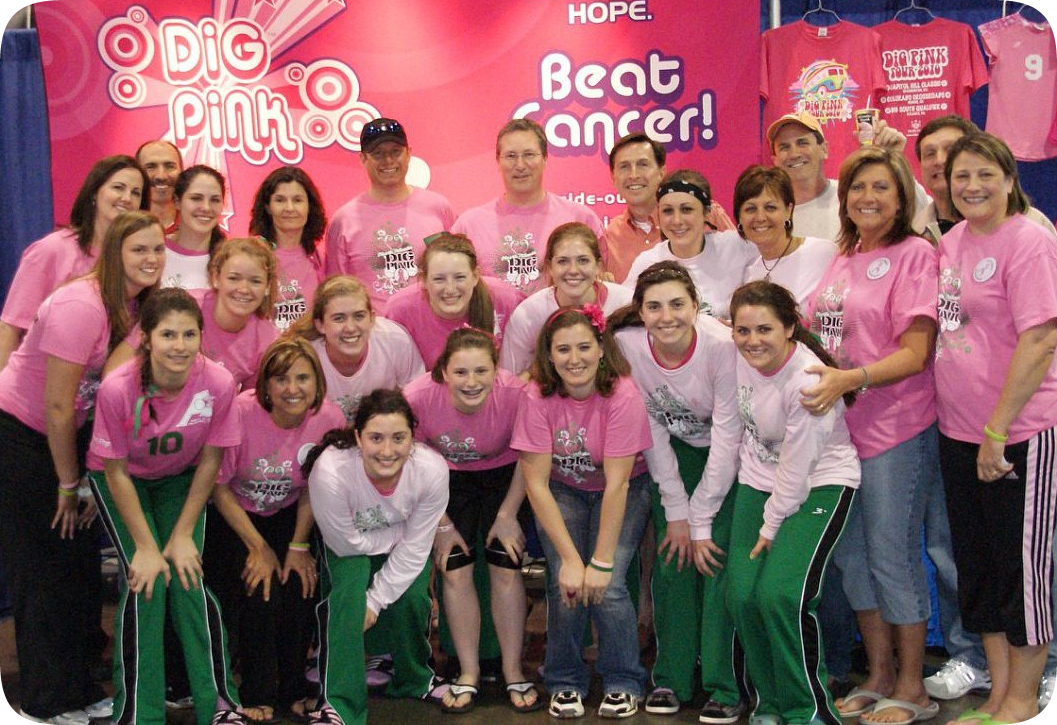 Do not be mistaken; none of what I say about my team's great money-raising spree is for the purpose of self-glorification or vanity. I'm not trying to point out how well we did, or that we were the top selling team in the nation for two years in a row (which sounds conceited, I know), but I'm trying to show how affecting it was. The competitive edge in our team molded into a compassionate urge to accomplish something bigger than ourselves. What began as a contest quickly sprouted into a blessing, as we were blown away by our ability to actually do something of great worth for people who are in need. If anything, it was a humbling experience.
I was affected by the impact of cancer on countless lives, although I have not directly experienced a hardship or loss from breast cancer. I am friends with several survivors, by God's good grace. My close friend of nine years went through a scare with her mother, but we thank God that she made it through. Now, her mom carries one of the torches during the luminary walk at Relay for Life. Relay (a large fundraising event for the American Cancer Society) is another incredible event that has been part of my life for the past few years. I was moved by the massive support from students and adults all over the county, and I was shocked by the number of people affected by cancer.
Raising money for Dig Pink brought us together. It brought others together too, and led to a greater realization that it's hard to know where others are coming from and what they've been through. A few days after my coach told us about the fundraising, I walked around school with a can to collect spare change. Several students stepped forward and contributed a few quarters or dimes. This sounds like little, but in the school world with 50 cent vending machines, it's a lot. It made me wonder what their motivation was. Had they had first-hand experience with a close family member fighting breast cancer? Were they, too, compelled to do something about the crippling disease that attacks so many? I felt a sense of pride swell in me when my fellow students were willing to put forth some of what little they had to support something massive. I wondered the same things about my math teacher when she willingly wrote a check to Side-Out. I marveled at the depth or lack of human connection—while I spent time in her classroom every day for 55 minutes and talked to her regularly, how much did I really know about her? How much did I know about any of the thousands of people I encountered every day? She was one of my favorite teachers, and I had no idea if she had battled breast cancer, or if her mother or sister had. Despite our apparently lacking relationship, we shared something: we wanted to do what we could to bring an end to cancer's relentless reign. For those moments, we had something in common, more than math or numbers or grades, and I felt stronger to feel the support of others who stood with me.
It's hard to beat, that feeling. Standing together for something. Just ask anyone who has attended a college or pro football game. It's that exhilarating, inexpressible rush that fills you when you're standing in a mass of people who are wearing the same color as you, cheering for the same team as you. It doesn't matter what you ate for lunch, or what work you have to come home to; all you can think about is how it feels to be a contributing part of something bigger than yourself. The only difference is that at Big South, everyone was on the same team, wearing the same color, and working to make a difference. When I was walking out of that gym on Saturday, all I could say was that I can't wait to go home and dig up all the pink articles of clothing in my house to get ready for next year.