When I was 12 years old, my grandmother was diagnosed with breast cancer. At that time I didn't think it was a big deal. As I got older, I learned how serious it was and how much it can affect a person and their family. But that's not even the saddest part.
The saddest part is that millions of families around the world face the same situation. I realized it was time for me to take action to do my part to help reduce the number of diagnoses of breast cancer each year.
A couple of years later, I heard about Dig Pink events when the high school volleyball team hosted one. I liked it mainly because the whole gym was decked out in pink. The gym had pink jerseys, balloons, streamers, cupcakes, and more. I remember wanting to be in a Dig Pink event so badly when I got into high school.
Before my junior year, I went up to my coach after a summer practice and asked her if we could do a Dig Pink event. She said yes! I was so excited that I immediately went home, pulled up the website, and started planning.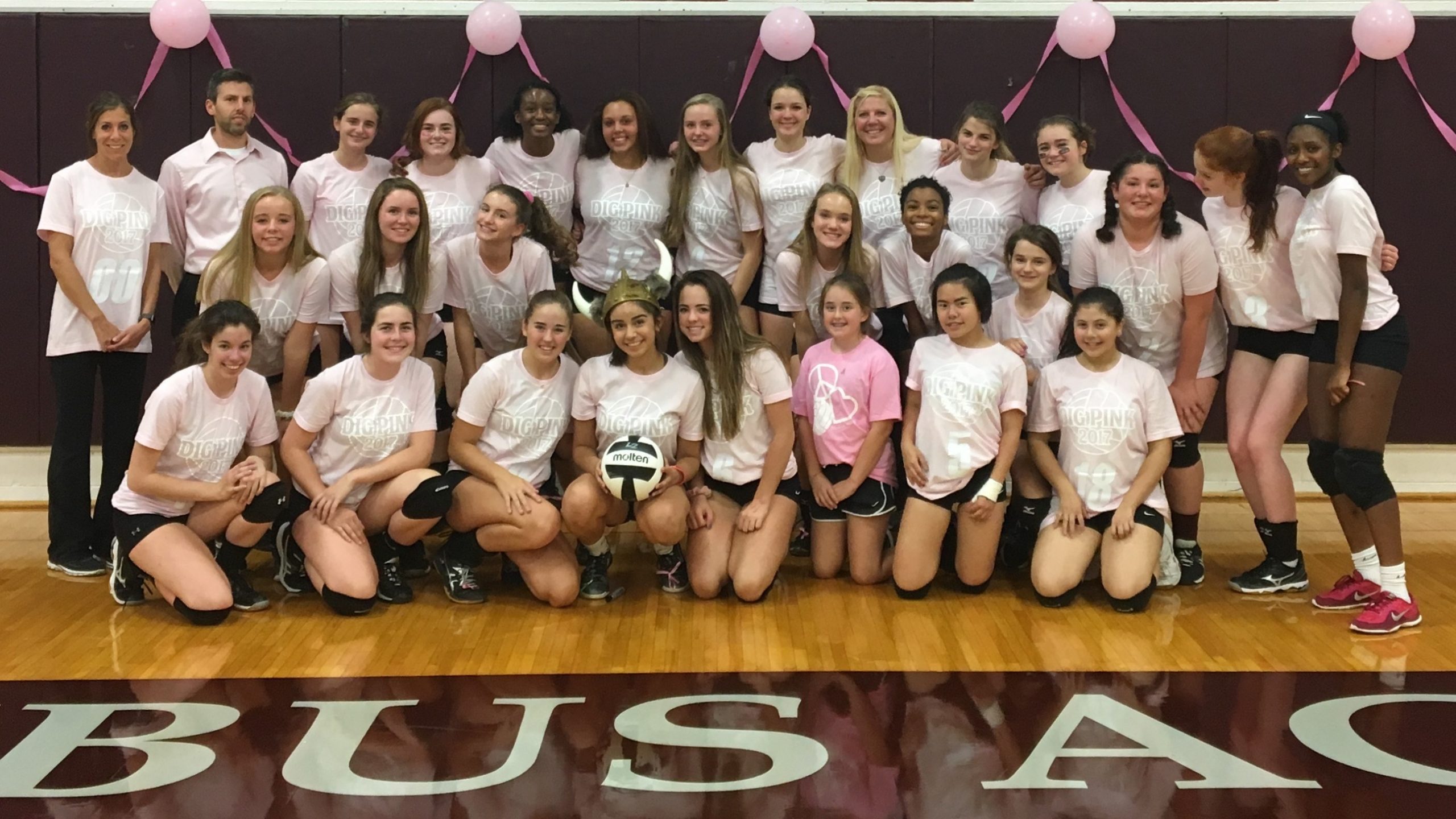 Learning about the Ambassador Program
While researching, I learned about the Ambassador Program. It sounded really cool because I could possibly win a scholarship and an award! After talking to my dad, I decided to apply. At first, it seemed like a lot of stuff I had to do. There was a two-hour educational requirement and an essay to write, but it was worth it.
For my educational requirement, I interviewed my mom's friend who is an avid breast cancer researcher at the University of Southern California. Some of the terms she used were a little confusing which I had to look up. Terms like "in situ" which refers to the primary site of the cancer, and "metastasis" which means when the cancer spreads to other parts of the body. After learning from her, I was able to teach others by writing out the information in a pamphlet. These pamphlets were then handed out at the game.
The Dig Pink Experience
The day of the Dig Pink game was one I will never forget. Our whole volleyball team wore matching pink t-shirts to school to get everyone hyped up for the big game. During our free time and before the game, we decorated the gym with pink balloons and streamers. We even had a dessert table with pink cupcakes and cookies! Our team also had a raffle that included a gift basket from Cheryl's cookies and other cute baskets filled with pink candles, fuzzy socks, and makeup.
The best part of the night was the rose ceremony. Each player gave a pink rose to a breast cancer survivor before the game started, and I was able to give one to my grandmother. It was a moment I will cherish forever.
Ambassador Program Results
At the end of the event, my team raised over $3,000.00 for Side-Out's breast cancer research! Our original goal was $2,000.00, so we were pretty ecstatic. I was so happy that we not only made an impact on patients with breast cancer, but also on our community by spreading awareness about this disease.
After this event, I knew I would continue to be an advocate of breast cancer awareness and help to make a difference in people's lives for the rest of my life.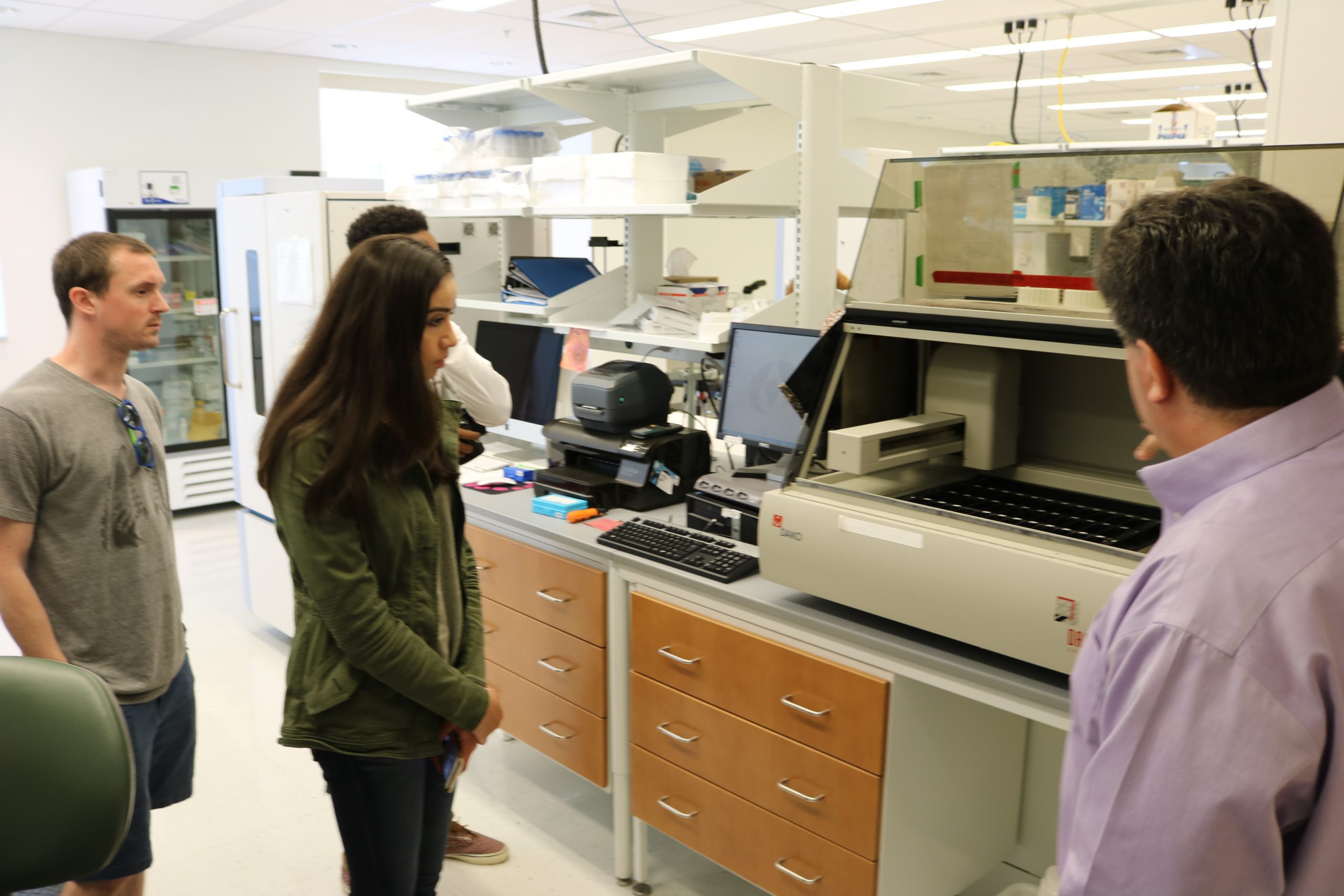 After the Program
To complete my Dig Pink experience, I interned with Side-Out for two weeks. Some of my responsibilities were to create Facebook ads for the Ambassador Program, a marketing plan, and write a letter to future Dig Pink organizers. I learned so much in those two weeks, not just about marketing, but also teamwork and communication.
On my second to last day at Side-Out, I had the chance to tour one of the research labs where they are conducting their clinical trials. It looked exactly like a real scientist's lab with white coats, beakers, and fancy machines. The experience was eye-opening for me. I saw exactly what goes on behind the scenes of Side-Out's clinical research and learned how they are helping to extend the lives of their patients.
It was a great way for my Dig Pink experience to come to a full circle, confirming why I chose to do this event in the first place.