With club volleyball in the full swing of things, Dig Pink® is again making it's impact across the country. As the color pink begins to spread throughout tournament sites everywhere, we keep getting the question "What are the 2015 Dig Pink Tour Stops for The Side-Out Foundation this season?"
Well that time has arrived. This season, we are heading to six locations across the U.S. and are thrilled about each one of them. If your team is playing at any of the sites, make sure to stop by our booth and say hello!
If you have not yet heard, this year's Dig Pink® Tour is focused around the Assist Project. With big goals to reach, we need as many teams as possible to join us for this amazing community project! If you have already started raising funds and are planning on turning in your cards at a tournament, we will be collecting them at the Capitol Hill Classic, ASICS President's Day Classic, and Colorado Crossroads.
If you are a team or club that has not yet signed up to be a part of the 2015 Assist Project and you would like to join, IT'S NOT TOO LATE! We will also be able to accept your cards before the deadline at both Mid-East Qualifiers in St. Louis and Indianapolis. The deadline to complete the project to receive rewards is March 31.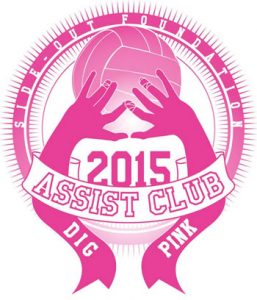 Card making will be available at our booths for Capitol Hill Classic and Colorado Crossroads and we encourage your team to raise funds and make cards leading up to and at these events. Your team can also participate in the project on your own during your time at the ASICS President's Day Classic and Mideast Qualifier.
Our final tournament that we will be at is the JVA World Challenge in Louisville, Kentucky. Again we encourage you to stop by our booth and let us know that you are there too! A few members of our team, including our executive director Rick Dunetz will be there to answer any questions you may have or if you just want to catch up!
Remember, the second day of your tournament will STILL be Dig Pink® Day, but now your team has a project and goal to focus on to make a larger impact while showing off your pink attire.
Other Ways to Assist
At your tournament, team players and parents are encouraged to raise funds for the Side-Out Foundation in other ways as well. If you want to really make a difference this season, here are some fun ideas to challenge your team.
Pledge for Aces: Parents can set up a bucket at each court and pledge a certain amount for each Ace that their team gets. This gives your players a little more incentive to go after it on the serve.
Pledging for the Rankings: Parents can get together and pledge a certain amount based on every spot that your team moves up in the rankings. This gives the players some extra motivation to move up the ladder for a great cause. A few years ago we had a team that was ranked 26th in the tournament to start and ended up 2nd overall. They played like a team on a mission and for that effort they raised over $10,000 for the cause.

Play for Change: No one likes carrying around spare change, so set up a change collection bucket at your court that parents and player walking by can drop their change into. You would be surprised how change adds up!
There are plenty of great ways to raise fund at these tournaments, so get creative and have fun! You cheer for your team while doing great things for breast cancer research.
Locations
Though these are the locations that we are going to be this season, you can work on the Assist Project and raise funds for Side-Out at ANY tournament in the country. Remember, completing the project by March 31 will get your team into the Assist Club where rewards will be waiting on you!