Long Island Volleyball Club raised almost $4,000 for The Assist Project as they become an Assist Club Team Feature! They created a special page on their website just for The Assist Project and six of their teams created cards for patients. They took time to answer some questions about how they managed the project; if you're thinking about participating next year, there are some great ideas here and in the other team features (PJVBC and PEVBC).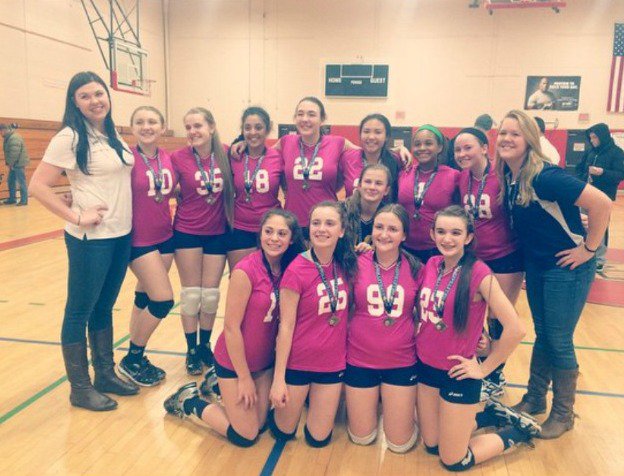 What kinds of team building activities do you like to do with your club players?

To be perfectly honest, I did not have to do any team bonding activities this year. My girls all basically were obsessed with each other from their first practice. I truly believe that I have the best group of girls ever. Each girl is just a great, well rounded individual and this is the most genuine and sincere group I have ever worked with. You can tell they care for each one of their teammates and you can literally see how much they all love each other. A lot of coaches actually approach me as well as my assistant coach about our team chemistry. It shows on and off the court
How did you fit The Assist Project in with your club's activities?

The card making we set aside for after one Saturday practice, but we made sure to bring it up every time we met, just as a little reminder to help those in need. Most of the time the girls brought it up.

[unitegallery LIVBC]

Where did your teams meet to make the cards? Did you make it an event of some sort?

Because of our club's busy tournament schedules, we had each team make the cards on their own. At first, my team was going to have a "Card Making Party" after a dinner at the Capital Classic Tournament in Washington D.C., but my girls played amazing and we were actually kept at the convention center for a full three days! We then decided that we would make the cards after one of our Saturday practices, and honestly watching the girls get excited over their cards or ideas was great. They all came up with beautiful, funny cards that truly were a reflection of them.
How many players created cards?

There were a total of six full teams that created the cards, so roughly 72 girls participated.
What did your players do to make their cards special?

I think that my players let their personalities shine through the cards. Like I said before, the cards reflect the girls perfectly. The cards had lots of positive messages as well as a ton of jokes, artwork, poems and just lots of love in them. I loved reading through the cards before I sent them out and I really hope whoever got the cards enjoys them as much as I did.
How did you incorporate fundraising?

We had a lot of family members who donated to our team and club. I put it up on my social media pages and the girls did as well. I think that's why we raised so much money.
How did players and their families respond to The Assist Project?

The players and their families responded very well to The Assist Project. Before I decided to participate in The Assist Project, I made sure to ask my girls if it was something they would want to be a part of. I didn't want to tell them they had to do it; I really wanted them to be as excited as I was to be take part in. As soon as I said we were raising money and making cards for Breast Cancer patients all of the girls were extremely interested. The families of the girls were also very happy to be doing this. It seems that living on Long Island almost every person has been effected by cancer in some way, so this hit home for a lot of players and families, which is why I believe we had so much success participating in The Assist Project.