It's that time of year again… time to start planning for your Dig Pink®! If you've done this before, you know what a breeze it is to plan and execute your rally match.  If you haven't done a Dig Pink® match with us before, worry not!  Here's the basic steps to start planning your event this year:
So, what is the Dig Pink Rally?
The Dig Pink® is The Side-Out Foundation's fall event that brings together volleyball players across the nation to raise funds for breast cancer research, demonstrate the power of teamwork, and show support for people with the disease. Money raised through Dig Pink® supports Side-Out's game-changing cancer research and programs to develop the whole player.
Dig Pink® events can be organized at the local, county, city or state level. Although Side-Out's Dig Pink® events began as volleyball specific events, participants do not have to be volleyball players/coaches or even athletes at all. The events are supported by middle/high school and college students nationwide.
How do I get started?
Getting started is simple with 5 easy steps!
Set a date for your match and obtain the support of the visiting team.
Communicate your intent to the school's activities/athletic director.
Set a fundraising goal.
Brainstorm fundraising ideas!  Or click here to see some of our suggestions!
What's in it for you?
Aside from an amazing experience for you and your fans, we have some pretty sweet prizes that your school can earn based on your fundraising.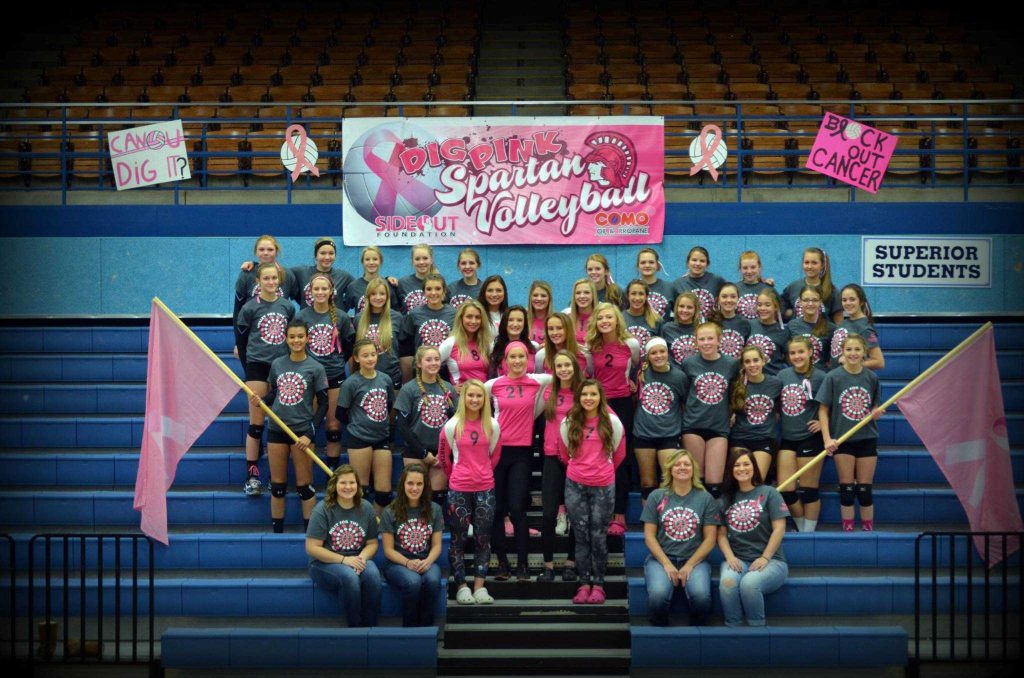 First, all teams receive certificate templates which can be awarded to anyone who helped make your event awesome.  Teams also have the opportunity to earn
American Volleyball Coaches Association (AVCA) memberships
Grand Prize entry to win free registration to the AVCA Convention, airfare, and tickets to the NCAA Women's Volleyball National Championships in Kansas City, Missouri
Sports Imports custom Dig Pink® safety pads and net tape to use for their Dig Pink® game
>Banner awards
You can find out more about our awesome prizes here!
Have you heard of our Ambassador Program?
The Side-Out Ambassador Program gives students a chance to receive recognition and scholarship funds, encouraging them to continue a life of setting and achieving their goals. Ambassadors raise funds for breast cancer research through a Dig Pink® event while learning important lessons about health, community and perseverance.
The ambassador program is open to all middle, high school and college-aged students who are focused on uniting their communities, inspiring those around them and fundraising for The Side-Out Foundation's initiatives.
*Participation in volleyball or any other sport is not a requirement.
*If you have any problems or questions, please contact us via email ([email protected]) or call 877-344-7465.
Wanna find out more?
We can't wait to work with you in the fall – and don't worry, we're here to help you the whole way through!