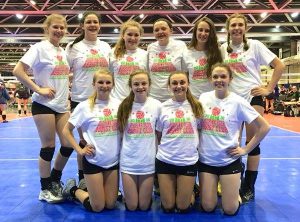 For three years now, we've been conducting the Assist Project as our way to involve club volleyball teams and continue to further our cause. To participate in the project this year, teams were challenged with creating one card, to be donated to local cancer patients, and raising $50 per player. If the whole team completed this task, the team received warm-up tees.
This year, we were thrilled with the amount of support we received! Not only did we receive over 2,000 cards that will be distributed to hospitals nationwide, but nearly $23,500 was raised! As an additional bonus, our partners at All Volleyball closed their doors on leap day this year and used their day making lap blankets that have also been sent to hospitals nationwide for patients to enjoy.
We'd like to extend our thanks to all of the gracious teams that made cards and donated funds to our project this year. Those teams are, by state:
California: Club Kalani
Iowa: Green Wave Volleyball, Johnston VBC
Indiana: Metro Volleyball Club
Maryland: Maryland Juniors
Missouri: Highlands Performance, Team Momentum
Nebraska: Performance Volleyball Club
Ohio: Eastside Cleveland Juniors, Mintonette Sports
Texas: Texas Pistols, Texas Fury Volleyball Club, Austin Performance Volleyball, Arete Athletics, Skyline Juniors
Virginia: Southwestern Youth Association, Braddock Road Volleyball Club, American Volleyball Club
Wisconsin: Next Level VBC
Lastly, we'd like to extend our thanks to the hospitals who have accepted cards and lap blankets to give out to their patients:
Santa Rosa Memorial Hospital
Kansas University Cancer Center
Mercy Medical Center
Ellis Fischel Cancer Center
University of Nebraska Medical Center
Houston Methodist
University of Wisconsin Health
We still have plenty of cards to continue donating! If you are from a hospital that is interested in accepting cards, or have any suggestions on how to improve The Assist Project, please feel free to leave comments below or contact us as [email protected]. In the future we want to see even more teams raising funds and making cards! We would also love to expand the project to other mediums. Our idea is to create an online space for words of encouragement for the cancer community. The cards would be able to reach far more people in an online space than we could send out to hospitals. This would also let teams send in photos and videos in addition to their cards.