"Where there's a will, there's a way."
How many times have you heard that phrase? I've heard it so often, I only now realize that I never gave much thought to its meaning. Think about it though…it's so simple yet so wise! If you have the desire to do something, you will find a way to do it.
I have never played volleyball, but I am a speedwalker (go ahead, have a chuckle! I'll admit, I look funny when I shake my hips and pump my arms, but it's a great workout and even better, it's easy on the knees! 🙂 ). When I first started walking, I didn't know the proper technique and the thought of walking 13.1 miles was seemingly impossible. But I wanted to prove to my friends, family and more importantly, myself, that I could do it. So I took action. Here's how I went from will to way:
Step One: Set a goal!
My goal was to complete a half marathon (13.1 miles).
Step two: Get started and take action!
I signed up for Team in Training, promising to fundraise for The Leukemia & Lymphoma Society in exchange for coaching and a race entry.
Step three: Work hard.
This isn't so much a step as it is a long process. I trained for five months, gradually adding distance to my workouts.
Step four: Go for your goal!
My challenge came down to one specific day, and I walked with purpose toward the finish line goal.
Each step of the process brought its own obstacles, but the will to persevere made those obstacles surmountable, and when I realized I was capable of finishing an endurance event, I felt as though I could move on to the next goal, a full marathon.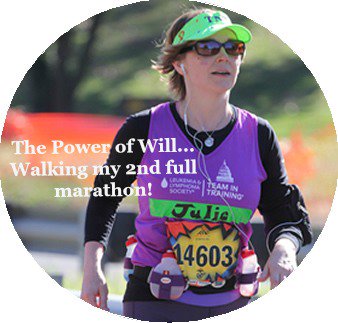 Will is powerful. And though circumstances may vary, the steps are the same no matter what your goal may be. Many years ago, my sister decided she wanted to work in film. (Step One: Set a goal!) She began working toward her goal in college, creating a major around film studies and music. (Step two: Get started and take action!) She established connections with professors and students who shared her passion. When HBO came to town to film a mini-series, she worked long hours as a production assistant, widening her network and adding to her resume. (Step three: Work hard.) She eventually took a non-film job to make some money while planning her future.
When some friends relocated to New York City, she decided it was time to take action. (Step four: Go for your goal!) She quit her job and moved to NYC with little more than a bike, a suitcase and a dream she couldn't ignore. She worked temporary jobs to make money and volunteered with various small production companies to get experience. She moved on to paying positions in the film industry, but the compensation was minimal. She kept plowing along, all the while growing her network and gaining experience.
She is now working for a well-respected company within the film industry, and she navigates New York City like a native. With each step, she continues to work toward the ultimate dream job. And it all started with one wish. The power of will paved the way for a future of her dreams.
Everyone has a personal story, and this fall, the 2015 Dig Pink® Rally theme is The Power of Will. Coaches, athletes, medical researchers: your will to continue working toward more funds raised and better treatment options is bringing hope to patients, their families and to society as a whole. You are making a difference because you have the desire and you follow through with intense effort. Thank you for your commitment.
Now let's prepare for an awesome fall season! Who cares if it's only April (almost May)? If we make the effort, we will reap the rewards…where there's a will, there's a way.
What is your will to way story?
Share it with us in the comments below and we may feature it during the 2015 Dig Pink® Rally in October!