Growing up I was never the one to play many sports. It always took me the longest to run just one mile in gym class, typically coming in last at around fifteen minutes. I remember trying out ice skating as a kid but never felt that it was right for me and then never put much effort into trying out sports afterwards.
Then when I was in my senior year of high school, I surprised everyone by deciding to join the school's crew team. Many of my friends had joined the year before and told me how much they enjoyed it, so I decided to make the commitment and join as well. But what I didn't realize what that since I was a novice, I would be separated from my friends and put with other novices who all happened to be underclassmen. I also couldn't drive at the time and had trouble scheduling rides to and from the marina where we practiced.
I was frustrated that I couldn't row with my friends or my classmates as well as always having to try and find rides with people I didn't know every day. It wasn't until I signed up for a carpool and befriended four other girls from my novice team that I really started to enjoy the experience of being on the team.Every day from Monday to Saturday, one of our parents would drive us to and from practice and every day we would become closer as friends and as teammates.

Unlike many other sports such as soccer or football, our coach told us that the only way to succeed in crew would be to learn to row together as one team. If even one person were to row incorrectly, it would impact the performance of the rest of the team. It was hard for the novice team to work together at first since many of us had either never played a sport before or had played another type of sport. This reflected poorly on our overall performance and during our first competition we came in last place by crossing the finish line almost five minutes after the second to last boat had.
It was humiliating to say the least, but after our defeat, we knew we had to put more effort into working as a unit rather than as individual rowers. Some of the members dropped from the team which helped us organize our semi-permanent seat positions and we began to learn new techniques and rowed for longer periods of time. Because we spent six days a week every week practicing together during the spring season, we were slowly able to learn to row together as a team.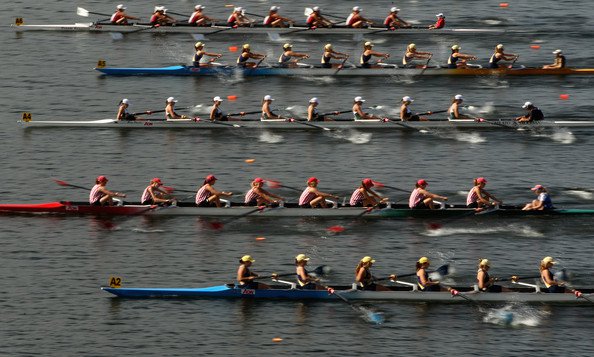 Over time our performance improved tremendously and by our last race, we were able to cross the finish line right after the second to last boat had finished crossing. Even though we still came in last place, we had gone from being the boat that was five minutes behind the competition to giving the second to last boat a run for their money. We had rowed our best and our coach told us how proud he was of our growth and our teamwork. We had trained so hard through the four month season and in the end, our hard work paid off and we could not have been happier after it was all over. It was a great ending to a long yet exciting season.
Even after the season ended and I graduated from high school, I stayed in contact with some of my teammates and am still friends with them four years later. Joining crew gave me some great friendships and taught me how to not only be a part of a team but also how important it is to always strive to improve yourself each and every day. Crew taught me that win or lose, you will always find victory in yourself when you work hard to become the best person you can be.