Every December, we look forward to the AVCA Convention. Not only is it a great way to end the year and fall volleyball season, but it is an opportunity for us to spread our mission to thousands of volleyball coaches and meet with many of our supporters within the community.
This year, we were lucky not only to get "warm" weather for Minneapolis, but we had the opportunity to sit down to talk with some of our top supporters.
This Year's Booth Display
Although we didn't make the "splash" as we did in 2017 with our ball pit swimming pool (and received plenty of questions of where it was this year), our booth featured a full walkthrough display of Side-Out. This display included panels going through our history, mission, research, and more! In the middle of the whole display was a 14-foot tower that featured every team, club, and organization to have fundraised through Dig Pink® in its 11-year existence.
Our display helped showcase what the sport of volleyball is accomplishing through Dig Pink® for the stage IV breast cancer community. It explained that Dig Pink® is more than just a match with pink jerseys. It is a movement that provides impactful experiences that empowers the athletes.
Our Time at The AVCA Convention
The Thursday of the convention was a busy one for the whole staff. While some of the staff stayed at the convention center, Tim and I made a quick trip to Randolph High School. We interviewed long-time Dig Pink® organizer Kate Esser and the people that made 2018's event so special. At the convention center, Janice joined our two grand prize winners at the Jostens Coaches Honors Luncheon.
That night we headed over to the Target Center where we saw two amazing NCAA matches. The semifinals featured Stanford defeating BYU and Nebraska completing an amazing comeback over Illinois.
On Friday, the Side-Out staff attended the AVCA All-America/Players of the Year Banquet where two special awards involving the foundation were announced. The AVCA honored Jackie Sterenberg, Megan Birnbaum, and Emma Elizabeth Carter as Side-Out/AVCA National Dig Pink® award winners. Following that announcement, Sports Imports presented the Sports Imports/AVCA Courage Award to Rick!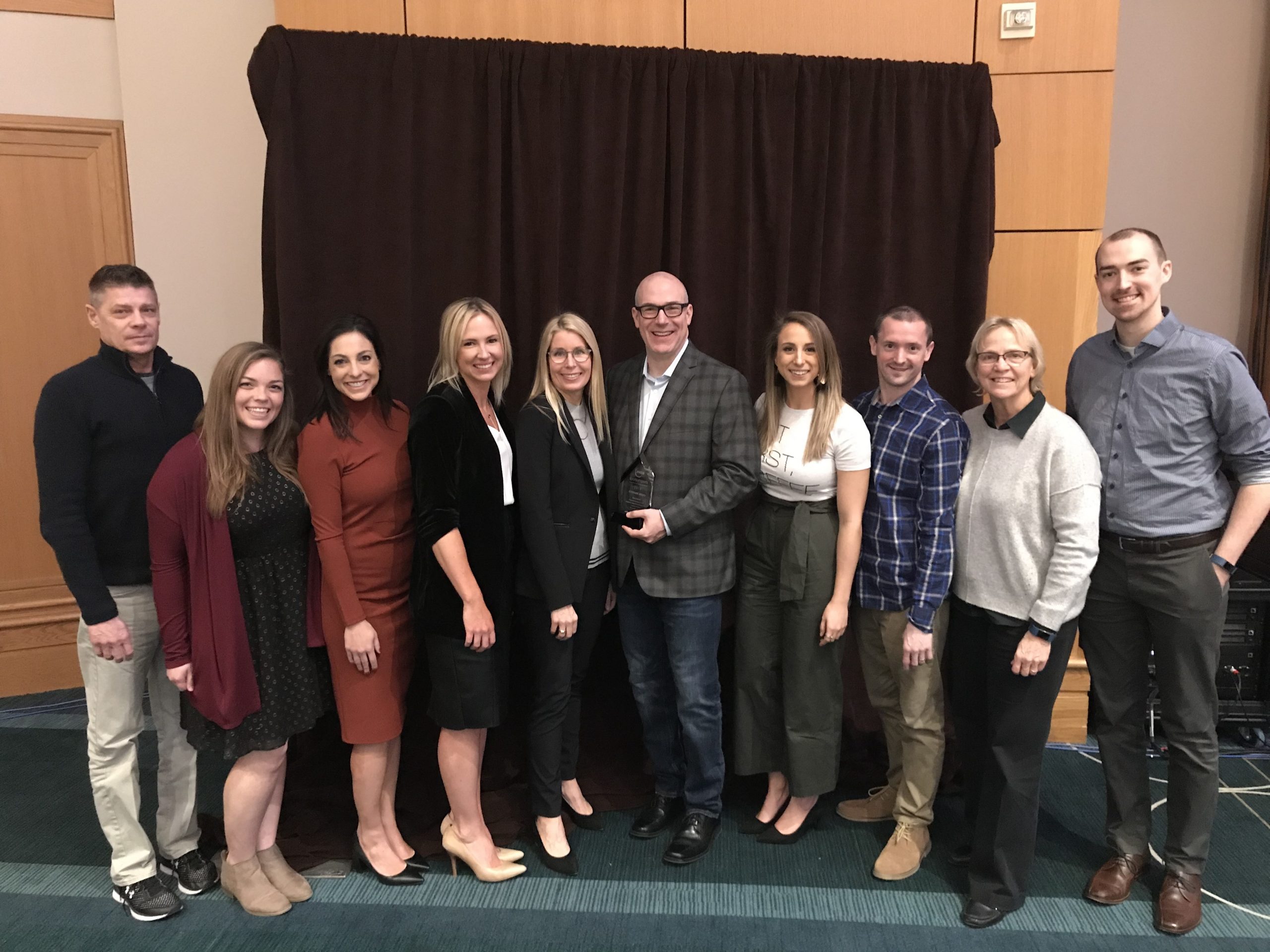 The final day in Minneapolis featured a short day at the convention center and the NCAA Volleyball National Championship! With the atmosphere full of passionate volleyball fans, there was no better place to be that night. With match point secured and confetti on the ground, our experience at the 2018 AVCA Convention came to a close.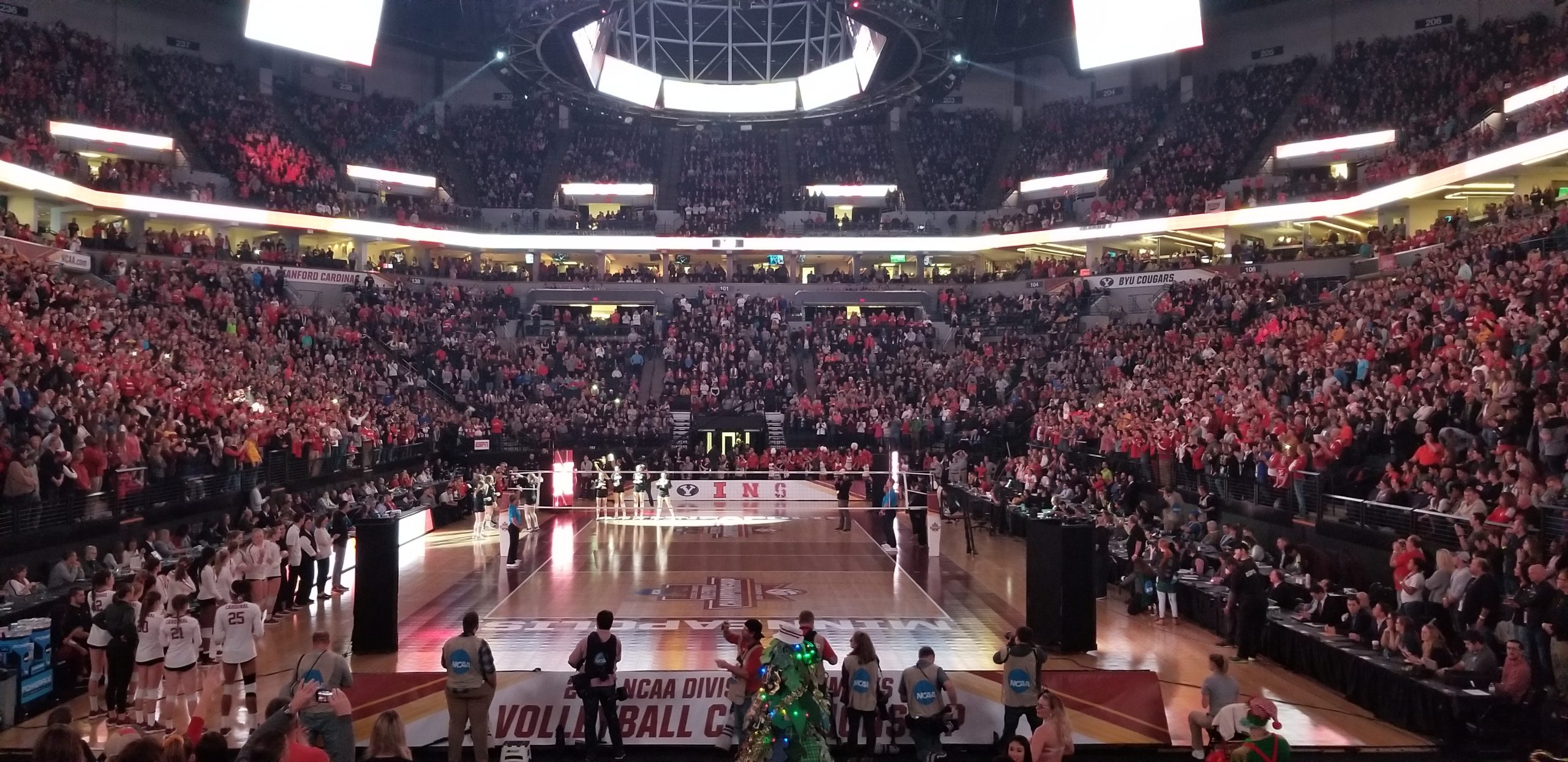 Thank You
As we reflect back on this experience, we wanted to send out a few thank yous. A big thank you to everyone who stopped by our booth throughout the week. We loved talking about Dig Pink® experiences and what Dig Pink® can do for your programs.
Thank you AVCA for putting together an amazing convention. The staff at AVCA works tirelessly to put this all together and is the reason why this convention is one of our favorite times of the year.
Thank you Sports Imports and Baden Sports for sitting down to do a video interview about why you support Side-Out.
Finally, thank you to the whole volleyball community. Together, you all made this a memorable experience for our foundation.