On Sunday, April 13th, The Side-Out Foundation and the Chesapeake Region Volleyball Association (CHRVA) announced the winner of the Anne Hughes Memorial Scholarship. Sarah Kenneweg, a senior at Poolesville High School in Maryland and a player for Platform Volleyball Club, was awarded the $1,000 grant, to be applied toward her college expenses.
Below is Sarah's account of her experience with Dig Pink:
My passion for the game of volleyball began when I was very young and has grown as I have progressed through my high school career. There are many memorable moments from my years with Poolesville High School (PHS) girl's volleyball including individual and team awards, however; my involvement with our annual Dig Pink match has by far been the most rewarding. 
Every year, through our volleyball program, we participate in a Dig Pink fundraiser, which helps raise money for the fight against breast cancer. The PHS volleyball program has been running this event for 5 years now and because of my early involvement in the program I have been a part of this almost from its inception. Our efforts have raised over $30,000 total and while this amount is impressive, there are personal lessons that I have also learned along the way. Being a part of this has taught me to see the bigger picture, that there are times when I have to look beyond my own horizons and see where I can help. That I shouldn't take my health for granted because many are struggling to maintain theirs. I, along with my teammates, have spent many hours organizing and executing our Dig Pink matches and our efforts have become a model for others to follow. Through our efforts we have spread the word and other schools in our area have joined the fight, and are fighting against breast cancer with us because of the example we set.
Planning for this event begins long before our first game and throughout the season we do whatever we can do to raise money. We sell "Dig Pink" bracelets, shirts, and homemade pink sweet treats at all of the fall sporting events. Each member of the team also creates a basket of her choice to be raffled off during our special Dig Pink Match. We promote this match all season and every year we pack the gym with students, teachers, community members, and most importantly cancer survivors. The stands are full of pink, positive energy, and excitement. Right before the match begins we ask that all the cancer survivors in attendance rise and be recognized as we present them with a pink flower. Next we ask that family members of cancer victims and survivors also rise and be recognized, with a pink flower, for the support and care they have given through the fight.
One of the most memorable activities that happens that evening is when the local survivors step forward and they serve the honorary "first serve" to start the match. Raising money for this cause hits home in the Poolesville community with the recent passing, from breast cancer, of one of last year's honorary servers, Mr. Eric Hanson. He was a huge part of our program, being at every home game and announcing for us, making each name he read feel special. Neither he nor his voice will ever be forgotten. Next season, I know the team will carry out the role of fundraising for Mr. Hanson and for this cause. As for me, I will be playing volleyball at Seton Hall University and I look forward to sharing my ideas, and experiences with their volleyball program in hopes that I can continue to work for this cause.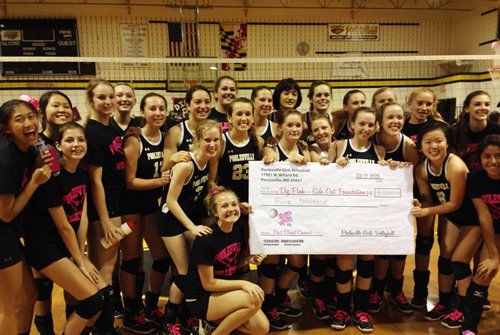 In her recommendation for the award, Sarah's coach, Fran DuVall, wrote: "I believe Sarah is destined to do great things in our world." We have no doubt that Anne Hughes would have been proud of Sarah's efforts and her outreach, and we agree: Sarah has already done great things and we can't wait to see what the future holds!
About The Side-Out Foundation
The Side-Out Foundation is a 501(c)(3) non-profit organization that was established in 2004.  Inspired by one mom and embraced by the entire sport of volleyball, the mission of The Side-Out Foundation is to educate young athletes and their communities about breast cancer, both with respect to prevention and treatment, and to fund cutting edge breast cancer research.  Side-Out is focused on changing the way breast cancer is treated forever.
The term side-out refers to a situation in volleyball when one team wins a point while its opponent is serving, thereby regaining serve or control of play.  It is hoped that Side-Out will do the same for breast cancer patients, providing them with the support, education and best available treatments to regain control of their lives.