Side-Out welcomes Eleanor Kent, our new assistant team support rep!! Read all about Eleanor and her strong connections with both volleyball and breast cancer below.
Where are you from?
I lived in Round Hill, VA near Purcellville until I was 7, but I spent most of my life living in Winchester, VA just an hour west of Fairfax. I attended private school in Boyce, VA until high school and graduated from James Wood High School in Frederick County, VA. Following high school, I graduated from James Madison University in Harrisonburg, VA.
Tell us a little bit about your family.
My family is very close. My immediate family consists of my dad, his fiancé, one brother who is 3 years older than I am and a 4 year old black Lab, Mastiff mix named Portia. However, my extended family consists of about 30 people I'm not really related to, but have grown up with my whole life. Imagine having a group of best friends growing up who all marry each others' brothers and sisters, become related, and raise their children together. It's pretty awesome even if it sounds like some weird reality TV show, it works out pretty well.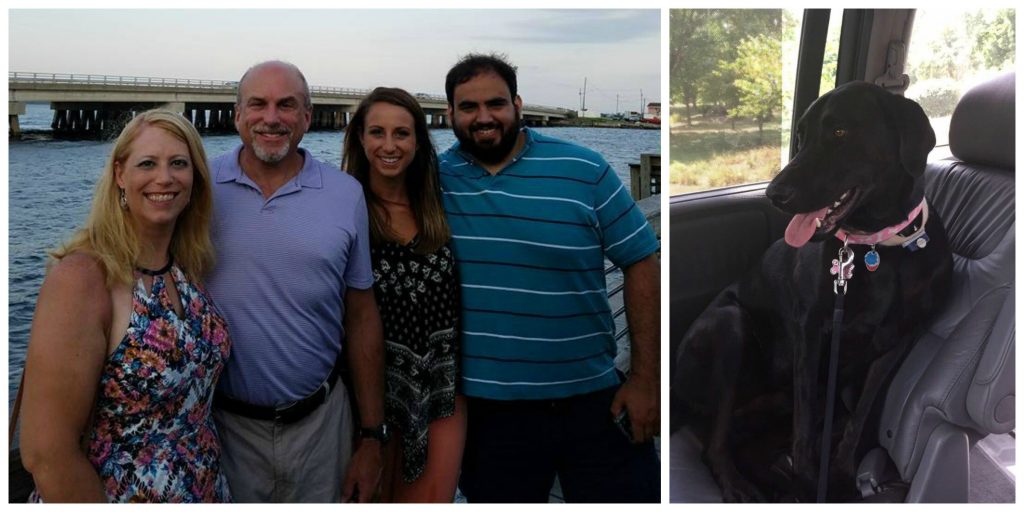 Tell us about your experience with volleyball before you came here.
I've played volleyball since I was 13. I started playing when my mom made me go to a volleyball summer camp the summer before 6th grade, and from then I was hooked. I played in middle school and all throughout high school. I played for a division of NVVA (Northern Virginia Volleyball Association) for 3 years and VPVA (Virginia Piedmont Volleyball Association) for 1 year. I've been an assistant coach for a U14 club team out of West Virginia with EPAN Volleyball Club and an assistant varsity coach for Spotswood High School in Harrisonburg, VA. I also played all four years on the women's club volleyball team at James Madison University where I served as vice president and president my junior and senior year of college. Volleyball has been such a huge part of my life for a long time now and has shaped me and taught me so many things.
How did you get involved with Side-Out?
Following graduation from JMU, I knew I wanted to be involved with sports. I got my BS in Sports and Recreation Management and have a passion for helping people through sports. I didn't really know what direction to head in after graduation, but I saw that The Side-Out Foundation was hiring and I couldn't apply fast enough. As I mentioned before, volleyball has been a huge part of my life. Unfortunately, so has cancer. My mom had both breast and stomach cancer before passing away in 2014. When I saw the job posting, I thought, here's a way I can incorporate two things that have impacted my life so greatly: my passion for volleyball and my experience with cancer, and use them to impact others in a positive way. Side-Out seemed like the perfect fit for me.
What is your role at Side-Out?
At Side-Out, I help manage accounts with schools that participate in Dig Pink® in Virginia. I also assist schools requesting more information and reach out to new schools to get them on board. Most importantly, I spread the message about Dig Pink® and what Side-Out is all about.
What do you like most about your job?
My favorite part about my job is connecting with people and hearing their stories. As an assistant team support representative, I get to talk to parents/players/coaches etc. from around the country and hear about why Side-Out and Dig Pink® is important to them.
Before working at The Side-Out Foundation, what was the most unusual or interesting job you had?
I think the most interesting job I had prior to this was coaching high school volleyball. I thought coaching would allow me to help young girls learn a lot from my experiences with volleyball, but what I really found was that I learned a lot more from them about myself than I ever could have imagined.
Do you have a favorite volleyball player?
I guess I would have to say my favorite volleyball player is Kerri Walsh Jennings. Not because she's the most decorated female volleyball player, not because she is unbelievably talented, but because on and off the court she embodies some of my favorite characteristics to find in an athlete and a person: relentless, respectable, and humbled. She relentlessly strives to be a better volleyball player and better person every day. She is extremely respectable as well as respectful in how she carries herself. Lastly, she is humbled: humbled by the amazing experiences volleyball has provided her on and off the court. She knows who she is as an athlete and as a person and she stays true to that.
Other than volleyball, what sports do you play/watch?
I love all sports really. I grew up only playing volleyball competitively but will play just about any sport for fun. My family loves watching football and we are avid Packers fans. I also really enjoy going to baseball games, so I am excited to be living so close to Nats Park.
If you can give advice to any college student getting ready to start their career, what would it be?
My advice for someone about to start their career is don't stress. I think sometimes there is so much emphasis on finding a job right out of college, more often than not, a job with a Fortune 500 company or some huge organization. Sure, everyone wants to work for the Googles and NFLs, etc., make 6 figures and know exactly where their life is headed, but I think it is much more important to do something you love, at an organization you believe in. Find work that isn't work to you, something you're passionate about and something that will help you grow as an individual. You don't have to be the head honcho at 23 or even know what you want to do with your life exactly. You don't have to have it all figured out; I certainly don't. Don't stress about finding the "perfect or ideal" job right away. Take advantage of the opportunities you are presented with and attack them. Whether you're working for a company in your field or study or you're not, work hard and don't stress. Life has a funny way of falling into place. Surround yourself with good people and things you care about and starting your career will just be another step along the way.
What is at the top of your list of travel destinations?
If I could go anywhere right now, I'd go back to Italy. I went the summer after my 8th grade year and fell in love with it. I love the Old World feel of Europe and I love being immersed in other cultures. Honestly, if I could take a year and travel the world, I would.
What is your hidden talent?
I'm a very good party DJ. My friends and family all like different types of music so I know a lot of different genres, not to mention I have some pretty silly dance moves to make it even more enjoyable.