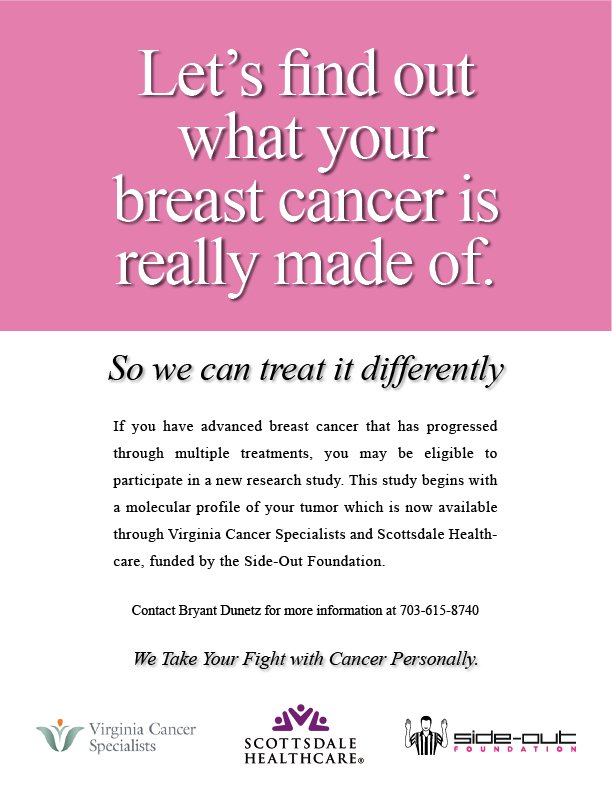 Fairfax, VA — March 29, 2011 — The Side-Out Foundation is funding a study looking at a novel approach in treating patients living with advanced breast cancer. This clinical trial (SO-BCA-001) is laying the groundwork for biologically based treatments for breast cancer, utilizing molecular profiling of the patient's tumor tissue to find potential targets and select treatments for individuals with metastatic breast cancer. The results will expand the knowledge of cancer cell gene expression and protein abnormalities in relationship to disease response to targeted therapies.
Dr. Daniel Von Hoff, Physician in Chief at The Translational Genomics Research Institute (TGen) and Chief Scientific Officer for Scottsdale Healthcare, stated, "It is critical to utilize all of the molecular tools and best science we can muster against this cancer. This Side-Out Study is doing just that for the patients that need our help now."
On March 3rd, 2010 the first patient was enrolled in the Side-Out Trial with 50% of patients on study as of March 1st 2011. The trial is on track for completion by the end of 2011 and resulting data will set the stage for the next study which is currently being planned.
Members of the SO-BCA-001 team met in Fairfax, Virginia in February to review the study status to date. Accomplishments thus far include:
Enrollment of 50% of total planned patients completed
Successful acquisition of tumor cells in all patients' biopsied tissue
Successful coordination of tumor submission to two labs across the country
Identification of targets in all evaluable tumor samples
Treatment recommendations made for all participants, (different than the referring oncologist's next best choice of chemotherapy agents).
The team also noted that patients are being referred to the study after receiving numerous prior therapies for advanced breast cancer. Patients may be eligible when their disease has progressed after 3 treatments for metastatic disease.
Although too soon to analyze patient outcomes, we have learned that this highly complex study combining multiple cutting edge technologies to better understand tumor cellular abnormalities can be done. The priority now is to enroll and treat additional patients to complete the study so that the impact of this biologically based approach in the treatment of breast cancer and potential benefit to patients can be analyzed. Emphasis must be placed on raising patient and physician awareness of this important study.
About The Side-Out Foundation
The Side-Out Foundation is a 501(c)(3) non-profit organization that was established in 2004.  Inspired by one mom and embraced by the entire sport of volleyball, the mission of The Side-Out Foundation is to educate young athletes and their communities about breast cancer, both with respect to prevention and treatment, and to fund cutting edge breast cancer research.  Side-Out is focused on changing the way breast cancer is treated forever.
The term side-out refers to a situation in volleyball when one team wins a point while its opponent is serving, thereby regaining serve or control of play.  It is hoped that Side-Out will do the same for breast cancer patients, providing them with the support, education and best available treatments to regain control of their lives.