New Side-Out Foundation regional director has Nebraska roots, hopes to expand Dig Pink participation in state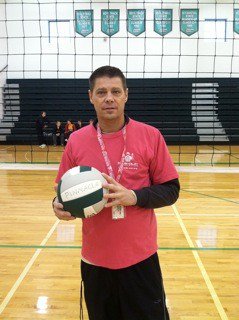 OMAHA – Wisner-Pilger head volleyball coach, Jean Groth, is eager to work with the new Side-Out Foundation representative in the state of Nebraska.
It's not just because Tim Anderson is a former student of hers and also helps coach her club program at Wisner-Pilger.
Instead, it is because of Anderson's passion for volleyball and the important role that the Side-Out Foundation plays in the battle to end breast cancer through Dig Pink® volleyball events.
"I feel that The Side-Out Foundation is very fortunate to have hired Tim," Groth said. "He will be an incredible advocate for the volleyball world and its alliance with the movement for breast cancer awareness and education. Tim's position with The Side-Out Foundation is a perfect fit for him. It combines his affinity for volleyball with his intent to make a sigificant impact on the battle against breast cancer. His efforts are focused in and around helping teams organize Dig Pink events in the volleyball world."
Groth said Anderson has helped her to realize how important the Dig Pink events can be for teams.
"Last year Wisner-Pilger held a 'pink-out' during one of our volleyball matches," Groth said. "It was held in October in conjunction with Breast Cancer Awareness Month at our school. After the match, I felt a bit conflicted as I felt we recognized breast cancer…but did nothing else.
"In my search for significance regarding the awareness of breast cancer, I felt my prayers were answered when Tim took this position with Side-Out earlier this year. He has shared with us many ways in which the volleyball community can pool its talents to aid the cause. Side-Out is not just a charity. Side-Out is committed to the unification of the sport of volleyball and its alliance with the movement for breast cancer awareness and education. Tim is educating coaches that one of the biggest benefits in hosting a Dig Pink event are the life skills that can aid our teams in personal times of adversity. Another byproduct is the education given to student athletes on the importance of being a 'life coach' to those in need."
Anderson, a Wisner-Pilger High School graduate, officially started in his regional position of promoting The Side-Out Foundation's Dig Pink cause for cancer research in the state of Nebraska and surrounding states in March 2011. He is one of six regional liaisons that The Side-Out Foundation has and his Midwest territory includes not only Nebraska, but also Iowa, Illinois, Indiana, Kansas, Michigan, Minnesota, Missouri, North Dakota, Ohio, South Dakota and Wisconsin.
"Tim's goal is to educate our potential constituents about The Side-Out Foundation's mission, ask for their involvement and be available to provide support," said Janice Kruger, who is the national event coordinator for The Side-Out Foundation. "We have a unique online system built to help each of the teams who wish to join us in our mission. We encourage all participants to emphasize awareness, education and if possible, fundraising to help us support our Side-Out Protocol clinical trial.
"Tim's responsibilities involve being the contact person for each state's USAV club, elementary, middle school, high school, college, and university programs that wish to advance clinical trials, increase compassionate support services and educate communities, thus making a significant and identifiable impact in the breast cancer community. Events typically involve the sport of volleyball but we encourage all school organizations to become involved."
In 2010, Kruger said there were 17 high school teams that held Dig Pink events in Nebraska during Breast Cancer Awareness Month in October. Additionally, some club teams have held Dig Pink events, including the Pinnacle Club that Anderson coaches in.
Kruger is a former Husker volleyball player and a Central Community College-Columbus and University of Nebraska at Omaha head coach. Kruger, who retired in 2007 from the University of Maryland with 756 career victories, has been to Nebraska many times to speak about Dig Pink.
"I started out as a member of The Side-Out Foundation Board of Directors in 2007 while I was still coaching at the University of Maryland – College Park," said Kruger, who graduated from Randolph High School and played for NU from 1973-76. "I became more involved as a volunteer in 2008 after retiring from collegiate coaching and transitioned into doing consulting work for the foundation until December 2009. In 2010 I was hired as a full time employee and began working as the Director of National Events.
"I wanted to stay connected to volleyball in some way and I was completely sold on The Side-Out Foundation after a lunch meeting with Bryant Dunetz, the COO of the foundation. His wife had breast cancer and his son Rick was working with his father to involve the sport Rick loved to coach, with the idea of bringing awareness, education and fundraising to breast cancer. The idea of working through the sport of volleyball and for a foundation who looked to do things differently really appealed to me. The Dunetz family is a compassionate family and I quickly knew I could help them with their new vision of looking at how we could work in the world of volleyball to address the disease of breast cancer."
As the Side-Out Foundation has grown, it has expanded its staff to include people like Anderson at a more local level to call upon schools and coaches.
Anderson said when he considered the opening, he liked the fact that it was volleyball related and it was for a good cause.
"It was a position where I could use my fundraising background as well as my volleyball knowledge and make a difference," Anderson said. "I was very impressed by their use of funds… specifically for clinical trials for women/men with metastatic breast cancer with the goal to find a cure. It was more than just 'breast cancer research and finding a cure.' I was able to visit and see the process that is involved by the scientists and doctors. Plus it was all centered around volleyball – my passion."
Anderson has had an interest in volleyball as far back as Groth, who won her 600th career game in 2010, can remember. He credits her for a lot of his early interest.
"She is a volleyball genius," Anderson said. "She has always taught that volleyball is more than just a game."
Anderson lived in California from 1999 to 2008. While out there, he completed he master's in sports management from Long Beach State and then worked as a development officer and coordinator of facilities for the Long Beach State athletic department for two years.
"I was able to see a lot of Long Beach State practices both men's and women's and attend most Big West Conference games," said Anderson, who also worked for the Los Angeles Marathon and Lynne Cohen Foundation while living in California. "I also assisted with the 2004 NCAA Women's Final 4 Volleyball Tourney in Long Beach."
When he came back to Nebraska, Anderson got involved with the Pinnacle Volleyball Club and Wisner-Pilger High School program.
"He has volunteered to work with our club teams the past two off seasons, Groth said. "Last year he assisted with the Pinnacle Jrs. 17's team from Wisner Pilger and this year he is with the Pinnacle Jrs. 15's. It is difficult for non-profit USA volleyball programs to find volleyball knowledgeable individuals to work with your athletes during the off-season. That is why Tim is such a blessing to the program. In April, Tim ran a DIG PINK event at Wisner-Pilger's Pinnacle Volleyball Tournament. It was a great tourney. During the season, Tim has been invaluable in his efforts to help run our scorer's table at home matches and in scouting opponents on the road. As with the club teams; it is very difficult to find people to get involved in something that has no financial benefit for them personally. Tim is that individual."
And now Anderson has his focus on reaching not only Wisner-Pilger players, but youth, high school and college coaches and players across the region.
"I hope to increase the participation – whether it be fundraising or awareness events – so that every high school and college/university is involved," Anderson said. "I can't stress enough that this is an initiative that is unique to the volleyball community. Much like there is a basketball initiative, The Side-Out Foundation and Dig Pink is volleyball."
About The Side-Out Foundation
The Side-Out Foundation was established in 2004 to unite volleyball players and coaches and to have them work toward the common goal of furthering breast cancer awareness, education and patient services. Side-Out supports teams nationwide in their volleyball tournaments, clinics and other fundraising efforts. The foundation offers practical support for fundraising in addition to educational material for participants in order to help them become effective advocates for breast cancer. It contributes the funds to organizations that serve breast cancer patients, whether it be in the form of research, medical services or compassionate support.
The term side-out refers to a situation in volleyball when one team wins a point while its opponent is serving, thereby regaining serve or control of play. It is hoped that this Side-Out will do the same for breast cancer patients, providing them with the support, education and best available treatments to regain control of their lives.
by Darren Ivy: NebVolleyball
To read more about Nebraska volleyball, visit NebVolleyball.com