June 7, 2016 — Results of a subanalysis of the Side-Out Protocol (Side-Out II) were presented this week at the American Society of Clinical Oncology (ASCO) Annual Meeting, an annual meeting attracting oncology professionals from all over the world. This year's theme was Collective Wisdom: The Future of Patient-Centered Care and Research.
Nicholas Robert, M.D. presented the results on behalf of the Side-Out Protocol research team. Side-Out I and Side-Out II patients were both included in the study. Patients with a high expression of a specific protein, the TOP1 protein, were treated with Irinotecan, a specific type of chemotherapy. Although typically administered to patients with other types of cancer, specifically colon or pancreatic cancer, the research indicated that metastatic breast cancer patients with a high level of TOP1 also benefited from Irinotecan.
Of the 22 patients in this substudy, 73% had a clinical benefit from Irinotecan and 61% had a progression-free interval (a time during which the cancer did not spread) that was at least 30% longer than the one they experienced on a previous regimen. Overall, the data indicate that Irinotecan should be considered as a treatment option for metastatic breast cancer patients who express high levels of TOP1. Click the image below to view the poster and review the data in more technical terms.
Side-Out is excited to open its 3rd clinical trial in 2016. This trial will be the largest in size (of both patients and treatment locations), and it will incorporate a new technology that allows patients with bone metastases to take part. Previously, they have not been eligible because it is challenging to get a molecular profile for bone metastases. Formal announcements will be made once the study details are finalized. If you would like more information, contact Bryant Dunetz.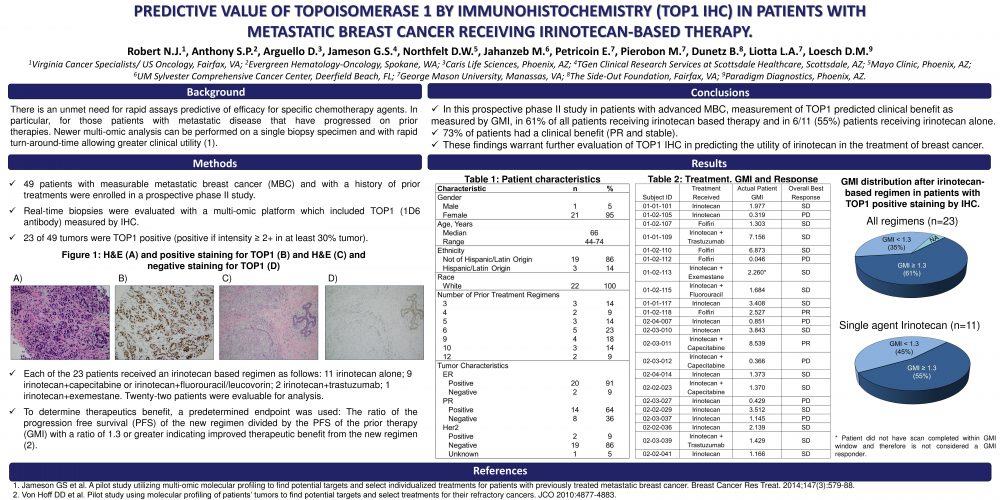 About The Side-Out Foundation
Founded in 2004, The Side-Out Foundation, founder of Dig Pink®, teams with the volleyball community to inspire science and hope in the match against breast cancer. In volleyball, "side-out" means regaining control of the ball. Similarly, The Side-Out Foundation helps people with breast cancer regain control of their lives. Side-Out is the only charity using the power and teamwork of the volleyball community to beat cancer and is directly responsible for extending the lives of stage 4 breast cancer patients. The treatments given as part of Side-Out's innovative clinical trials have dramatically slowed the effects of stage 4 breast cancer, giving patients more quality time with their families and getting them closer to the day we find a cure. Through Dig Pink® and other programs, Side-Out coaches thousands of young people in skills such as teamwork, leadership and perseverance, and gives them opportunities to live meaningful and healthy lives.