by Sarah Klahn
Creighton University, Omaha, NE
Fall 2012
When I decided to organize a Dig Pink event, I planned on joining together with the high school volleyball team and our community to raise awareness and funds for breast cancer research. What I didn't plan on was how much it affected the people around me until I saw it for myself. My grandmother lost her battle to breast cancer a little more than two years ago which inspired me to organize these Dig Pink fundraisers but I was amazed to see our community come together with me for such a great cause. It touched me personally and really changed my life.
This experience really showed me that when a community comes together, big things can happen. We had several different fundraisers this year. We hosted a "serve-a-thon" for our main fundraiser and raised $5,000 by each volleyball player getting sponsors to pledge per serve, just like a "walk-a-thon". It showed me that our community thinks this is such an important cause and worth supporting. All of our senior volleyball players and their parents had a lot of fun helping organizing the separate fundraisers such as the pink pancake breakfast, sorting and delivering the 400 Dig Pink t-shirts, making the honor/memory balloons, and also helping to make our awareness video. Our awareness video was a big effort from the varsity team and also from the winners of the Dig Pink elementary poster contest who won a spot in the video. The goal of the video is to help inform the community of how you can help beat cancer.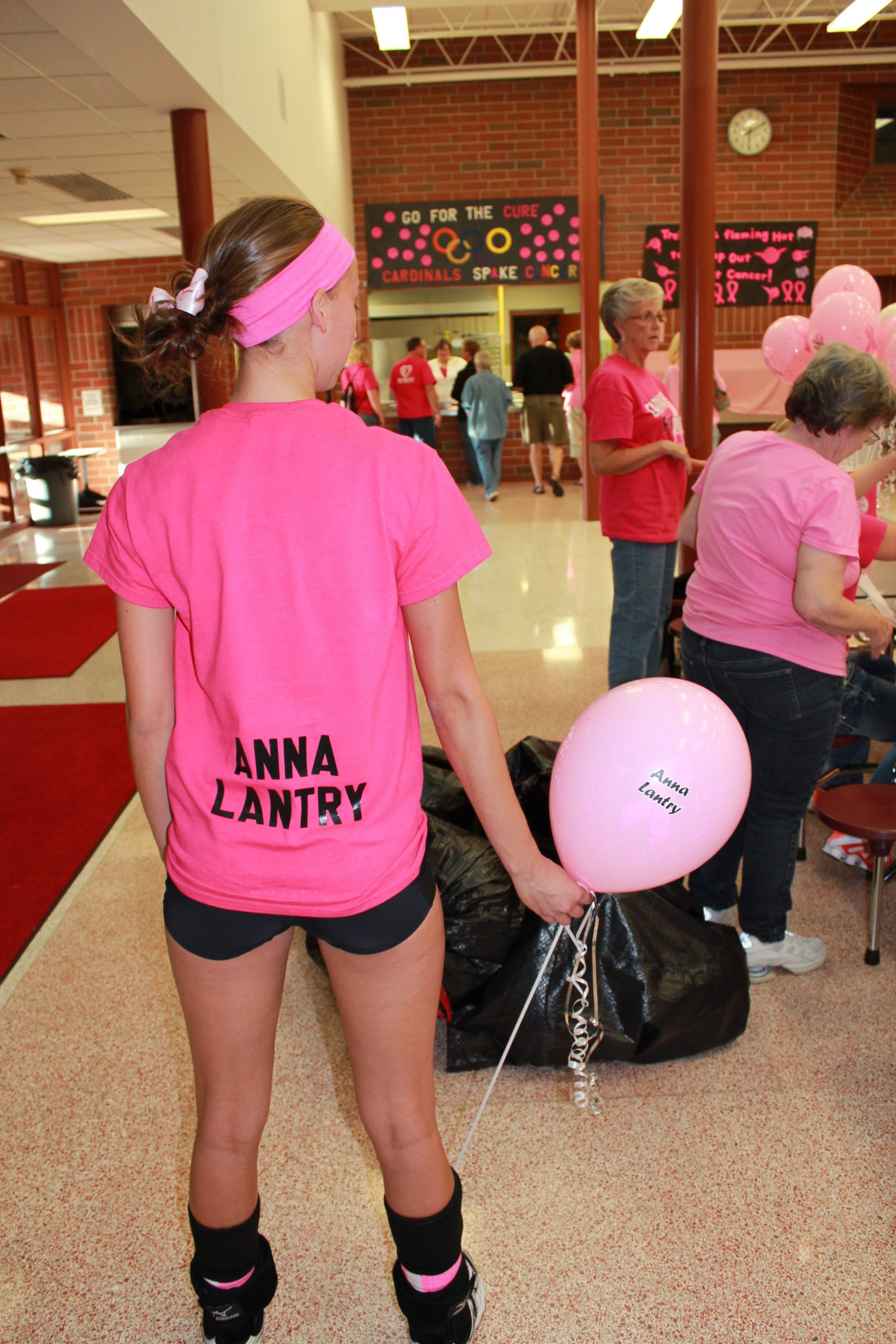 The final event — the game night — had a more than huge impact on my life along with the rest of our community who really showed some compassion about how important raising awareness is to beat the fight against not only breast cancer but all kinds. This was such a personal cause to me because I was so close to my grandma who couldn't beat this terrible cancer. Honoring those who are still fighting was the highlight of the evening for me. The players on our team chose a person who had cancer to honor that evening. They put their names on the back of their game warm-up shirts. They also gave pink roses to all the survivors and we also displayed the honor/memory balloons in the commons which we pre-sold to honor or in memory of. Our commons were completely full of beautiful pink and white balloons with their individual names on each one of them. It was very emotional to see everyone having such a great time doing such a great thing for a good cause. Our goal was to raise $4,000 this year, however we exceeded it by raising $9,000!
"This was such a personal cause to me because I was so close to my grandma who couldn't beat this terrible cancer."
By taking on this task, it took a lot of hard work and dedication. I knew it was not going to be easy, so planning, staying organized, and sticking to a schedule was the key to not falling behind. I had to start early in June because the game night of September 18 was so early in the season. I learned to schedule and work with other people in a leadership role. This experience really helped me learn how to keep on top of a task and also to take it a little bit at a time to make the final product a success. What I would pass on to others who may be doing this same thing would be to give yourself plenty of time and to do it all with care, take the time to make everything over the top because it makes the final product that much better, and get as many people involved that you can!
To sum it all up, I really enjoyed doing these fundraisers. All the people I was privileged to work with and all the lives we will change from working together has made me overwhelmed with happiness. I had such a great time doing this and I would love to continue to do this for our school and community as well as for helping The Side-Out Foundation. The players, parents and the rest of the families made it fun and we all had a great time. It wasn't just me who made our Dig Pink a success, it takes everyone to make this event what it is and I am so lucky to be able to be a part of it and to lead Treynor to do this to fight breast cancer.