by Heidi Grammerstorf
Harborfields High School, Greenlawn, NY
Fall 2012
My name is Heidi and my understanding of breast cancer began to develop when I was just five years old. My mother worked as a nurse in the women's center at Huntington Hospital until I was twelve years old. On "bring your child to work" days my sister Anna and I would spend the day with the nurses, breast surgeons and radiologists. Their practices only involved breast procedures, so we frequently heard words like mammogram, breast biopsy and breast exam. In the women's center there were breast models that were used for patient teaching. Patients could practice checking for lumps on them, but my sister and I would just examine these breasts and giggle. Sometimes we would try a game of catch, but we always got in trouble. Our mom would take the breast models from our small hands and explain that one day we would understand.
The women's center served as a resource to the surrounding community. There were support groups for women who had been diagnosed with breast cancer. Community forums happened frequently to offer breast cancer information. There were seminars about the incidence of breast cancer and Afro-American women. There were even seminars about men and breast cancer. When we got a bit older, my mother would often drag us to these informational sessions so we could begin to grasp some understanding of the reality of this detrimental disease. We hadn't even reached puberty yet, but we knew that when we did we would be doing self-breast exams.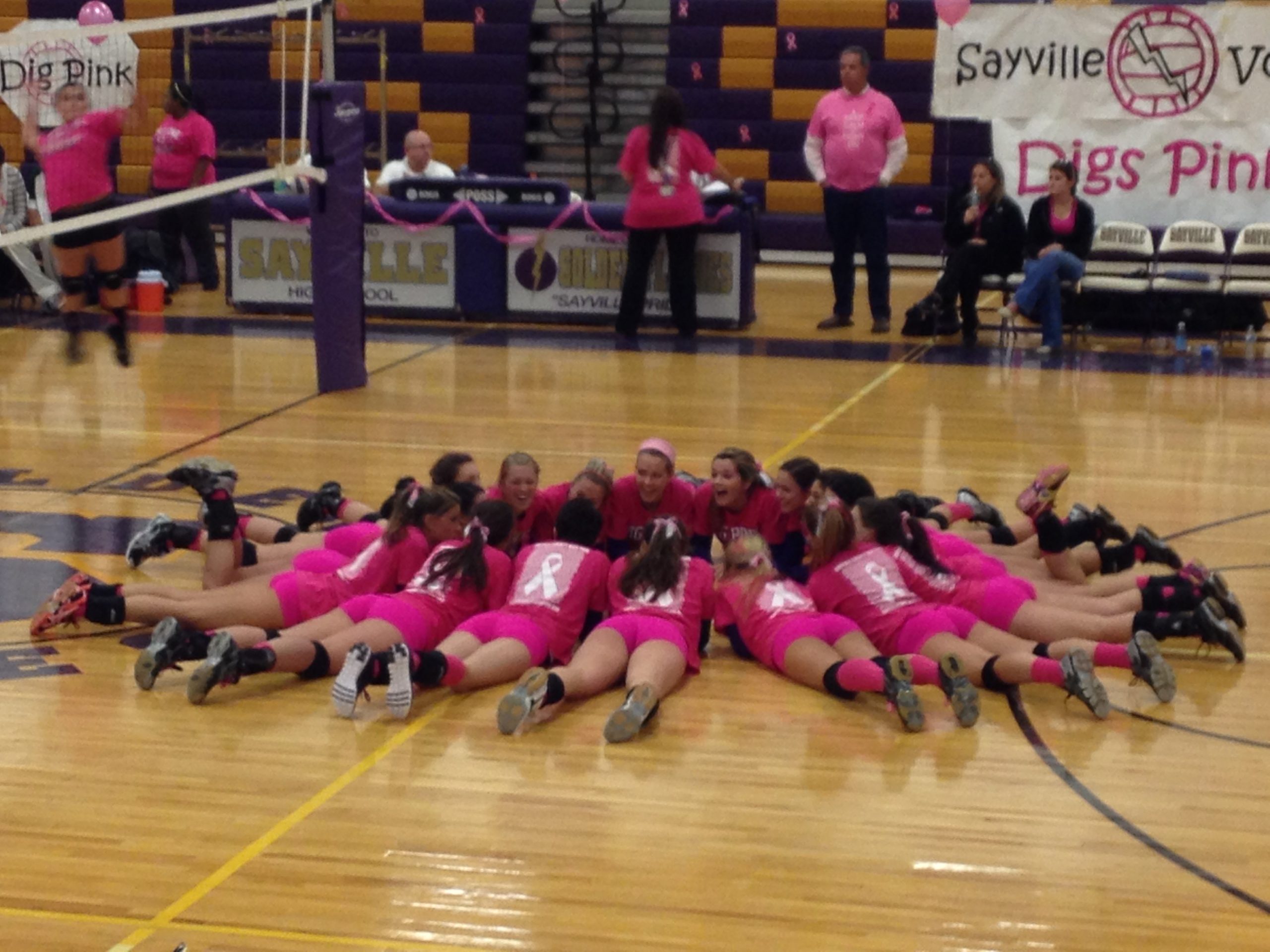 I became involved with the "Dig Pink" event in ninth grade. Looking back to the time when I used to toss the jelly-feeling fake breasts around, I wish that I hadn't had to truly recognize the meaning of the words breast cancer like my mother said someday I would. I have learned that early protection, prevention and research are the key toward finding a cure. By hosting the Dig Pink event we raised awareness in our community. The families and fellow students were very supportive and look forward to this event annually. This also benefited our community because younger girls who attended our event seem to be excited about following in our footsteps.
As a team captain this year for this year's girls' varsity volleyball team, it was my responsibility to organize the fundraising for the Dig Pink event and delegate certain responsibilities to my team members. From the moment the date was announced, our passion for the event was evident. It brought our game to a much higher level and brought us closer together as a team. I know in my heart and soul that this experience has increased our awareness as well as passed it on to others. Community service has been a big part of my life since elementary school. Every year Harborfield's High School Honor Society and lacrosse teams participate in the "making strides" breast cancer walk at Jones Beach. Our students, athletic teams, thousands of survivors, families and people who have been touched by breast cancer "walk the walk". This moving experience has only contributed to my craving to make a change and lengthen lives.
"I know in my heart and soul that this experience has increased our awareness as well as passed it on to others."
I will forever continue my crusade to promote breast cancer awareness as an ongoing process. When I enter college I promise to become involved in either a Dig Pink or similar event in my university's community. I have learned so much about breast cancer since I was young that the responsibility to educate others is second nature to me. Thank you for giving me this opportunity to be involved with the "Side-Out" organization. I hope that together we can make a difference by spreading awareness and promoting research to find a cure for such a devastating disease.