June 14, 2012 — Summer is fast approaching and visions of green grass and free time dance in our heads! This summer, Papillion, NE will be the site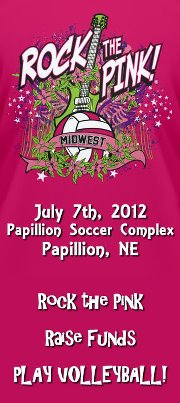 of the very first Nebraska Rock the Pink™ Tournament and The Side-Out Foundation looks forward to celebrating summer with a day of grass volleyball!
On Saturday, July 7th, Rock the Pink Festival Midwest will be held at the Papillion Soccer Complex. Junior and adult volleyball enthusiasts will play not only for the excitement of the game, but also to advance breast cancer research. There will be music, food, an auction, prizes and of course, volleyball! For specific details, visit www.rockthepink.org.
Side-Out's Midwest region director, Tim Anderson, is excited to grow support for the organization in his home state: "In 2011, volleyball teams in Nebraska raised $24,500, an increase of $13,600 from the previous year! I'm proud to live in a community where athletes are committed not only to their sport, but also to making a difference in the lives of those around them."
For more information about Rock the Pink Midwest, contact Tim: [email protected] or 877-344-7465, Extension 112.