Simple joys make every day special. Fireflies, a really good cup of coffee, your favorite song, an evening walk, reading a book in bed, marveling at the stars…the list is truly endless!
This Sunday on National Cancer Survivors Day, I plan on playing with my two dogs, soaking up the sweet scent of honeysuckle, enjoying some delicious food and toasting to my health. June 3rd will mark 5 years since I learned my leukemia returned. Here I am five years later with my sister's healthy bone marrow, two beautiful nieces, a job that allows me to help other patients with cancer and friends and family who keep me smiling. You can bet I'll be celebrating Sunday!
I hesitated to write this post though because, well, many people do not survive cancer. It feels wrong to celebrate my survival when so many people (friends and strangers alike) cannot. Then I think about the family and friends I've lost to the disease and I realize that National Cancer Survivors Day is a celebration of life. They celebrated when they were living. They found joy in the everyday. They would want us to rejoice in the simple pleasures of life, so that is how I will treat this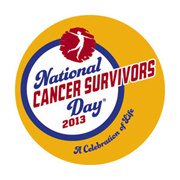 holiday. I will remember what kept them smiling and I will be grateful for the ability to find new ways to appreciate the many joys to be found in each day.
Wishing everyone a wonderful weekend filled with sunshine, good coffee, bright stars and good friends. Happy National Cancer Survivors Day!