ATTITUDE: A positive mental attitude is the key to success in any phase of life.
Those Dreaded Words
I never thought much of those words until I heard the words "you have breast cancer". I used to say those motivational words to my volleyball athletes all the time along with "Attitude is a little thing that makes a big difference" or "There is no challenge too great for those who have the will and heart to make it happen", never realizing those motivational words would become so important in my personal cancer journey.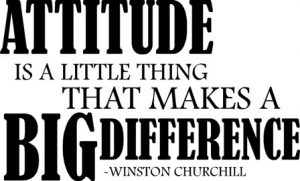 First of all, my name is Karen, a former volleyball player and coach, mother, sister, daughter and I am a cancer warrior as I like to say. Volleyball has played an important part of my life for the past 30 years. I played volleyball from middle school through college, coached volleyball for 20 years, met my husband playing in a recreational volleyball league and now my daughter plays high school volleyball. Over the years, volleyball has taught me many life skills from dealing with co-workers and my family to how to be strong and battle cancer.
As I coached many high school girls, my coaching philosophy was to motivate each player to strive to be the best and to make the team successful. I wanted each player to grow as athletes and young women, and for them to take the lessons they learn from competing in volleyball and use them to help achieve success in all areas of life. I wanted each athlete to be confident and know that there is no obstacle that they cannot overcome with hard work. This is my life philosophy and something I am working on to instill in my two children.
My Story
My cancer story begins in August of 2012 when my life changed forever and I heard the words you never want to hear: "you have breast cancer". I was shocked and confused, and almost didn't want to believe it at first. I was 39 years old with no family cancer history. I was healthy, worked out regularly, coached volleyball and didn't have time in my life to deal with breast cancer; I had a family and a life to live and it wasn't in my plan. At the time, my husband Michael and my two children, Gabby (12) and Mikey (11), were stunned, and it was hard for them to accept and understand my diagnosis. It threw all of us for a total loop.
Once we wrapped our heads around the diagnosis, I needed to get ready for the toughest battle of my life. The treatment was aggressive and hard: several surgeries, 6 months of chemo and 2 months of radiation. As I went through my treatments, I had many former volleyball players reach out to me. They provided much needed support and love with notes, cards, emails and visits. Back in 2009, I decided to have our volleyball team participate in a "Dig Pink" event at the high school to help The Side Out Foundation, never thinking years later I would be battling breast cancer.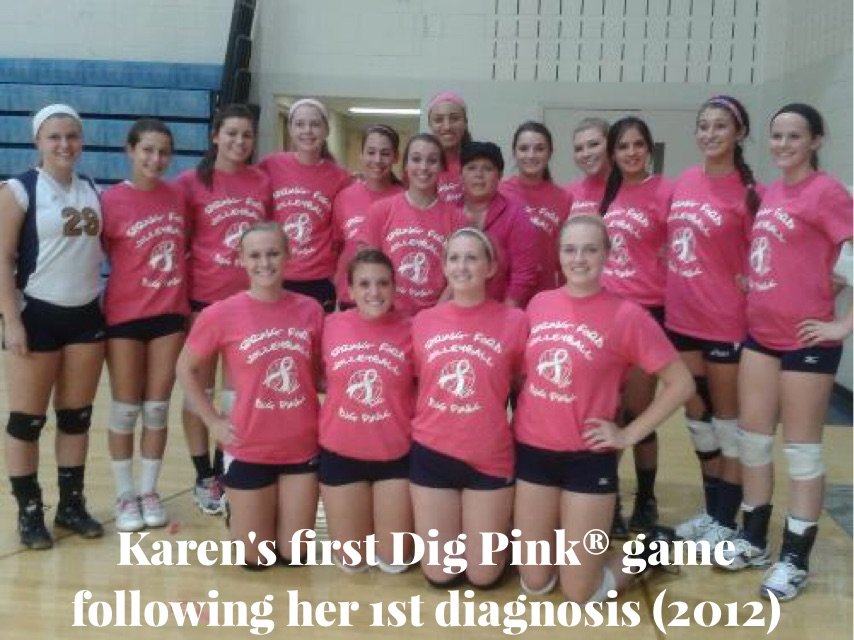 The Best Words One Could Hear
Even though the side effects were brutal from the cancer treatments, on September 20, 2013 I heard the best words possible: "you are in remission and cancer free"! What a great feeling it was to hear that. It had been a long 14 months of treatments, but I was about to begin my new life as a breast cancer survivor. There were still some side effects I had to deal with and my life had changed after cancer, but I was strong, a survivor and I won my battle with breast cancer……well so I thought.
As a survivor of breast cancer, you always fear but never want to hear those words "the cancer has returned, and this time it has metastasized in a different location". Well, my fears came true back in November 2015 when the cancer had metastasized in my chest bone and gave me a stage IV metastatic breast cancer diagnosis for life. Over the time I was in remission, my daughter started playing more competitive volleyball and now has decided to continue on that path. I used to love coaching volleyball and watching players grow over the years I had them in high school, and now I get to see that with my own daughter. She has been a key part of her middle school and now high school team's Dig Pink game events. She rallies her friends to help out and attend the event.
Currently, my treatment is working well and keeping the cancer contained in my bones and not spreading. I have several side effects to deal with, but I am thankful I am able to see my daughter play her club volleyball tournaments and my son's baseball games. I am even hoping to start coaching again soon. Even though I will live with metastatic breast cancer for the rest of my life or until we find a cure, I have a great support system of family and friends, a positive attitude, an awesome and knowledgeable medical team and the power of prayer which can work wonders in time of need.
About The Side-Out Foundation
The Side-Out Foundation is a nonprofit organization based in Fairfax, VA that unifies the volleyball community to drive change in the way breast cancer is treated. Support through its programs, Dig Pink® and the Dig-A-Thon, raises money for critical research of late-stage metastatic breast cancer – the least funded form of breast cancer research. In 2019, over 730 campaigns worldwide contributed $1,233,441 to Side-Out's stage IV clinical trials, taking place at leading cancer institutions in the United States. Supported by prominent members of the community, including two-time Olympic Beach Volleyball medalist April Ross, Side-Out has raised more than $15 million for research on the disease. It has completed two successful clinical trials using Side-Out's individualized treatment protocols and is currently recruiting for its third trial, its largest yet. Volleyball coaches across the country use Side-Out's programs as team-building experiences that reinforce the role sports can and should play in supporting athletes' communities off the court. For more details, visit side-out.org.