Approximately 2 percent of cancer research focuses on metastatic cancer of all different types. Research for metastatic breast cancer receives about 5 percent of that 2 percent. Since metastatic breast cancer affects 30 percent of all breast cancer patients, Metavivor has proposed that metastatic breast cancer research receive 30 percent of the breast cancer research funds: 30 percent for 30 percent.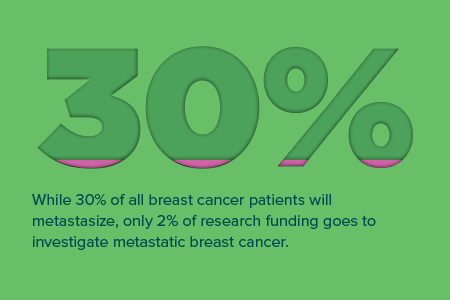 We are very proud to be part of that two percent with the Side-Out Protocol, and we consider it part of our mission to spread the word not only about what metastatic breast cancer is, but also about the need for more research. The Metastatic Breast Cancer Alliance, a group created in 2013 to bring together advocates and researchers focused on improving the lives of women and men living with metastatic breast cancer, has noted some of the obstacles for this type of research:
access to metastatic breast cancer tissue to study for most scientists
standardization of lab models of metastatic breast cancer research between labs and universities
access to funding – <7% of all breast cancer research funding over the last dozen years was directed to metastatic breast cancer focused projects.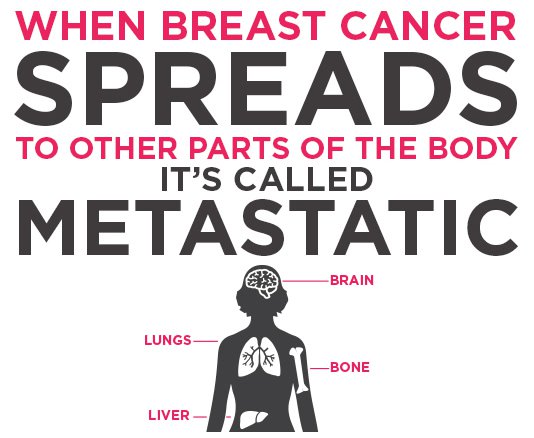 Although research is minimal for patients with metastatic breast cancer compared to patients with earlier stage disease, there are clinical trials available, and breastcancertrials.org is a wonderful resource for finding one that fits the patient. There are also specific organizations focused on metastatic breast cancer, including Metavivor, Metastatic Breast Cancer Network, bcmets (a listserv for patients with stage 4 breast cancer and their loved ones), Metastatic Breast Cancer Alliance and AdvancedBC.org. Many more organizations also offer information about stage 4 breast cancer, and it is slowly gaining more support during Breast Cancer Awareness Month. Still, there is much more to do to educate others and bring light to this form of the disease. The hope is that more awareness will bring more research funding and ultimately better treatments that give patients more quality time with their families and get them closer to the day we find a cure.