Wow, I just got schooled. I just came from the President's Series Program on Breast Cancer that INOVA put on featuring 2 folks from our advisory team, Dr. Edmiston and Dr. Robert. Ductal carcinoma in situ, estrogen receptors, aromatase inhibitors, yikes! How can I be invested in this cause when I have hardly a clue of what any of this means. I am glad I attended because it was eye opening. Dr. Edmiston's presentation was tremendously scientific, so much in fact that I could barely understand. But I have never been good at the scientific thought…I need a lot of time to figure things out. Dr. Robert on the other had a less scientific approach and I was able to grasp more of what he was saying. He had a great analogy about target therapies. He said in the old days chemotherapy was like walking into a room with a shotgun and shooting out all the lights versus just flipping the light switch. Targeted therapies help them find the light switches that turn the cancer off.
One thing that was very interesting about this gathering, is that most of the folks attending the event were 60 or older. I very well could have been the youngest person attending. Younger people need to get involved in this fight and learn more about the disease. It could save their lives.
Well, I have some research to do. Hopefully I can find some great content to put on our site to help make people aware of what is happening out there.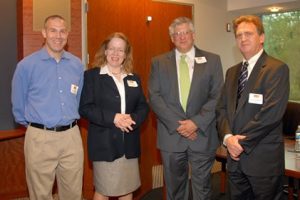 Me (Rick Dunetz), Dr. Kirsten Edmiston, Medical Director, Inova Fairfax Hospital Cancer Center; Dr. Reuven Pasternak, CEO Inova Fairfax Hospital Campus and EVP, Academic Affairs, Inova Health System; Dr. Nicholas Robert, Chair, Research Committee and Cancer Committee, Inova Fairfax Hospital Cancer Center.