Tim Smith is the little brother of one of my best friends, Alex. Tim and I are close friends now, but our friendship didn't really blossom until 1997 when I asked Tim to play drums in a band I was in. We were called 3% Fat; a bunch of dorky white boys who played some old school funk music. The significance of our early relationship is two fold:
1. Tim was battling Hodgkins Disease at the time I asked him to play for us.
2. Tim introduced me to my wife Akiyo.
There are now 2 Mrs. Dunetz's directly connected to me (although my wife says there is only one TRUE Mrs. Dunetz). This blog is for and about my mother Gloria Dunetz, but it is time the OTHER Mrs. Dunetz get a little recognition. In order to get to know her better, let me give you some background.
How We Met
I met my wife at a very small bar called Crossroad's in Fairfax, Virginia. 3% Fat was playing and Tim had begged her to attend the show. Akiyo and Tim were also very good friends. While Tim was going through Chemo, Akiyo would bring him care packages with various items to make him feel a little better. Akiyo hated every other band Tim had played in prior to us, but she begrudgingly attended the show.
In an effort to look as ridiculous as I could, I went to a bunch of consignment shops to look for some cheesy 70's clothes. After all we were a funk band. The outfit I wore that night was a pair of red white and blue plaid bell bottoms, a blue shirt with snaps for buttons, possibly an ascot, a pair of enormous orange sunglasses, and yes, you guessed it, 3 inch platform shoes. I was the lead singer and trombone player for the band, so I needed to stand out a little. Ironically, I proposed to her in the same outfit.  The show started, we rocked the house and after the show I was formally introduced to Akiyo.  Akiyo, was my first and probably only groupie.
Our First Date
Our courtship was odd to say the least because I was very shy. We hung out a lot and talked on the phone, but I would turn down dates and offers for dinner at her place. Now, Akiyo is a beautiful woman…WHAT THE HECK WAS I THINKING? I finally got the nerve to ask her out.  The date was set on September 12th and it was very unique indeed. In a conversation that we had months before we were joking about the idea that our relationship was a VIRTUAL relationship because we didn't really see each other a lot. Mostly phone conversations. So, on a rainy night in September, I put together a VIRTUAL picnic. The virtual world consisted of fake grass on the floor, fake plastic birds, fake wind (an oscillating fan), and a picture of a mountain scape being projected on the wall of the room via an overhead projector. Fortunately, the food and wine was real as was the company. This was the official start of our relationship.
The Facts on Akiyo
Akiyo means "Bright Generation" in Japanese. She has dark brown hair, stands about 5'3″, and has a HUGE smile when she is using it. She is blunt, sometimes harsh, but always direct. She is allergic to just about every airborne allergen know to science. She grinds her teeth at night an wears a goofy mouth guard to protect her teeth….not very sexy. When she walks she means business…get out of her way. It's like a strut down the catwalk but with serious intent. She bakes a wicked chocolate chip cookie and likes to knit. She has more friends then ANYONE I know. She is very impatient with me, but very patient with everyone else. She is a project manager and is very organized. She likes to watch the Hills on MTV…for what reason I could not tell you. She cleans the upstairs of our house and is an absolute neat freak. She cooks great Japanese dishes and loves to eat really wild Japanese food like fried shrimp heads, squid/squid guts, and natto (fermented soy beans). She likes to participate in community theater and has an insane love for dance (and every TV show that deals with dancing). She loathes when I do the robot. Akiyo is a foody…she loves to eat good food. The most important thing about Akiyo is that she loves me for who I am and I am thankful for that.
Akiyo: The Care Giver
Akiyo is one of the most giving people you will ever meet.  She is there for everyone she knows at anytime, anywhere.  She has donated thousands of dollars to sponsor her friends who are doing various charity events and she has participated in events like Christmas in April, Race for the Cure, and Relay for Life. She writes every friend a x-mas card and a birthday card and she bakes a million cookies during the holiday season for her loved ones. She calls my Mom up to see how she is doing pretty much once a week. She does all this not expecting anything in return. She is, by definition, a selfless person. One of the things that I love about her.
Why Do You Need to Know Akiyo?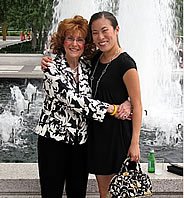 They say that "behind every great man there is a great woman". I am not sure that I am a great man, but I know Akiyo is a great woman. When I decided to start this Foundation in 2004, I did it with the notion that Akiyo would work with me side-by-side. Unfortunately, Akiyo and I do not always work well together. But that's OK and this is why. This year I quit a job that I had for over 15 years to pursue the Foundation full-time. In an economic downturn and facing the possibility of having significantly reduced income, Akiyo was supportive of my vision. She looked me in the face and said, "I want you to do what is going to make you happy." So we went to our financial planner and we put together a plan to make this all work out. I am still holding out hope that Akiyo will join forces with Side-Out, but I will have to keep poking her with a stick. Either way, I am thankful that I have such a strong supportive wife.
Baby I Owe You Something Good
When I proposed to Akiyo in Paia Maui, I was wearing the outfit that I met her in, platform shoes and all, and I sang her a song by Funkedelic called "Baby I Owe You Something Good." After finished singing I asked her to marry me and she tearfully replied, "Are you Sure?" (meaning are you sure you want to marry ME?). And so I want to say to my lovely wife this holiday season:
Baby, I do owe you something good…I am not sure what to get  the woman who doesn't want anything (but a Dyson Pet Vacuum; I know I know), but I hope this is will be something you can cherish.
I have always been sure I wanted to spend the rest of my life together with you. You inspire me to be a great person and without you I am lost. You are a perfect compliment me; you give my life balance.  I love you with every ounce of my being and I thank you for allowing me to pursue this dream.   I hope I can make you proud.
Happy Holidays Everyone!