"It is estimated that 42,260 deaths from breast cancer will occur this year"
This is just one of the heartbreaking statistics that I learned while completing my education hours. This is a statistic that will stay with me for the rest of my life. This is why I fight for a cure with Dig Pink.
While completing the education hours for the Ambassador Program, I learned many amazing facts and stories from not only doctors, but from survivors. I completed all of my education hours through Cancer Care and Beyond the shock. Both of these are amazing online tools that help to spread accurate facts and information about Breast Cancer.
One of the most important things that I took away from my education is how important support is for a patient from both friends and family. In all cases, the patient will react differently when told the devastating news. Depending on the situation, some patients may want to resist help. In many cases, this can be older women and men. These types of patients may feel some type of shame or embarrassment about having breast cancer. This can be detected by seeing a patient not go to treatments or trying to do things on their own.
This is such an important concept for not only doctors to know, but for family members to understand. No matter how much they might try to push you away, you need to always show that you are there for them. You never know when they will approach you for physical, but more importantly emotional help. Although this may seem like something obvious and simple, just being there for someone can go along way.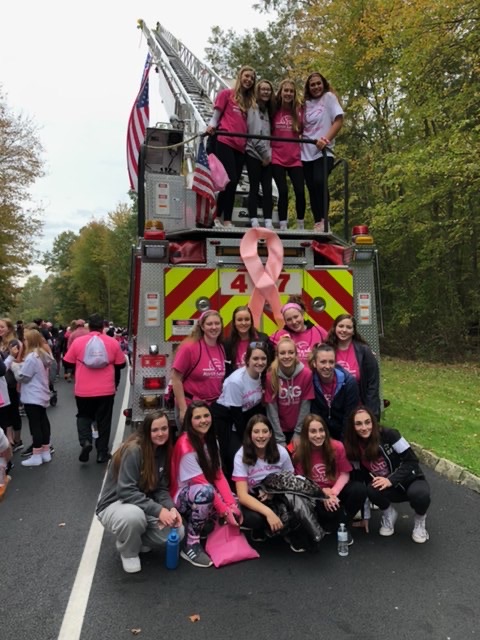 The support of friends and family is not only crucial throughout the battle of breast cancer. This support can also play just as big of a role in youth sport. Our varsity volleyball program is one that is built on this idea. No matter what is going on, we will always be there for each other. Most of the time these problems don't have to do with volleyball. Whatever it is, we take pride in always being there for each other.
This is a concept that we also put into our Dig Pink event. We knew that we needed to stick together and work with each other for this event to be a success. Whenever we host this event, a lot of my teammates would open up to the teacher and discuss hard-hitting topics. I am proud to say that I was able to be there for them, even when they didn't want me to be.
One of the biggest challenges that I faced while setting up my Dig Pink plan was technology. Even since we started to host this great event, we have always collected donations through cash. The team had always held one big raffle and sold $5 raffle ticket. We would then take this money and either mail it in or deposit it and write out a check. 
Last year, my older sister Joan and I were able to set up an online donation page. I was not sure how well it would work if every girl on the team had a page. However, I decided to give it a shot. To do this I needed the support of my coach. After explaining the need for a fundraising page my coach created one and I was able to set up a page for everyone. Within 2 hours, we were at $500 and counting. Not only was I surprised, but the whole program was shocked at how easy it was to do everything online. As we came to the end of October, we were able to double our goal of $5,000.
My Dig Pink experience has impacted me a lot, not only on but off the court. The idea of strength is something that I will always carry with me. Life does not always deal the cards fair. Sometimes there are times when it is not fair, however, you have to move on and get past it.
This is something that helps me on the court. If I made a mistake I was able to compose myself and prepare for the next ball to come at me. This also is now with me as a person. I know that in life things get hard, however, you just have to move on and keep on fighting. I am grateful every day that I was a part of Dig Pink.