Late last year, we received notification that a donor made a very generous gift to The Side-Out Foundation in her will. Unfortunately, we never had the chance to meet her personally, but through her cousin, we have learned that Diana Heller was a remarkable woman. Below is her story. Thank you, Kaaren, for sharing it with us.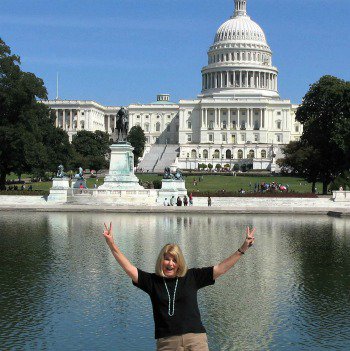 Diana Suzanne Heller 1945 – 2015
Diana grew up in the Midwest (St Joseph, MO) and attended the University of Missouri. Upon graduation, she moved to California for several years and then to Seattle where she had relatives. In Seattle, she worked at the University of Washington until the rain got to her and she left for Washington, DC. She had a very successful career in the pharmaceutical industry in the DC area until her diagnosis.
Her passion was gardening. Living in a townhouse in Rockville MD, she had a small front lawn and in back a fenced-in flower garden. She was known to mow her neighbor's yard or shovel their sidewalks so all looked tidy around her. She even asked them if she could paint their front doors to make the space more beautiful!

She planted saplings in the common areas around her community which she tended to and watched through the years turn into stunning established trees. Her ashes were buried between 2 of the trees she had planted so many years ago.
Diana was beautiful, graceful and smart but more than all of those virtues, she was herself– a person with a point of view. I always wanted to know what she was thinking. This is so rare in our times. I hope there's a garden wherever you may be, Diana.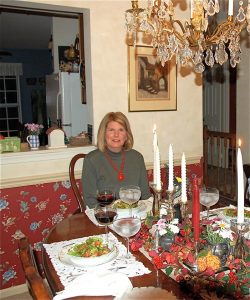 Diana had an eye for photography and captured many lovely scenes. This led her to finding amazing photos on the internet, and with some of her own pictures she would make collages for a Facebook page. This started around the time she discovered she had breast cancer and while undergoing treatment she developed a striking page of photographs and collages that was followed by hundreds of people around the world. This brought her great joy.
Diana never married. She had friends and her cats and interests in her community that kept her busy when she retired. She wrote the neighborhood blog and fought many times to protect the rights of the community she lived in, including protecting the trees she planted 30 years earlier.
The journey started in the gym at West Springfield High School in 2004. The rookie coach of the girls' volleyball team wept as he told his players he was struggling not only with teaching the sport but also with his mother's recent diagnosis of Stage 4 breast cancer, the deadliest stage.
With the diagnosis of breast cancer which led to surgery and chemotherapy, her life had to slow down. She continued to garden, rummage through books at the recycle center she gave to various charities and create gardening experiences for the neighborhood children.
She was getting back to normal when she learned the cancer had metastasized. It was a very difficult battle. During that journey, she came across a newspaper article about The Side-Out Foundation. It rang true to her. There seemed to be very little research or that much discussion about metastasized cancer. It hit a chord. She wanted more information about it, she wanted to give to the program that was dedicated and involved to the fullest in it. So it became one of the 6 charities her trust designated as a beneficiary. Diana was a quiet and private person who cared deeply about the people she loved and the issues that mattered to her. This was definitely one of those issues.