Results of the second phase of the Side-Out Protocol (Side-Out II) were recently presented at the San Antonio Breast Cancer Symposium (SABCS), an annual meeting attracting professionals and patients from all over the globe. The mission of SABCS is "to provide state-of-the-art information on breast cancer research" and to serve as a "forum for interaction, communication, and education for a broad spectrum of researchers, health professionals, and those with a special interest in breast cancer".
Mariaelena Pierobon, MD, MPH, presented the results on behalf of the Side-Out Protocol research team. In simple terms, researchers concluded that the proteins expressed by the various tumors were dependent on the location of the metastasis (the spread of cancer from one part of the body to another), suggesting that the most effective drugs for a particular patient could be decided based on where his/her breast cancer spread. This also revealed that tumors that have metastasized to a certain part of the body share a distinct signature.
Side-Out II continues to recruit patients. If you would like more information, visit ClinicalTrials.gov or contact Bryant Dunetz. Click the image below if you'd like to view the poster and review the data in more technical terms.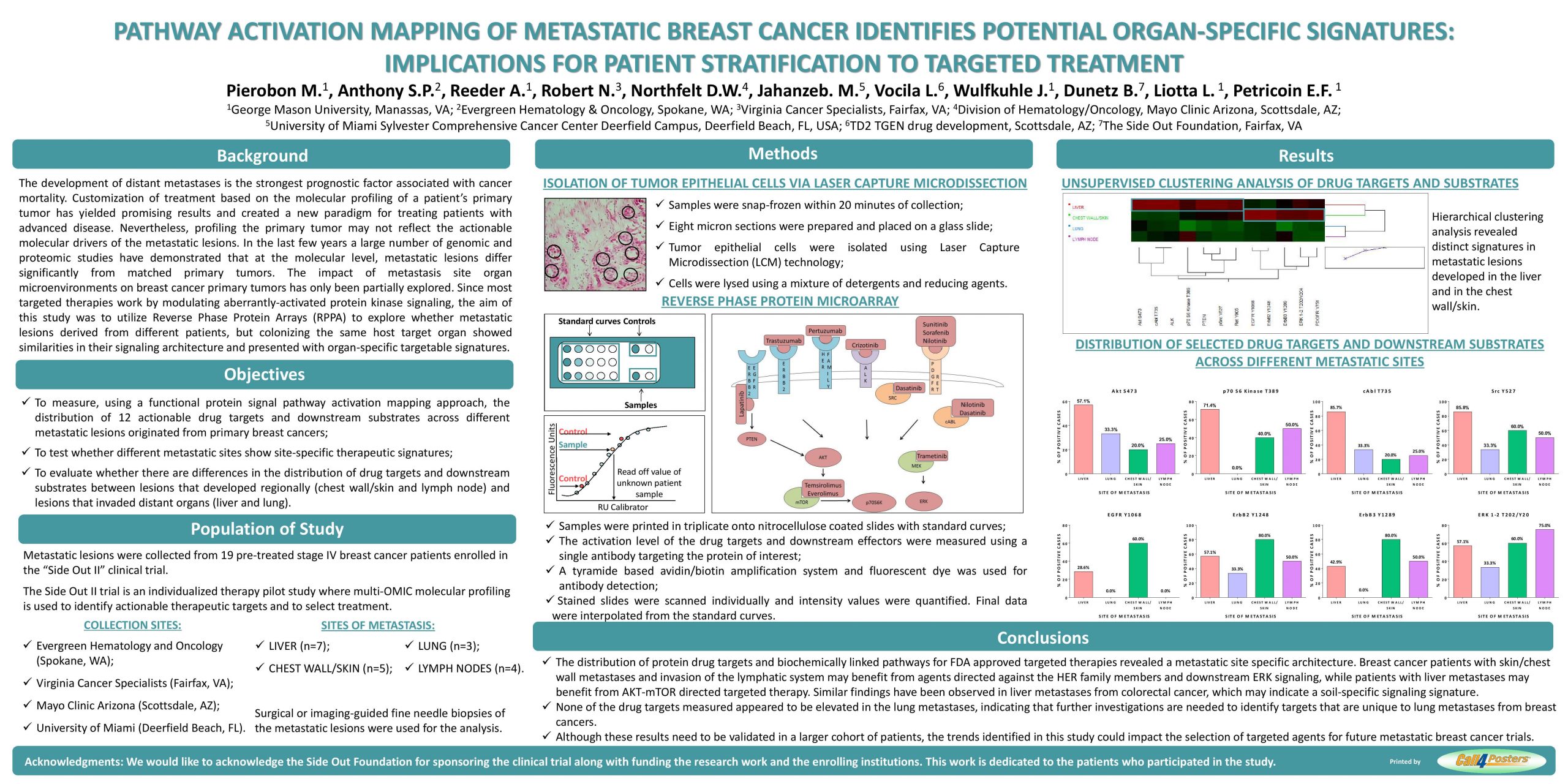 About The Side-Out Foundation
The Side-Out Foundation is a 501(c)(3) non-profit organization that was established in 2004.  Inspired by one mom and embraced by the entire sport of volleyball, the mission of The Side-Out Foundation is to educate young athletes and their communities about breast cancer, both with respect to prevention and treatment, and to fund cutting edge breast cancer research.  Side-Out is focused on changing the way breast cancer is treated forever.
The term side-out refers to a situation in volleyball when one team wins a point while its opponent is serving, thereby regaining serve or control of play.  It is hoped that Side-Out will do the same for breast cancer patients, providing them with the support, education and best available treatments to regain control of their lives.