My name is Julie, I am 37 years old and I am many things…. I am a woman, a wife, a daughter, a sister, an aunt, a police officer, a beach and indoor volleyball player, coach as well as referee, and I am also what I prefer to call a cancer lifer as opposed to a survivor.
Lets start with the fun part of my journey. I started playing volleyball when I was 12 years old. After my first year of playing, I was hooked. At 16,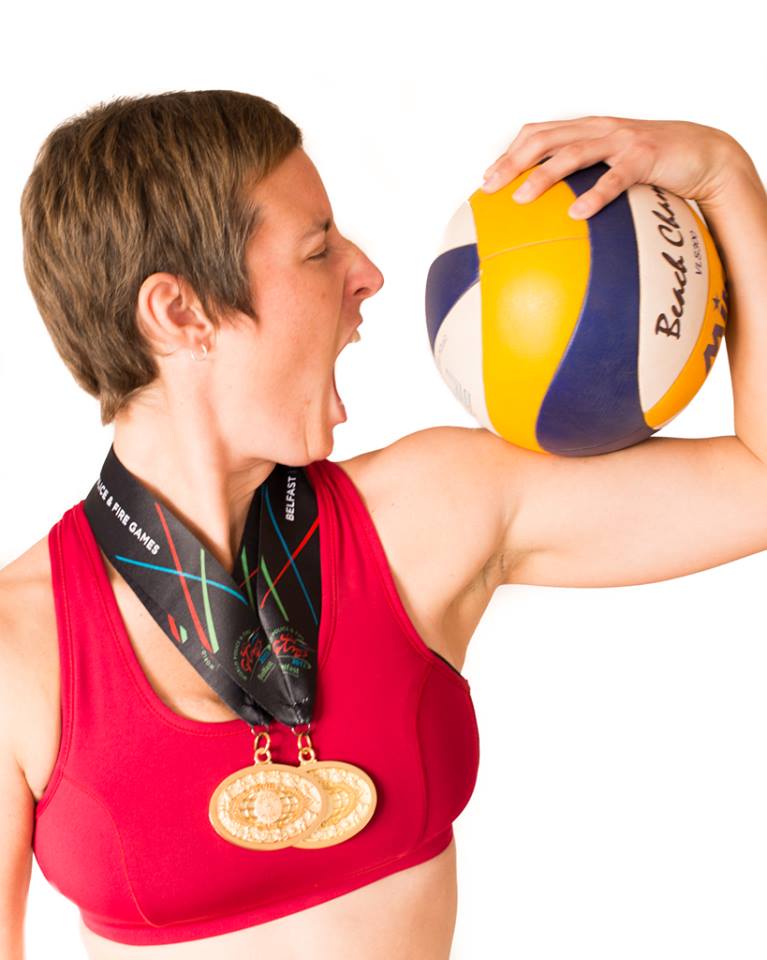 I became a referee and at 20 a coach. Since then, I still do all three. Volleyball taught me many life skills: working as a team, being there for others, how to push myself to be better, how to work hard, how to respect others, how to deal with defeat… Because of volleyball, I have met so many good people, some of them have remained very good friends throughout the years.
Acquiring these life skills were also very helpful in preparing me for my career path. At 21 years old, I became a police officer. 16 years later, I still love my job and am now a detective.
These life skills also came in handy when I was diagnosed with metastatic breast cancer at age 34. When my oncologist gave me the news, I felt like I had been hit by a truck. Even though I went to the doctor as soon as I found that lump in my breast, even though my surgeon had removed the mass quickly after it was discovered, even though my lymph nodes had no evidence of cancer… the disease had already spread through my blood stream. The cancer is aggressive. I have metastasis on both of my lungs.
Metastatic breast cancer is also classified as Stage 4 breast cancer. Stage 5 does not exist. Those who die from breast cancer all die from Stage 4… because the cancer has spread outside the breast and is attacking other organs in the body. I knew at that point that I was not only dealing with illness, I was facing my own mortality. I had seen the statistics and they were not good.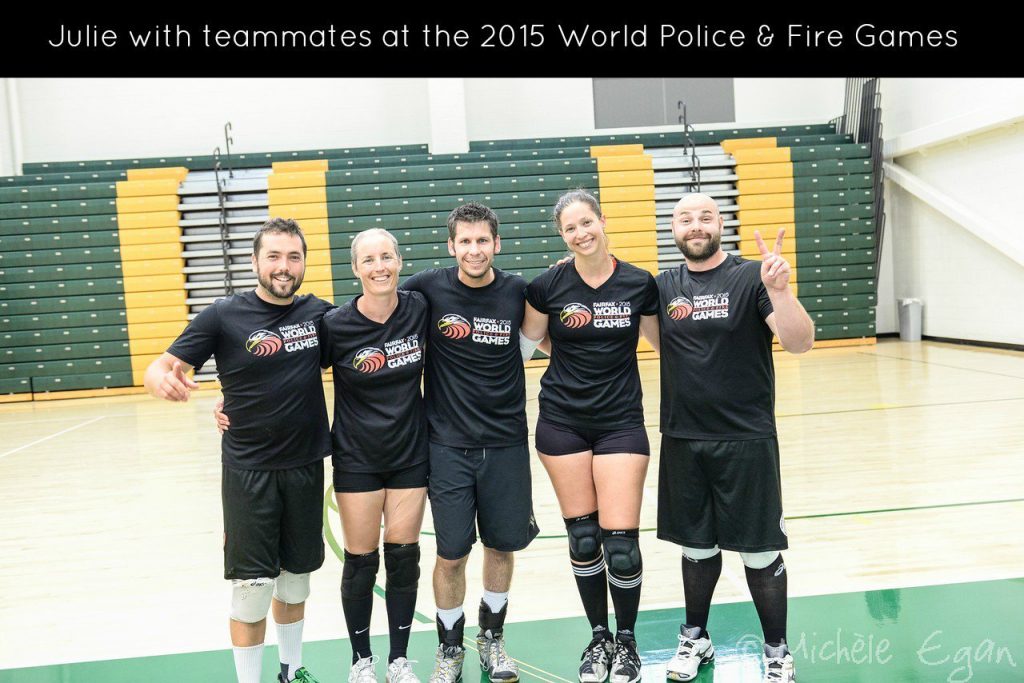 What is a girl to do when faced with such awful news? I could have gotten depressed and simply wait for my time to come, but that was not an option for me. I focused on the fact that I AM NOT a statistic. I also reflected on death. All animals die. Of course, most of us prefer it to be later than sooner, but we don't have a say on that matter. I came to the conclusion that there are things in life that we have control over and others that we don't, but we ALWAYS have control over how we choose to react to it.
I decided that I was going to live life to the fullest, that I was going to do everything I could to better my situation and, ultimately, when my time does comes, I don't want to have any regrets and be at peace with myself.
I started chemotherapy, continued to play, referee and coach volleyball and started working with a holistic trainer which included straightening my body, doing yoga and meditation as well as changing my eating habits. After my first six months of chemotherapy, I was stronger than I had ever been and felt great. I felt so good that I decided to go to Northern Ireland and compete in the World Police and Fire Games in both beach and indoor volleyball. I had an amazing trip visiting Northern Ireland, Ireland, Scotland, London as well as Paris, and I also came home with two gold medals.
I have been in treatment now for almost 3 years. There have been many ups and downs. I have learned to listen to my body (well, I am still working on that). Last year, I learned that the cancer had spread to my brain. I had two 1.5 inch tumors on the left side of my brain, and six other small ones scattered a little bit everywhere. I had a craniotomy and ten rounds of full brain radiation. A month later, I was back at the gym and back to the volleyball courts. My brain is a little slower than it used to be, but I can still do all that I could before.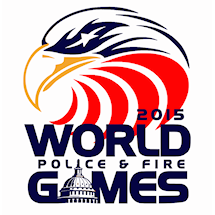 In the past two years I have learned to surf in Maui, to snowboard in Oregon, to rock climb in Utah and to whitewater raft down the Grand Canyon. This past summer, I competed once again at the World Police and Fire Games this time hosted by Fairfax, Virginia, and came home with three metals, one of each color. In November, I will be hiking for 4 days to reach the the lost city of Machu Picchu in Peru for cancer research.
On top of all my health issues, my husband who is also my biggest supporter was diagnosed with an autoimmune disease that attacks the kidneys and had a kidney transplant only a month before my craniotomy.
Living with metastatic breast cancer is not easy, but I try to make the most of it. The power of will is strong. It may not save my life, but I know it will help me prolong it as well as help me make the most of it while I'm still here.
I had the chance to meet the founder of Side-Out and some of the Side-Out staff when I was competing in Fairfax. They told me about the foundation and I was impressed and grateful to learn about what they do. When they asked me if I would be willing to share my story, I accepted right away. All the volleyball tournaments along with the fundraising that they do is very helpful and it gives me hope that we can find a cure sometime soon. As a Canadian citizen, I am hoping that Rick may want to expand the foundation into Canada.
A big thank you not only to The Side Out Foundation, but also to all of the athletes, coaches and volunteers for all that you do.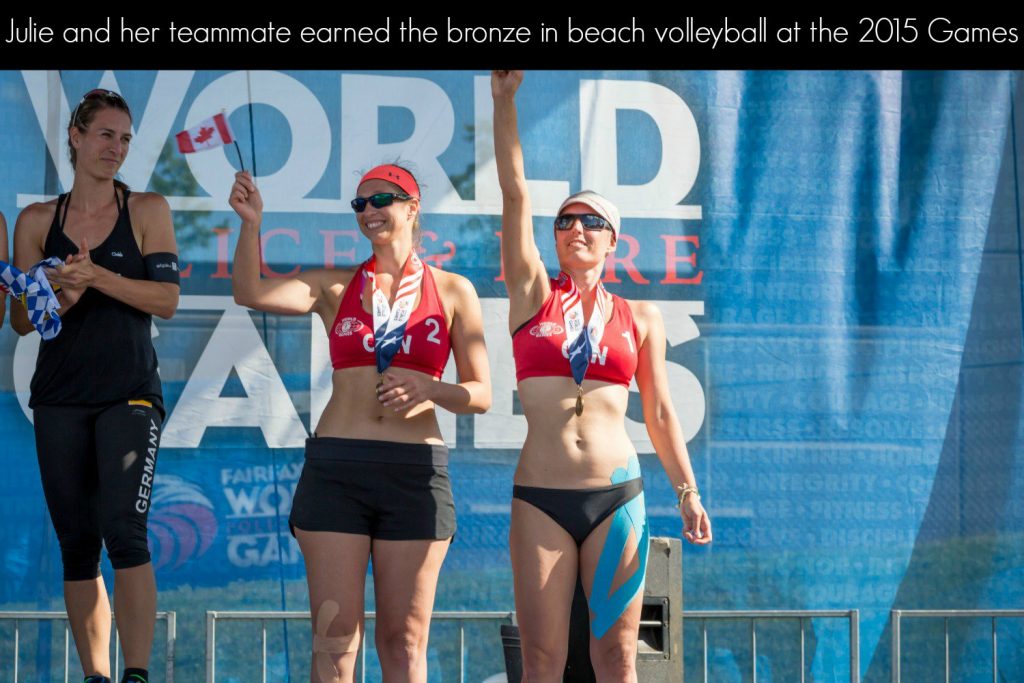 About The Side-Out Foundation
The Side-Out Foundation founder of Dig Pink®, teams with the volleyball community to inspire science and hope in the match against breast cancer. Side-Out is the only charity using the power and teamwork of the volleyball community to beat cancer and is directly responsible for extending the lives of stage 4 breast cancer patients For more information on news, blogs, and events relating to the organization, subscribe to Side-Out's newsletter. For any additional information, please contact The Side-Out Foundation online.