Have you ever wondered if there's a way to increase your level of performance unique to what others in your field or sport are doing? Have you ever wanted to develop new skills and techniques that allow you to achieve greater potential? Or are you someone who wants to continually improve and grow beyond what you (or others) thought possible? If you said "YES" to any of those questions, sport psychology training is the answer for you. 
Implementing sport psychology into your regular practice will provide you with cutting edge skills. The same skills that Olympians use to become Olympians; which are the same skills that many of your competitors aren't even thinking about yet! Your "thinking game" is one of the major practices, along with proper nutrition and effective strength training, that will help take your game to the next level. 
What is Sport Psychology?
Sport, exercise, and performance psychology (SEPP), commonly referred to as sport psychology, is the practice of applying psychological principles to different sports (volleyball, soccer, swimming, etc.), different types of exercise (running, rock climbing, etc.), and/or different performances (music, singing, gaming, teaching, work, etc.). Applied sport psychology utilizes a set of cognitive skills, such as: confidence, emotion regulation, focus and concentration, internal motivation, imagery, and more, all of which anyone can learn.
It Can Help Anyone... How Does It Work?
Great question! Earlier, I shared that implementing cognitive skills into your practice can take your game-play to the next level. It is one of the major benefits of sport psychology training. If you're an athlete or performer, take a moment to think about an area of your sport or performance where you are confident. 
What makes you confident in that area? Is it practice? Is it coach/teacher feedback? Is it what you say to yourself in the moment? Now, ask yourself the same questions, but for an area where you are not as confident. Think about those answers. We know confidence can be tricky – a sport psychology professional can help you navigate questions like these AND help you develop the confidence level you need in order to improve performance. 
Remember, even though the example questions were for an athlete/performer, these skills are for everyone – coaches, teachers, exercisers, parents (yes, parents, you too!). Anyone can benefit from learning these skills. An important note: Applying these skills is not a one and done type of thing. You need to apply these skills regularly so not only performance level is increased, but so that it is also increasing over time. If we are not consistently increasing our level of play, chances are we are not regularly developing our cognitive skills. 
Ask yourself, "Do I practice my mental game as much as I practice my physical game?" If the answer is "no", then ask, "Would developing my mental skills take me to a new level of play?" When the answer is "yes", sport psychology training is the next step.
I Want This Sport Psychology Training!
You can get started today with your sport psychology training! Here are three easy steps to get started:
Step 1: Peruse the sport psychology world
Get to know us and the skills! The sport psychology world grows daily. The main organization in the U.S. is the Association for Applied Sport Psychology (AASP) and their website is a great place to start. For a list of organizations outside the U.S., check out this resource. Remember at the very beginning when I mentioned that Olympians use these skills? Check out how Team USA implements sport psychology here. Overall, familiarizing yourself with the field and which skills you are interested in will help you get started when seeking out professional services. 
Step 2: Know the qualifications
Even though sport psychology skills are for everyone, not everyone is qualified to teach the skills. In order to teach SEPP skills, a professional is required to have a master's degree where there is a specialization in movement, sport, exercise, and/or performance psychology in the degree. During their education, they learn techniques originating from science-based and ethical practices and typically engage in supervised practicum. For a book to purchase with the full list of programs and degrees, click here.
A doctorate (PhD, PsyD, EdD) and/or AASP's certification process (Certified Mental Performance Consultant or CMPC®) are not required in order for someone to teach SEPP skills outside of the master's degree; however, you'll find some professionals chose to earn a doctorate and/or become certified. You are always encouraged to ask anyone providing sport psychology services what their degree of study is and what their experience is – protect yourself, your people, and your pocketbook.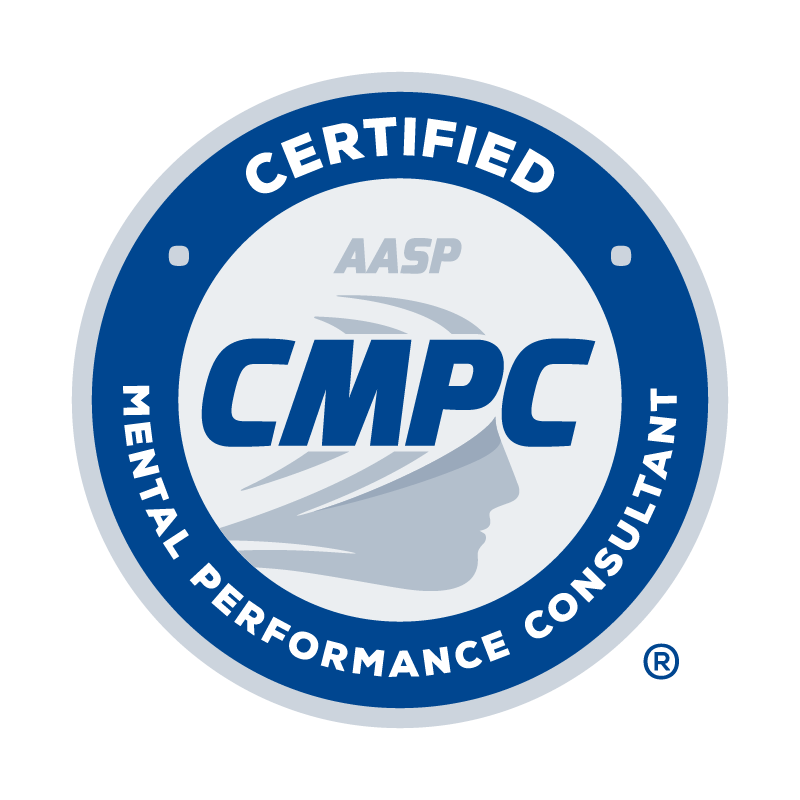 It would make sense that folks providing sport psychology services be called sport psychologists, right? NOPE!
Fun Fact: The use of the word "psychologist" as a job title is legally protected in the United States, and rightfully so. The word psychologist applies only to those who have a doctorate where they are legally licensed to diagnose and treat mental health disorders. So, if you come across a sport psychologist, the person has specialized in sport psychology (often during their master's) AND they have gone on to complete a doctorate in mental health with licensure. Phew! That's a lot! For most of us providing sport psychology services, you can look for titles like mental performance coach, cognitive performance specialist, mental skills trainer, or something similar. 
Step 3: Find the right fit
The "right fit" for sport psychology services is different for every client and every professional. The relationship between you and the professional is a two-way street and finding what works for both of you is important. Here are a few things to consider:
Finances: What is your budget? How much can you pay for sessions? 

The Client: Are the sessions for you? Your child? A team?

Readiness: Do you understand the training is a commitment and takes time? 

The Professional: Have you researched them? Do they specialize in certain topics/skills?

Desire: What are you looking to gain from SEPP training? Where do you want to grow? 
No matter who you are or what your domain is, applying cognitive skills to your life is not only meant to increase performance, but it is also meant to enhance overall well-being and personal growth. Your performance will increase as a byproduct of applying these skills in ways that better our lives. Besides, participating in sports and performances as a means to make us better humans, teammates, and friends was why our parents put us there in the first place, right? 
Interested in leveling up your game through sport psychology but still have more questions? Check out Paige's bio and contact her!