Sports Helped Heal
Today marks 14 years since the attacks of September 11th, 2001. Today we remember the victims, their families and their loved ones. We honor the first responders, and as we recall the holes left in the ground and in our hearts, we find strength through a shared grief. We celebrate pride in the strength of our country and resilience in the face of devastating loss. Fourteen years ago, football, baseball and any other sport was far from our minds, yet looking back, sports helped heal in a way nothing else could.
"Sports are not detached from life. Sports, at their core, are life-affirming. I kept thinking, as survivors told their stories with disaster dust coating their hair, that we've all gone a bit gray overnight. Sports are youth–that's why they're often so overblown, and that's why many of us stay interested. The basic act of play, the basic pleasure we take in watching talented young men and women at play, are not things to feel guilty about even while the casualty list grows and the investigation continues." – Bonnie DeSimone, "Finding That Proper Balance"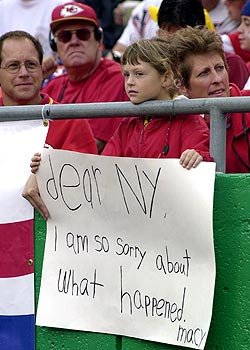 My brother had lived in New York City for two years when the planes hit. He had jury duty September 11th, 2001. Because he woke up late, he opted not to take the subway to the World Trade Center station, instead hailing a cab. He heard the first plane hit, and watched as the second one flew into the South Tower of the World Trade Center. Out of the cab, he watched the scene in horror and had to turn and run when the towers began collapsing.
The days following were surreal. Ronnie left his Manhattan apartment to wander the city. He found unspeakable heartache, but he also found New Yorkers hugging each other in city squares, reaching out for comfort from strangers. There was a unity he hadn't before experienced, and he spoke of the city and its inhabitants with reverence and admiration.
Initially, most sporting events were postponed or cancelled, not only in New York City, Pennsylvania and the metropolitan D.C. area, but across the country. The NCAA gave schools the option of holding games and events, NCAA President Cedric Dempsey stating "the games themselves are insignificant in the face of what has happened today".
Indeed, it seemed that perhaps sports and entertainment might never hold the same meaning or enjoyment. How could they after such a devastating tragedy? In South Carolina, North Greenville College decided to go ahead with a scheduled football game on September 15th, in an effort as the college president, Jimmy Epting, said to use football "as a platform for bringing the American people back to their normal lives."
In New York City, athletes shifted their focus from training and games to caring for their fans.
"They went to Ground Zero to meet with the men and women working night and day to clean up. They lifted boxes of relief supplies off trucks, many times in stadium parking lots that had become staging areas. They wore caps and uniform patches to honor the firefighters and police officers who lost their lives trying to save others as the World Trade Center fell." – Steve Politi, "One Swing of the bat showed the healing power of sports after 9/11"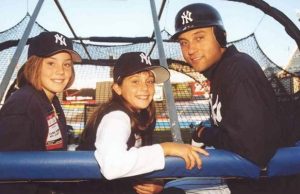 Derek Jeter, star shortstop for the New York Yankees, forged a friendship with the family of a pilot who died on United Flight 175, Michael Jordan gave his Wizards salary to victims and the recovery effort. Kerry Collins, the quarterback for the New York Giants, gave $275,000 to 9/11 charities and befriended firefighters at a Greenwich Village station. The list could go on and on.
Soon though, they realized their encouragement could mean even more if they returned to the game. What it became though was more than a game. As Dan Wetzel wrote, "sports mattered after 9/11 – not as a game, but as a gathering." Deciding when to return was a difficult decision for everyone involved. Fay Vincent, Commissioner of Major League Baseball from September 1989 to September 1992 put it perfectly when he wrote,
"On that, like on most tough issues, reasonable minds will differ. There must be a respectful period in which to adjust to the new circumstances after the attacks. There must be time to mourn, to console, to recover our national sense of balance after so overwhelming a series of blows.
But then, we must go on. We must, like Churchill and his countrymen, prove we can take anything that comes our way. And yet we will, relatively quickly, require diversion and entertainment. The tired fire and police personnel, the exhausted medical and government workers will welcome rest and then recreation.
One cannot stare at tragedy too long. It, like the sun, forces us to turn away. And if the good people of San Francisco are an example, Americans will quickly dig out and adjust to the new conditions imposed by these latest attacks.
We will come back and just then, as we emerge from the soot and dust of this misery, the lovely green of the ballyard will signal, like the spring after a harsh winter, that life and even baseball must and will go on." – "Sports can seem inconsequential in moments of crisis, but they reflect our humanity"
Major League Baseball was the first sport to host a professional sporting event in New York City post-9/11. It was both somber and celebratory, and its power reached far beyond the city limits. The Mets won that night. In fact, both NYC MLB teams and both NYC NFL teams won their first post-9/11 games. It was, as Mike Lopresti wrote, "as if each is playing for something vastly larger."
For a few hours, Americans could focus their thoughts and their worries on something completely outside of national security, terrorism and war. New York City mayor at the time, Rudy Giuliani, said "the only two things that got my mind off it at any period of time in the fall of 2001 were baseball and my son's football games" (HBO documentary Nine Innings from Ground Zero).
My brother, Ronnie, became an even more ardent Yankees fan. He followed the 2001 World Series between the Yankees and Diamondbacks with excitement, often calling us to share stories about how New Yorkers were rallying around the Yankees, even, yes even, some Mets fans!
Despite the fact that the Yankees lost that World Series, the city was made stronger by the sport itself and the athletes who cared about things beyond their batting averages. I visited New York City in June 2002 and went to Ground Zero. My sister and I walked around with our brother, listening to his stories and reading the messages left by loved ones on the chain link fence surrounding the holes where the towers had been. We cried.
We also went to a Yankees game. In those three hours, we yelled, cheered and laughed, forgetting momentarily about the destruction not far from Yankees Stadium. I bought a Yankees hat that I cherish, with the characteristic NY symbol sewn in red, white and blue instead of the team colors. The city was not the same as when I visited in 2000, but the resilience felt almost palpable. Sports alone cannot heal such tragedy, but they can offer purpose, joy and hope, and that is enough.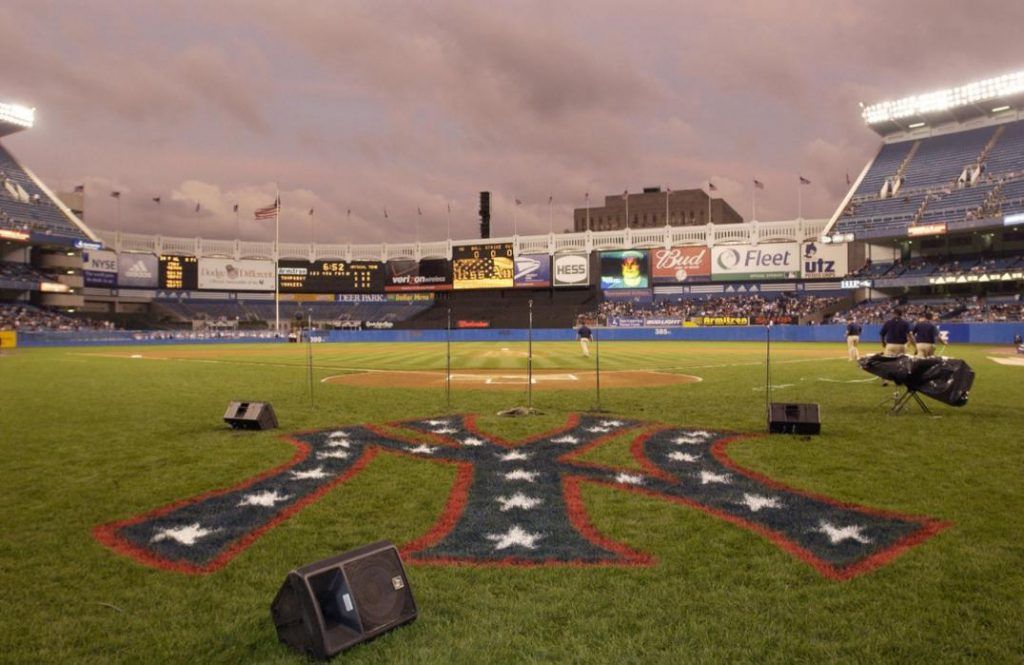 "The sports world is the first to turn the lights out… the sports world is also the first to turn those lights back on, a bright blaze under which a weary community gathers, a first stop in a long journey back to normalcy." – Bill Plaschke, "Play is Stopped"