Last year, club volleyball players, along with their coaches, family and friends, created homemade cards for patients in eight hospitals across the United States via various Dig Pink® Tour Stops! This year, with your help, we will grow this project even more with the 2015 Dig Pink® Tour Assist Project.
We've tried different initiatives over the years to engage volleyball clubs in Dig Pink® during the winter and spring months, and after last year's successful Hospital Cards Project, we think we've come up with a winning plan! Beyond wearing pink on the second day of multi-day tournaments, we want teams to feel as though they are truly making a difference.
The Assist Project is looking for club teams all across the country to help create hospital cards or "assists"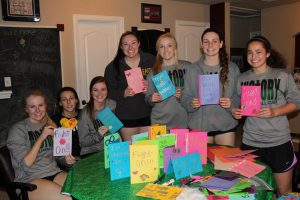 to give to cancer patients in their state while raising dollars for research through a pledge drive. Our goal is to finish with 30,000 assists and $300,000 raised for stage 4 breast cancer research, a lofty goal indeed, but certainly not unattainable given the incredible support of the volleyball community.
We accepted cards at several national tournaments during the 2014 club season, and then sent those cards to hospitals local to the tournaments. This year, we plan to send them to hospitals close to the clubs that submitted them, whether it be within your county, region or state. The manager of hospitality services at George Washington University Hospital wrote us this note last year:
"Every volunteer that distributed cards came back telling me how much the patients really enjoyed them and they felt that the cards really boosted the spirits of the patients. It also boosted the spirits of the volunteers. It is so rewarding to see how doing such a small gesture can really make a difference. Thank you once again!"
Click here for more details.