I first met Dr. Kales on the ninth floor of Fairfax Hospital in January, 2005. He explained my diagnosis and outlined the treatment I would receive in the months to come. He was serious yet kind, concerned but hopeful. He directed his comments and questions to me and to my parents, engaging with whoever was in the room. He smiled when he looked around at the walls filled with photos and the well wishes written in glass marker on the windows. My family had turned it into a comfy home for what would be a month-long stay.
As the months wore on, Dr. Kales was there to answer our questions and to quell our fears. He introduced pleasant distraction into our appointments with stories of his family and grandchildren, and he met many friends and family members who chauffeured me to and from office and hospital visits. Months turned into years and though appointments were less frequent, our reliance on his knowledge and calm demeanor never lessened.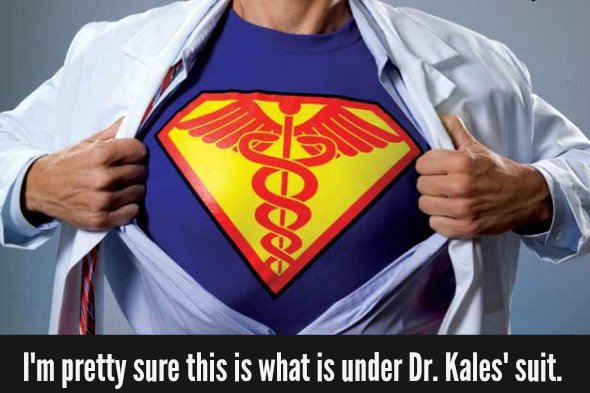 He was the one to deliver the bone marrow biopsy report that confirmed the leukemia had returned. For a period after my stem cell transplant, the office sent me to a doctor who specialized in transplants, but I fought to get back to Dr. Kales. He was the one who spent time with me, who knew my case, who chatted with me about baseball, who asked about my family. He was clearly very knowledgeable about transplants too; he just wasn't the one in charge of the clinic.
But it wasn't until December 2014, when Dr. Kales told me he was retiring, that I fully understood his impact on my life. Somehow I had the wherewithal to smile and congratulate him, but my heart sank. I barely made it outside the office before the tears started. January 2015 marked ten years since my first diagnosis, and Dr. Kales had been a fixture in my life since that first visit in the hospital. Just seeing him walk into an exam room brought me (and the rest of my family) peace.
Who would replace him? Would they be as tolerant of my lengthy lists of questions? Would they spend time with me? Would they monitor my health as closely as Dr. Kales did? I remembered the hundreds of cards my dad received when he retired from his cardiology practice. I understood the desperation and sadness in the letters, the reluctant wishes for a happy retirement. I understood why patients who were also close friends called and cried.
Why Saying Goodbye Is So Hard
Why is it so difficult to say goodbye to a favorite doctor? Below are a few points that explain why wishing your doc farewell may lead to tears. Let's call them "The Tearful Trifecta".
This one is pretty basic. The longer you know someone, the more you rely on them to be there for you. Some of my dad's patients had been with him when he first started his practice in 1973, and they stayed with him for all 37 years.
I discovered a study about attachment in doctor-patient relationships that suggests that vulnerability plays a significant role in attachment. A health crisis makes you feel vulnerable. You don't know what's wrong or how to fix it, and often times even when it's explained to you, it's hard to grasp the details. When you have a physician you trust and admire to guide you through the diagnosis and treatment, you become attached.
Change is scary, and especially so if you have experienced vulnerability outlined in number 2 above and you have known your physician for a long time. Organizing your medical files and making a plan for meeting your new doctor can help a great deal when dealing with the anxiety of losing a beloved doctor, but it cannot remove the fear of starting over and finding someone who cares in the same way your retiring doctor does.
I've been thinking about this for 6 months now. What is most important to me is that Dr. Kales knows how much his post bone marrow biopsy phone calls meant and how comforting it was to talk about his vacation and his grandchildren during those procedures; I hope he is proud of the medical knowledge I've gleaned from his teachings; I hope he can see beyond my tears to know that I'm happy he no longer has to work long days with very sick patients; I hope he gets to enjoy more baseball and I hope he knows we consider him the MVP in my fight against leukemia.
You hear it all the time: in the era of social media, the art of letter-writing seems to be lost. It doesn't have to be. I love this post about a doctor's "Good Book". Letters can be a gift in themselves. Take some time, write a thoughtful letter and tell your doctor why he/she means so much to you and what you wish for them in the future.
As I wrote above, a beautiful letter is a gift in itself. If you are able to give an additional gift, make it something thoughtful. Does your doctor have a favorite sport or hobby? I spent a great deal of time deciding on a gift, and I have no doubt that it will be the only gift of its type Dr. Kales will receive! I can't tell you what it is before I actually give it to him, but I'll share a picture of it on Side-Out's social media pages next week.
Don't Be Afraid to Show Your Emotions
If you are a hugger, hug your doctor, and if the tears come, let them fall. This isn't about how you look or feel; it is about showing your doctor that you care and that he/she made a difference. Don't hold back. I, for one, will be well-stocked with Kleenex on my final visit next week, and there will be no shame when I walk out of the office with a red and splotchy face.
Have you had a beloved doctor retire? Do you have any tips for patients in this situation? Share your own thoughts and experiences in the comments below.
Update: Click here to see the gift I got for Dr. Kales!