The names echoed through the gym on the day of the match, each a symbol of a battle fought, a battle being fought, or a battle lost. The only way I gained any insight into the bravery and strength of those who the names belonged to was through what I learned because of the required educational hours. I found acquiring knowledge about breast cancer to be quite eye-opening. The information has taught me so much not only about breast cancer but also about the person behind the cancer and the people working to cure it. I personally do not know anyone with this type of cancer, so I was unaware of most of its details.
An interesting fact I learned from listening to webinars on CancerCare was that there are many different factors that determine the treatment plan for each individual person, and one of these factors is the patient's wishes. I find it honorable that they consider what the person wants because it is their life that is being affected. However, the most significant piece of information I learned is the definition of metastatic breast cancer. It is cancer that has gone past the breast and spread to places like the lymph nodes, liver, bones, and lungs. It can even go all the way to the brain. I think this is pivotal to know because it shows that, when someone has cancer, it is their whole body and being that matters, not just one specific aspect.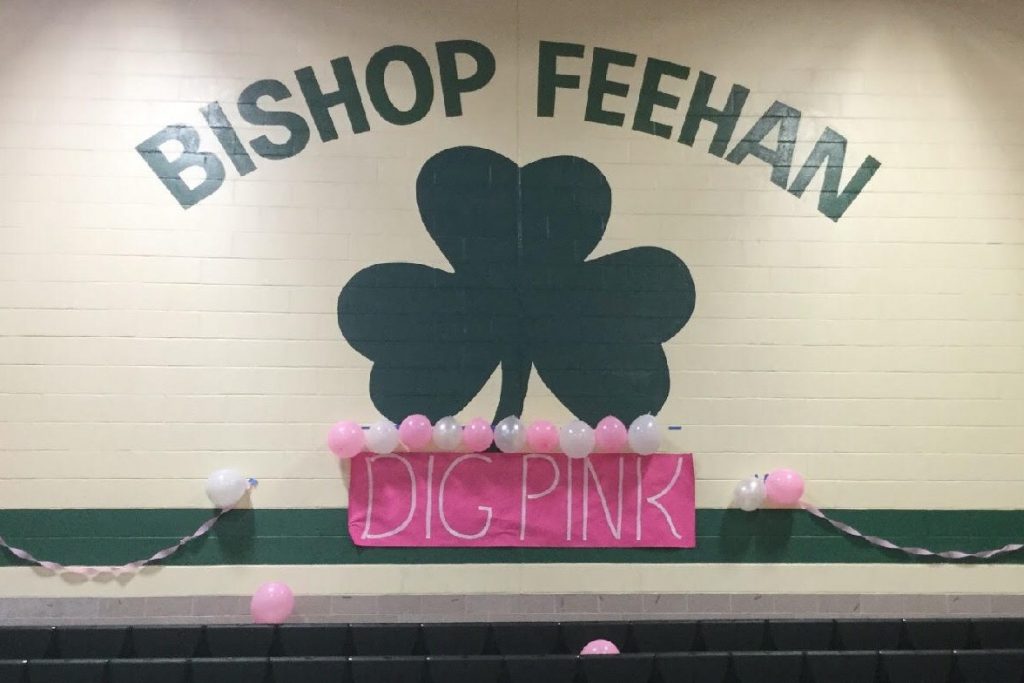 I will never have learned everything I can about breast cancer, especially that of the metastatic type. However, with what I was able to find out not only through my educational hours but also through organizing Dig Pink, I found myself evolving into a sort of teacher. One particular way I did this was by organizing the creation of a Key Statistics poster, which was then hung in the foyer outside our gym. I added to it and gave jobs to others so that they could add to it, too. When I wrote a certain statistic, I learned about an aspect of cancer, such as the world of men's breast cancer, and I hope that when people walked by the poster to enter the gym, they learned something, too. Hopefully that something changed their life, even if it was in the smallest way.
My experience as a Side-Out Ambassador has been nothing short of humbling. I put hours of work and time into strategies for raising money and making the Dig Pink event at my school possible, but even this falls short of the hardships everyday being endured by the people my efforts hope to one day completely rescue.
To raise funds for the Side-Out Foundation, I personally completely organized two bake sales, one during lunch at my school on October 12 and the other on the day of my Dig Pink match, which was on October 26. This includes making sign up sheets to bring in desserts and to work the tables and emailing the administration of my school to make sure we were able to hold the first bake sale. At the first bake sale, everything was priced at $1.00 or less and at the second, all the desserts were priced at $2.00 or less. To put the word for these out there, I put an announcement in for the first one so that during my school's morning announcements, the whole school was informed of it. For both, I asked the player in charge of posters to make a couple signs to hang in the school advertising the bake sale, as well as one to hang on the table goods were being sold from to inform people on what exactly was going on.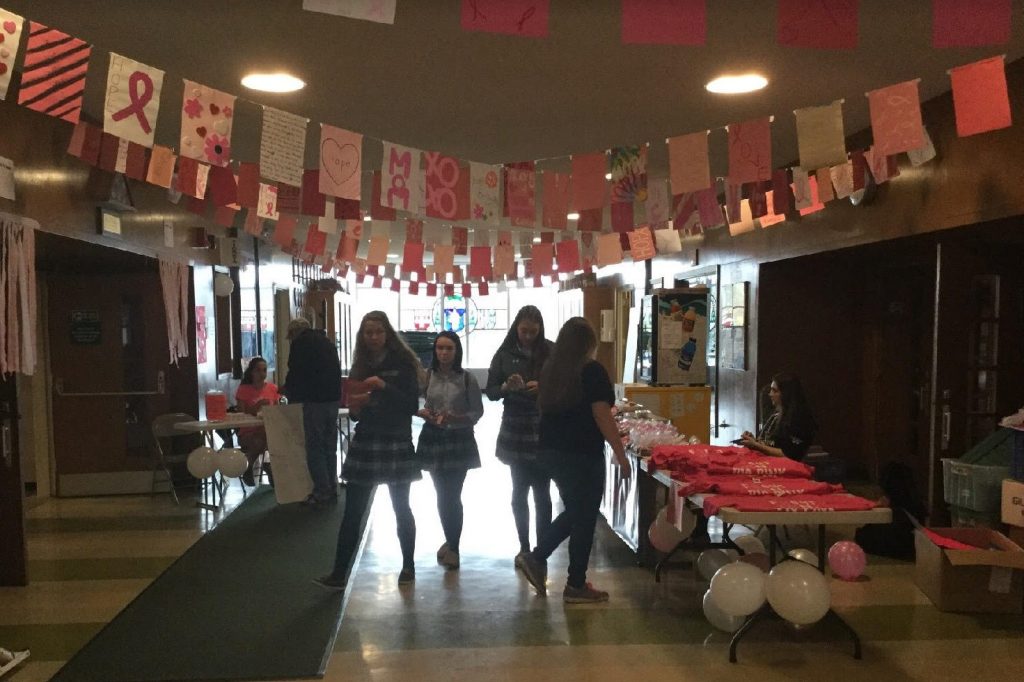 With the help of two others, I also organized everything that happened on the day of the Dig Pink match in a way that was intended to raise as much money as possible. I assigned jobs for the day of the match to different players, as well as assigned the buying of different necessary supplies for the day of. I made sure there was someone buying flowers, and I wrote up the speech for the person doing the announcements before the match itself. I made sure to incorporate the basics of breast cancer into it to help the spectators gain some knowledge of it and the mission of the Side-Out Foundation.
The organization I did also includes instructing the players in my school's volleyball program a couple hours before the match on setting up decorations, confirming that $5.00 was to be charged for admission unless the person was wearing this year's Dig Pink shirt, and setting up the selling of Dig Pink merchandise and Dig Pink shirts, both from this year and previous years. I also organized a 50-50 raffle that occurred up until between the second and third sets of the Varsity match.
To market the match, I, along with others, went to different homerooms and made announcements the Monday before the game about the remaining Dig Pink events. Another strategy of mine to fundraise was raising money online. My team raised just under $6,000 online, and I personally raised a small portion of that.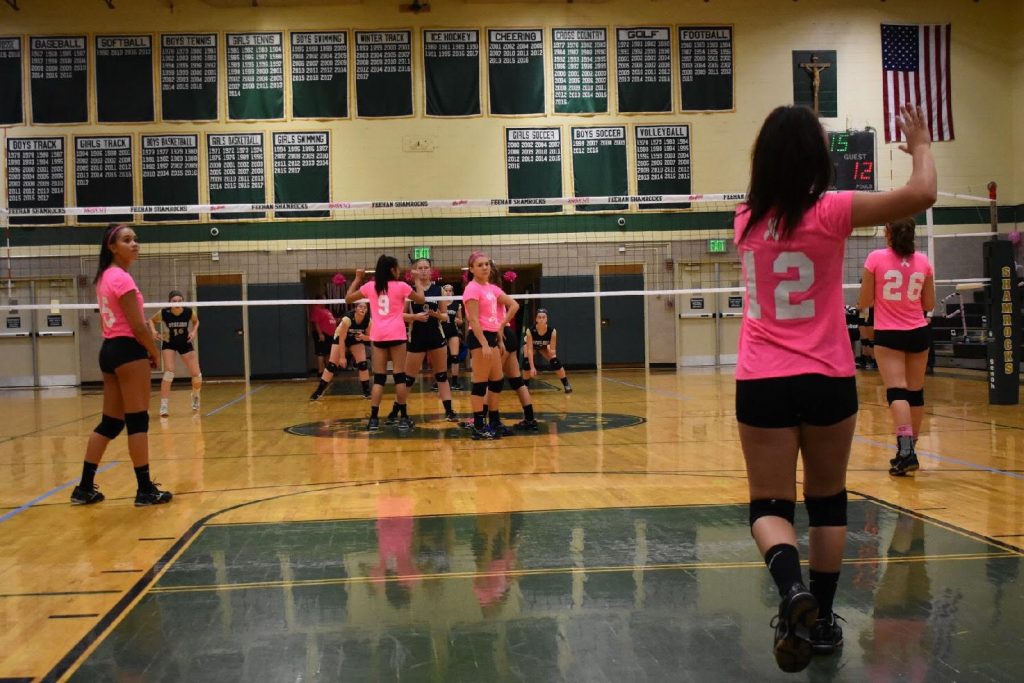 My experience as a Side-Out Ambassador has been nothing short of humbling. I put hours of work and time into strategies for raising money and making the Dig Pink event at my school possible, but even this falls short of the hardships everyday being endured by the people my efforts hope to one day completely rescue. For all my life, I have been blessed with good health, but for the countless people who cannot say the same, there is nothing they deserve more than to have people behind them fighting for them. I have discovered that an army is always stronger than a single warrior. The experience I had made me feel inspired, too. I feel motivated to go out and bring a smile to the face of someone who does not have much to smile about on a daily basis. This emotion took root in me when, at a different school's event, I looked at someone clearly in the middle of their treatment still find it within them to smile and walk up to receive a flower, and it was strengthened when I saw a young girl receive a flower in memory of her mother.
Cancer strikes people at all stages of life, and I think it is pretty amazing that Dig Pink events can make these people happy, even if just for a second. At my Dig Pink event, by offering flowers to people just like these ones, I was able to successfully incorporate the theme of saving the person behind the cancer. I think that this topic is the most important of them all. By giving each person a flower, we are saying that, no matter who you are and what you have gone through, you are loved and supported.
I hope that I will carry what I learned working with Dig Pink beyond my high school years and into the rest of my life because breast cancer is not going away anytime soon. However, with my endeavors and those of so many others, hopefully we can stop its growth and even eventually remove it from the body of humankind.
About Side-Out's Ambassador Program
The Side-Out Ambassador Program presents opportunities for students to receive recognition and scholarship funds, encouraging them to continue a life of setting and achieving their goals. Ambassadors raise funds for breast cancer research through a Dig Pink® event while learning important lessons about health, community and perseverance.
The ambassador program is open to high school juniors, seniors and college-aged students who are focused on uniting their communities, inspiring those around them and fundraising for The Side-Out Foundation. Participants do not have to play volleyball.
To learn more about the Ambassador Program, visit https://side-out.org/ambassador-program/.