Originally published in the AVCA's Phenom Magazine, Winter 2011 and on the Side-Out blog November 7, 2011.
I am of the opinion that my life belongs to the community, and as long as I live it is my privilege to do for it whatever I can.

~George Bernard Shaw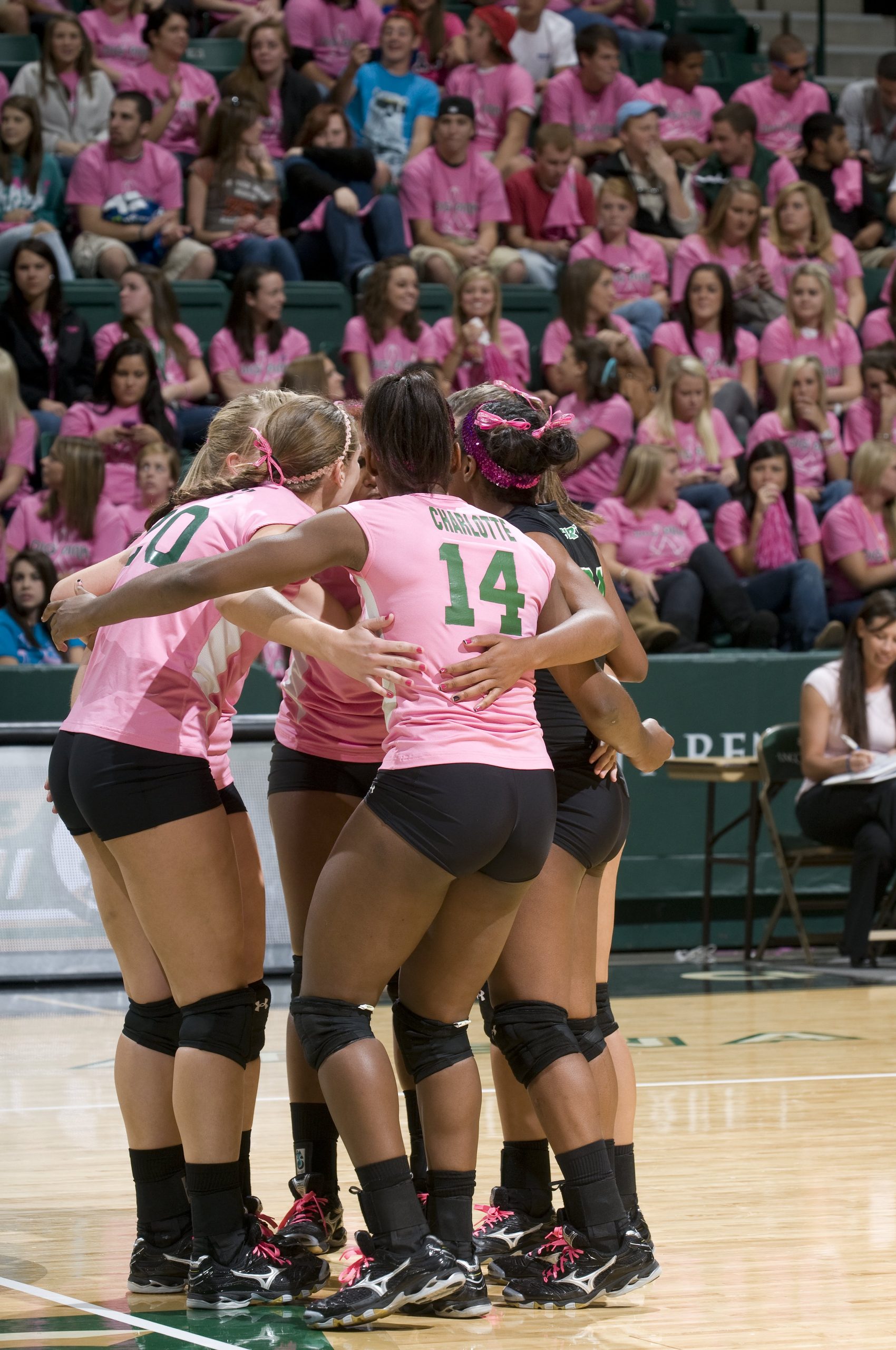 When it comes to hosting Dig Pink® rallies, the University of North Carolina at Charlotte and Desert Vista High School are considered veteran experts! Both schools have years of experience uniting their communities for The Side-Out Foundation's Dig Pink® events. Although they have each raised very large sums of money for Side-Out's breast cancer initiatives (UNC Charlotte raised over $10,000 in 2010 and Desert Vista raised upwards of $13,000!), that is not the only way their success is measured.
Both teams are extremely active in their communities. When they combine their creativity with hard work and community involvement, they create a Dig Pink® program that only gets stronger with each passing year. They offer the following advice for schools interested in building their own Dig Pink® programs.
Dig Pink Veterans' advice
UNC Charlotte (Charlotte, NC)

:

Perhaps before you read the advice of some UNC Charlotte players, you should watch the 2010 Dig Pink Jail & Bail video. You can sense the team's fun nature and feel the energy they put into the campaign.

Bianca Rouse is a junior outside hitter at UNC Charlotte. Two thousand eleven will be her third year doing Dig Pink®, and she credits the success of their Dig Pink® events to her team's ability to spread the word to the community: "We take the time and we put it out there: flyers, ball games, community events. [The Dig Pink® event] is also helpful in getting the word out about our team."

Bianca stressed the willingness of her team to approach strangers for donations. This included walking the rows of a parking lot outside a Carolina Panthers football game, teaming up with Chick-fil-A to approach their customers and reaching out to the entire university community through the team's affiliation with other sports teams.

Sheri Davis is a senior setter for UNC Charlotte. Her very wise advice is: "You have to start somewhere. Schools holding their first Dig Pink® event should know that the first year will probably not be their biggest event. They should begin networking and building connections. Find someone who has experience with fundraising."

Sheri is very thankful for the encouragement and participation of other campus groups; sororities, fraternities and various departments have made Dig Pink® an important part of their community outreach. Their support has turned the Dig Pink® game into the biggest crowd of the season. As she said, "it is the people and the community that make our event successful."

Leah Leventhal, a senior outside, rightside hitter at UNC Charlotte, is getting ready for her fourth year of Dig Pink®! She believes chemistry is what makes her UNC Charlotte team shine. "We're so full of personality and I think that makes it really easy. Our coaches work really hard to make sure we have good team chemistry and this comes in handy when we're trying to host a successful event."

Her most essential advice is to "set goals, but not limits": "You don't get anywhere by saying 'let's try to be fourth again!' Don't settle for just raising $500. Really strive! People out there are willing to donate, people are willing to help. Remember that 'no' today doesn't mean 'no' forever. Persistence is key. Also, make it fun! Make it goofy and interesting like the Jail & Bail video. Think of something creative and fun and make it your own."

Watch this video to learn more about the UNC Charlotte volleyball team!
Desert Vista High School (Phoenix, AZ)

:

Watch the 2010 Dig Pink® in Tukee video!
Riley Smith is a senior setter and defensive specialist at Desert Vista High School. One of her favorite aspects of the yearly Dig Pink® game Desert Vista plays against their arch rival Mountain Pointe is the crowd: "There are probably 2,000 people that come out to the Dig Pink game, one of the games that most people from both schools come to."
Riley points out that the schools make the crowd a focal point during the game, engaging them in between matches with speakers and fun contests to involve children. They also created a Dig Pink® trophy that is awarded to whichever team sells the most raffle tickets. Known as "Dig Pink® in Tukee", the game is the highlight of the season for Desert Vista and Mountain Pointe, the ultimate community effort.