Side-Out/AVCA Honor 2019 National Dig Pink® Award Recipients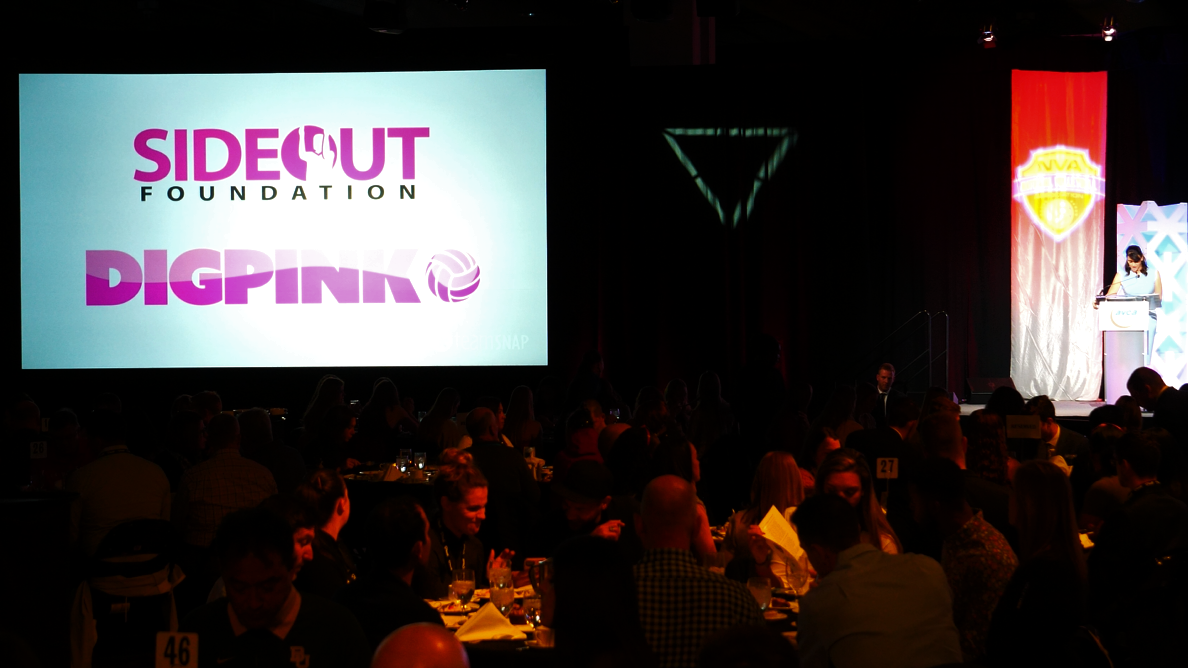 The Side-Out Foundation and American Volleyball Coaches Association (AVCA) were proud to announce three students as winners of the 2019 Side-Out/AVCA National Dig Pink® Award at the AVCA All-America/Player of the Year Banquet on December 20th, 2019.
AVCA and Side-Out team up every year to honor exemplary Side-Out Ambassadors with a special award at the AVCA Convention. Winners are chosen by a review board based on the highest scoring essays. These winners exemplify what the Side-Out Ambassador is all about, extraordinary commitment to the sport and their community.
Side-Out/AVCA Grand Prize Winners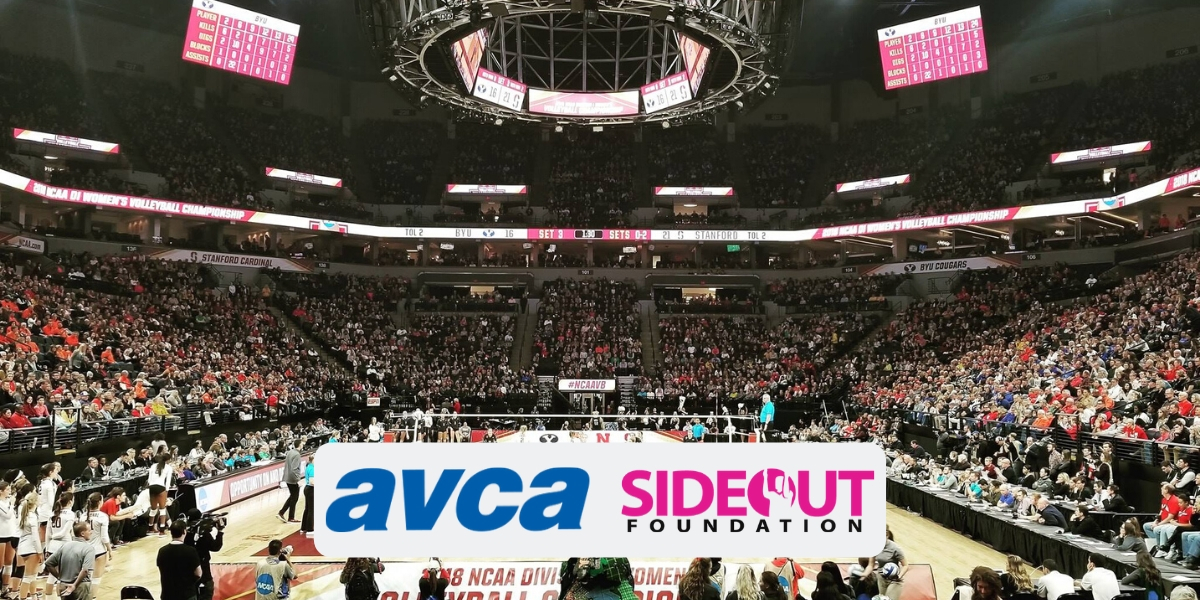 Side-Out and AVCA were also excited to announce Terri Toninato from Ronald Reagan High School (WI) and Anneliese Yombor from Villa Walsh Academy (NJ) as AVCA Dig Pink® grand prize drawing winners on Friday, Nov. 22.These coaches were drawn from a total of 153 coaches whose programs raised over $1,500. The grand prize included free AVCA Convention registration, airfare, and NCAA Championship match tickets in Pittsburgh, PA.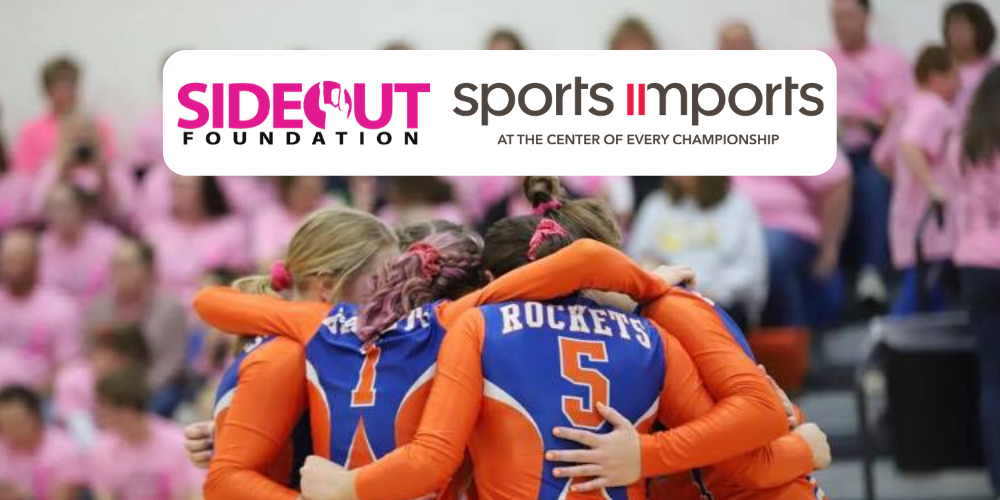 The 2019 Dig Pink® season featured over 764 campaigns and raised over $1.2 million. To celebrate the top fundraising teams, Side-Out recognized the top five teams as Sports Imports Winners. Randolph High School, the top fundraising team for the second year in a row, received its own set of Sports Imports Dig Pink safety pads, courtesy of Sports Imports. A Dig Pink net tape was sent to the next four top fundraising teams.
Randolph High School (Randolph, MN)
West Springfield High School (West Springfield, VA)
Massapequa High School (Massapequa, NY)
St. Andrew's Episcopal School (Austin, TX)
The John Cooper School (The Woodlands, TX)
Every year, Side-Out likes to recognize schools, clubs, and events that raised over $1,500 in their Dig Pink initiatives on the "Wall of Heroes". Initiatives are separated into three categories based on how much was raised in funds. The three categories are "Above The Net" ($10,000 or more), "Hard Hitting" ($5,000-$9,999), and "Service Ace" ($1,500-$4,999).
Carrollton School  (FL)
Massapequa High School (NY)
North Salem High School (NY)
Orestimba HS/ Yolo MS (CA)
Randolph High School (MN)
St. Andrew's Episcopal School (TX)


The John Cooper School (TX)
West Springfield High School (VA)
Yoe High School (TX)
Arizona College Prep (AZ)
Auburn High School (VA)
Bel Air High School (MD)
Bishop Feehan High School (MA)
Bowdoin College (ME)
Georgetown High School (TX)
Grimsley High School (NC)
Hazleton Area High School (PA)
James Wood High School (VA)
Kent City High School (MI)
Kenyon College (OH)
Lake Cormorant High School (MS)
Medway High School (MA)
Milton Hershey School (PA)
Montclair High School (NJ)
New Canaan High School (CT)
Our Lady of Good Counsel HS (MD)
Penn State University (PA)
Pennridge High School (PA)
Presentation High School (CA)
Southern Lehigh High School (PA)
Suffolk County Comm. College (NY)
Superior High School (WI)
The Oakridge School (TX)
West York Area High School (PA)
Westborough High School (MA)
William Henry Harrison HS (OH)
Academic Magnet High School (SC)
Academy of Our Lady of Peace (CA)
Alburnett High School (IA)
Aliso Niguel High School (CA)
Attica Central High School (NY)
Attleboro High School (MA)
Bacon Academy(CT)
Batavia High School (IL)
Bedford High School (MI)
Bermudian Springs High School (PA)
Bethpage High School (NY)
Bishop Ireton High School (VA)
Bishop Stang High School (MA)
Blackstone Valley High School (MA)
Bloomfield Central High School (NY)
Brashier Middle College HS (SC)
Brenham High School (TX)
Brewster High School (NY)
Bronson Jr/Sr High School (MI)
Brooke Point High School (VA)
Butler County Community College (PA)
C. Milton Wright High School (MD)
Caledonia High School (MS)
Canal Winchester High School (OH)
Carlsbad High School (NM)
Cedar Ridge High School (TX)
Central Bucks High School South (PA)
Central Davidson Middle School (NC)
Chaminade College Preparatory (CA)
Chapel Hill High School (NC)
Chaska High School (MN)
Chesterton High School (IN)
Clear Falls High School (TX)
College Station High School (TX)
Columbia Preparatory School (NY)
Columbus Academy (OH)
Conestoga Senior High School (PA)
Crandon High School (WI)
Culver City High School (CA)
Deerfield High School (IL)
Delphi Community High School (IN)
Delta Valley Volleyball Club (CA)
Devine High School (TX)
Downey High School (CA)
Drew School (CA)
Duchesne Academy High School (TX)
East Brunswick High School (NJ)
East Meadow High School (NY)
East Mountain High School (NM)
Eastchester High School (NY)
Eisenhower Middle School (TX)
Ephrata High School (PA)
Episcopal High School (TX)
Estrella Foothills High School (AZ)
Eustace High School (TX)
Fairhaven High School (MA)
Faith Lutheran High School (NV)
Felicity-Franklin High School (OH)
Florida Christian School (FL)
Fox Valley Lutheran High School (WI)
Fremont High School (NE)
Gaithersburg High School (MD)
George Mason High School (VA)
Governor Thomas Johnson HS (MD)
Grace School (TX)
Gregory-Portland High School (TX)
Grinnell High School (IA)
Guilford High School (CT
Half Moon Bay High School (CA)
Harford Technical High School (MD)
Hayfield Secondary School (VA)
Heritage High School (CA)
Herndon High School (VA)
Herreid/Selby High School (SD)
Herricks High School (NY)
Hopkinton High School (MA)
Illinois Valley Community College (IL)
John Champe High School (VA)
John F. Kennedy High School (NY)
John F. Kennedy Middle School (CT)
Johnston High School (IA)
Kenmare High School (ND)
King Abdullah Academy (VA)
Kinnelon High School (NJ)
Klein Forest High School (TX)
Klein High School (TX)
La Costa Canyon High School (CA)
Lafayette High School (MO)
Lancaster Catholic High School (PA)
Lancaster High School (VA)
Livingston High School (NJ)
Luck High School (WI)
Lynnfield High School (MA)
Mantachie High School (MS)
Maple Grove High School (MN)
Maria Carrillo High School (CA)
Maryvale Preparatory School (MD)
Massachusetts Maritime Acad. (MA)
Mayfield High School (OH)
Michigan State University (MI)
Milken Community High School (CA)
Millennium High School (AZ)
Miller Place High School (NY)
Moriarty High School (NM)
Mother Seton Regional HS (NJ)
Nash Central High School (NC)
Nathan Hale-Ray High School (CT)
Northgate High School (CA)
Notre Dame Academy (CA)
Notre Dame High School (CA)
Oak Ridge High School (TX)
Oakdale High School (MD)
Oakfield-Alabama Middle-HS (NY)
Oakton High School (VA)
Ohio University (OH)
Oldham County High School (KY)
Oliver Ames High School (MA)
Omaha Skutt Catholic HS (NE)
Our Lady of Lourdes Academy (FL)
Palo Verde High School (NV)
Park Tudor School (IN)
Pascack Hills High School (NJ)
Paul D. Schreiber High School (NY)
Pine Island High School (MN)
Pinnacle Juniors Volleyball Club (NE)
Platteview High School (NE)
Poolesville High School (MD)
Powdersville High School (SC)
Princess Anne High School (VA)
Princeton/Green Lake HS (WI)
Quakertown High School (PA)
Quince Orchard High School (MD)
Radford High School (VA)
Ragsdale High School (NC)
Rancocas Valley Regional HS (NJ)
Renville County West HS (MN)
RHAM High School (CT)
Rio Rancho High School (NM)
Riverside High School (VA)
Rockford High School (MN)
Rocky Hill High School (CT)
Rocky Point High School (NY)
Ronald Reagan High School (WI)
Rossville Middle School (GA)
Round Top-Carmine High School (TX)
Rudder High School (TX)
Saint John's Catholic Prep (MD)
Saint Joseph Academy (TX)
Santa Margarita Catholic HS (CA)
Sarah Lawrence College (NY)
Sayville High School (NY)
Schoolcraft College (MI)
Severna Park High School (MD)
Shawnee High School (NJ)
Shawnee Mission East HS (KS)
Shelter Island School (NY)
Sherwood High School (MD)
Shrewsbury High School (MA)
Smiths Station High School (AL)
Sonora High School (TX)
South Side High School (NY)
Southwest Jr/Sr High School (NE)
Southwestern High School (IN)
Springfield High School (OH)
St. Edmund Preparatory HS (NY)
St. Joseph Notre Dame HS (CA)
St. Joseph's College (Brooklyn Campus) (NY)
St. Mark Lutheran School (TX)
St. Mary's High School (NY)
St. Paul Academy and Summit School (MN)
St. Paul's Episcopal School (AL)
Summit High School (NJ)
SUNY at Geneseo (NY)
Susquehannock High School (PA)
Sutherland High School (NE)
T.R. Miller High School (AL)
Tallassee High School (AL)
Texico High School (NM)
The Bear Creek School (WA)
The Calhoun School (NY)
The Harker School (CA)
The Woodlands High School (TX)
Trevor Day School (NY)
University at Albany (NY)
University of North Carolina at Charlotte (NC)
University of the Incarnate Word (TX)
Upper Arlington High School (OH)
Viera High School (FL)
Villa Walsh Academy (NJ)
Wachusett Regional High School (MA)
Walt Whitman High School (MD)
Waterloo High School (IL)
Wendover High School (UT)
West Allegheny High School (PA)
West Chester University (PA)
West Davidson High School (NC)
Westview High School (CA)
Williams College (MA)
Wilmington High School (MA)
Winston Churchill High School (MD)
Woodridge High School (OH)
Woodside High School (CA)